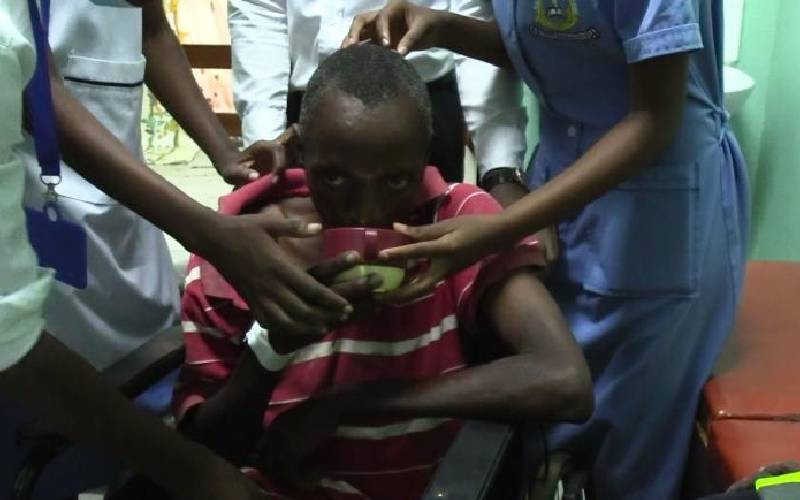 Ben Amani left Hola town in Tana River County in August, 2021, armed with Sh15,000 to buy a piece of land at Shakahola in Kilifi. He was ready to start a new life as he "waited to meet Jesus Christ."
The 45-year-old is one of the survivors of the deadly fast, which has shocked the country after claiming dozens of lives.
Amani said he fasted round the clock for seven days, then took a break before resuming a nine-day fast.
And just before he could take another break, he was found by a team of rescuers on Monday morning.
"There was no law on fasting, but the kind of life we live is what made us start fasting. I started with a seven-day marathon fast before I rested for one week to do some work and get food and I resumed for another nine days. I never thought I would be caught," he told The Standard from his hospital bed at the Malindi Sub County Hospital.
"Everybody came here independently and we have never been forced to fast. We just decided to fast so that we can prepare our bodies to absorb our Christian beliefs. This land is huge and people are scattered. I was told by my friend that in Shakahola I will get cheap land and life is easy."
He said there is no church on the land and that people prayed in their fields until the message passed around that they should consider fasting to strengthen their faith.
"Fasting varies from one religion to another. Ours is not like Islam where they only fast during the day. We do a marathon fast, and each individual decides on the duration of fasting," he said.
Amani claims live in Shakahola village, which is 16 kilometres from Paul Makenzi's home, was calm until residents burnt two motorcycles to keep some people who had attempted to enter the land forcefully.
"The herders from the Somali community are the ones who exposed to the outside world. We are fasting so that Jesus can show us the way," he said.
He is, however, glad to have been rescued since his stock of food was over and he was about to face death.
And miles away in Taita Taveta, David Mwamburi, who returned home last week to avoid arrest, claims he was not he radicalised.
"We attended the church services voluntarily," he said at his Mghondi gwa Waka village in Mwatate.
Mwamburi believes Makenzi knew the world was coming to an end and warned about the dangers of those embracing education and medication.
He said everyone was entitled to their belief, and that he was still a follower of the Good News International Church.
"One has the right to make his or her own decision without any coercion. For me I got what I wanted and I'm a strong believer of Makenzi."
He said the pastor did not lure anybody to the church, adding that his true prophecy attracted many.
Mwamburi, who joined the church six years ago after dropping out of school, said Makenzi dissolved his church after completing his prophecy.
"Makenzi dissolved his ministry in 2019 after accomplishing his mission and he has never lured anybody to join his church or forced them to starve to death as claimed. I do not subscribe to any church now as our ministry was dissolved due to frequent and arbitrary arrests. The truth will, however, come out soon," he said.
Joyce Makori from Keroka in Kisii County, who has been camping in Malindi for the past week, said she was happy with what the government was doing.
She lost her husband to the church, and says her in-laws have been putting pressure on her to produce him.
She was overjoyed when she saw police rescue him in the Shakahola thicket, where she had accompanied them. "He has been inside this thicket since October 10, last year, and he told me he had travelled to Jerusalem to look for Makenzi. The police caught him coming from the market with omena and maize flour. I'm very happy because his people always blamed me for his disappearance," she said.
Steve Mwaniki from Mingwani in Mwingi, Kitui, is hopeful that he will find his brother, sister and grandson.
"They left Nairobi saying that they were coming for a mission in Malindi. I have been communicating with my brother and I visited the Malindi DCI office and we tracked it to this thicket," he said.
Mwaniki said they last spoke on Sunday, and that the brother sounded exhausted. He disconnected the phone and texted him, saying that he was safe.
"The officers are trying to trace his phone with the hope of getting him alive," he said.
At the Malindi Sub County Hospital, survivors and more bodies continued to arrive yesterday. Mortuaries in Malindi and Kilifi were reported to be full.
Dr Job Gayo, who is in charge of the Kilifi County health management team, said 32 people, 16 male and 16 female, had been rescued since the operation started.
"The normal capacity of the Malindi hospital morgue is 20 bodies, but we are currently carrying 37 extra bodies and it is a disaster, but we are seeking alternatives," he said.
He added that four survivors came in critical condition.
Related Topics