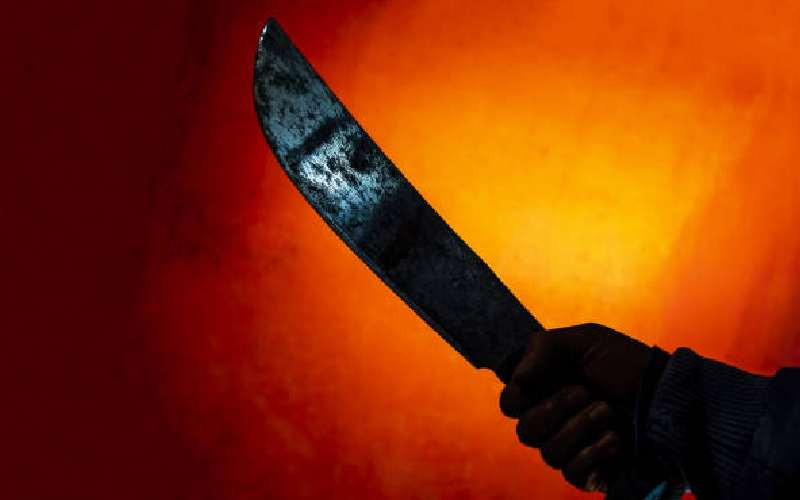 Three years ago, Chisubi Dzaya Nyejere was murdered in cold blood inside in his house at Buni Kisimani in Rabai sub-county in Kilifi County.
A gang of youth-wielding machetes raided the home in broad daylight on July 13, 2019, and attacked the elderly man, leaving him dead in a pool of blood as they fled.
His son, Reverend Kefah Jumaa Hussein, says the killers struck at 10.45 am while he was in Mombasa shopping for materials to build his father a new house.
The Anglican Church of Kenya (ACK) priest says the phone call he received was devastating since he was keeping watch on his father who had become a marked man for a while before his final bow.
The first attempt came about a year earlier on his 13-acre farm in Chonyi, Kilifi South SubCounty where his house was set on fire.
He was then attacked in April 2019 when unknown assailants raided his house in Rabai and left him for dead with both arms severed.
Rev Kefah says when the youthful gang finally killed his father, Rabai MP, the late William Kamoti, helped the family take the body to Coast General Hospital mortuary and they buried him the following day in line with Muslim tradition.
"I had gone to Mombasa town to buy building materials for his house when I received a phone call from a villager informing me that my father was dead. My mother later called me saying that unknown people had killed my father. I was helpless and hopeless. I rushed home and found many people and the police in the compound. I entered my father's house and found his body in a pool of blood," he says.
He noted that a youth was arrested the same day and he 'named' two other suspects who were arrested later.
"One of my relatives who was among those arrested was released on bond," Rev Kefah recalls.
Close relatives suspect that land could have led to the long-drawn hunt and final execution of the patriarch.
"Those involved in the heinous act are my relatives but I am ready to forgive them if justice is served. People hide behind witchcraft allegations to kill elderly persons, but it is all about property. My father had 13 acres of land which some family members are salivating for," he argues.
He says that they knew his father's life was in danger long before he met his death and had reported the matter to the area police.
He says in the second attack, his father was left with life-threatening injuries and his two arms were severed.
He was rushed to Rabai health centre and later Coast General Hospital where he was bedridden for 21 days.
"The second attempt on his life was in April 2019 in this house where the attackers hacked him severing his two arms. He survived but led a painful life. In July 2019 they came back and finished him," he says.
"We live as a family and some of the people who laugh at us are our main enemies. It is not easy to point out. One of the family members was arrested but later released on bond," he adds.
Kefah is one of the many family members in Kilifi and Kwale counties whose loved ones were killed following witchcraft claims.
Such cases are reportedly difficult to unravel following lack of cooperation with security agencies and outright cover up.
On October 18, last year, three people were butchered in a night raid at Kinung'una village in Rabai subcounty over claims that they were practising witchcraft.
Rabai police commander Mr Fred Abuga explained that a couple and a relative were hacked to death in the dead of the night before the attackers fled.
"The attackers raided the village at night and slashed the victims with machetes," said Abuga.
Coast regional commissioner, Mr John Elungata has since ordered chiefs to be vigilant and protect the elderly persons from their assailants.
"The situation has improved. But security officers have largely been directed to deal firmly with relatives killing their elderly kin," he said.
Police in Kilifi County, recorded 43 killings associated with witchcraft allegations in 2019, 52 in 2020 and 50 in 2021. A similar threat faces the elderly in Kwale county where belief in witchcraft is also rife.
In Kilifi, some elders have fled their homes and taken refuge at the Kaya Godama shrine at Mrima wa Ndege village in Ganze sub-county and Mekatilili wa Menza Resource and Rescue centre in Malindi sub-county.
During the World Elder Abuse Awareness Day held at Kaya Godoma on June 15 this year, it was reported that Kilifi, Kisii and Kirinyaga topped the list in the number of elders being abused.
It was reported that Kilifi County alone had registered more than 325 killings of elderly persons last year, mainly associated with the claims of sorcery.
Ms Josephine Muriuki from the directorate of social protection said they chose to hold the celebrations at Kaya Godama to raise awareness on the massive abuse of elderly persons in Kilifi including the ongoing killings.
She said the government has come up with a policy to enhance care and protection of the senior citizens in the country even as they receive monthly stipends from the state.
"The policy for elderly people was approved in 2018 and serves as a guide in case they are abused or neglected as they have their rights provided for in the Constitution under Article 57," she explained, adding that government has established a model rescue centre for the elderly in Kirinyaga.
Help Age International Kenya country representative Mr Jude Otogo said close relatives are usually culprits for the abuse of elders.
"The abuse of elders is usually not done by strangers; it is meted out by the very people they trust. It is done by family members and caregivers," he argued.
He urged government security agents to be vigilant and embrace collaboration with other agencies, citing the case of Kisii county in October last year where four elders were killed after being frogmarched in the village.
Dr Kerubo Abuya who represents Utu coalition formed after the Kisii gory killings, says they are even more concerned after learning Kilifi is leading in cases of abuse of elderly persons. She said the coalition brings together 35 rights organisations working to eradicate abuses of the elders in the country.
"Kenyans should understand that these are real people being murdered in cold blood. We have not done enough as a society to address these issues and we need to act now," she said.
But the Godama shrine may be forced to close down if well-wishers do not intervene to assist acquire 12 acres on which it has stood for the last 10 years.
Chairman of the centre's management committee Mr Emmanuel Katana said the family that allowed his team put up the rescue centre has put the land on sale but they lack funds to buy it.
"We are currently in a dilemma. The family that owns the land has offered it for sale and given us priority to buy it. One acre goes for Sh175,000. We do not have the Sh2.1 million to buy the land. We are therefore appealing to well-wishers to come to our assistance," Katana said.
He said they recently released seven elders after reconciling them with their family members and currently host five asylum seekers there.
Mr Karisa Mwarandu, the head of the Mekatilili Resource and Rescue Centre said the killing of elderly persons over witchcraft claims was still worrying in the Coast region.
He said a 2011 survey revealed that at least 400 people are killed annually, and 1,000 others face threats after being accused of practising witchcraft.
Some elders have sought refuge at the Mekatilili and Godoma rescue centres in Kilifi County, and others have fled their homes to unknown places after receiving death threats.
Rev. Kefah Jumaa says grey hair should not be used as a ploy to eliminate elderly people in an attempt to disinherit their property.
"As a man of God, I rebuke the act of killing people because how does one benefit from killing another human being? It is not automatic that those behind these killings inherit what the dead has left behind," he argues.
Kefah also takes issue with 'fake prophets' in the villages who reportedly uncover 'sorcerers' using divine powers.
"We also have some evangelists who claim to weed out witches but their acts contribute to the killings, especially in families. I can compare those evangelists to those witches they claim to unearth," he says.
He says there is need to unravel the killings so that justice is served and such acts are discouraged at the Coast.
Related Topics