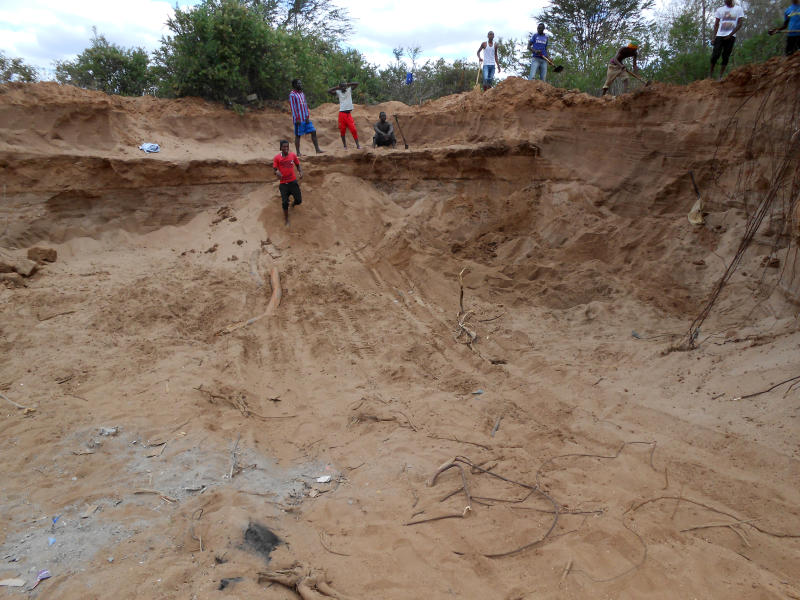 Residents have a reason to celebrate after Voi River burst its banks following heavy rains on Monday.
For the past one year, the region has suffered drought which has seen an increase in cases of human-wildlife conflict in a scramble for scarce resources.
However, the residents joy was short-lived as the roads leading to agricultural areas in the hills were extensively damaged and some areas became flooded. "We hope the rains can continue so that we can have enhanced milk production, translating to higher incomes," said Gift Mwakandana, a dairy farmer.
Voi River, which is the main lifeline for wildlife in Tsavo East National Park and thousands of residents and livestock, was overflowing.
The river, which originates from Taita Hills, is also the main water source for Aruba Dam in the park. Before the heavy rains, the river was almost drying up due to prolonged drought.
Agriculture, Livestock and Fisheries Executive Davis Mwangoma urged locals to make good use of the rains.
"We are expecting more rains. Farmers should plant short-medium term crops that will take three months to mature," stated the executive.
The rains come at a time when persistent water shortages, occasioned by prolonged drought, had disrupted learning in most public primary and secondary schools in the region.
In the October rain assessment report, the County Steering Group (CSG) raised a red flag over the depletion of food stocks in households in the region.
Following the depletion of food crops, prices of essential commodities like maize and vegetable oil have skyrocketed.
Open water sources in the lowlands of Voi Sub-County have dried up as livestock farmers continue to walk up to 10 kilometres in search of the commodity. This has led to the rising cases of persistent human-wildlife conflict.
National Drought Management Authority County Coordinator Gabriel Mbogho noted some lowland areas were on red alert.
Related Topics