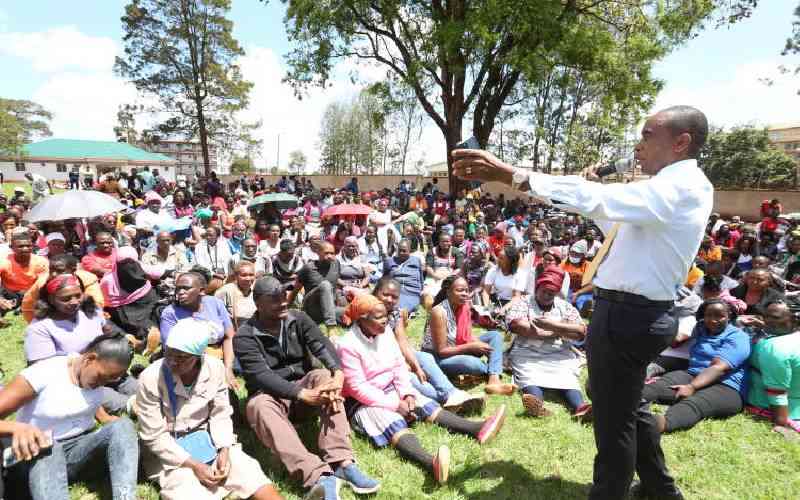 Barely one month after Kiambu Governor Kimani Wamatangi mediated between warring factions of traders in Thika town, the governor was once again forced to arbitrate another tiff between Ruiru market traders and hawkers who sell their merchandise outside the newly constructed market.
Speaking at the heated meeting outside the ultra-modern Ruiru market, James Mwaura, the chairman of traders who have been allocated spaces in the building said they are facing unfair competition from hawkers who set base outside the market premises.
"I can tell you for sure, most of our customers are hijacked by those who are selling their shoes along the streets just outside this market," lamented Wambui Ndicho, a second-hand clothes seller.
The traders complained that the goal of the new market built by the World Bank at a cost of Sh300 million to improve the business environment had flopped.
They said it has instead become a centre of conflict between traders who were allocated stalls inside the building, and those who sell their merchandise along the streets.
"Before we entered here, balloting was done with the help of the Nairobi Metropolitan Services improvement project and 695 spaces which were indicated were all occupied," said Mr Mwaura.
"But since there were many traders left out, we discussed with your office and more traders were allocated and the market now holds 1,100 traders," he added.
Mwaura said instead of the market bettering their incomes, it had worsened their earning patterns.
Joyce Gathoni, who sells second-hand clothes a few metres from the market added that their main reason for defying orders to occupy the building was because customers do not go up to the third floor where they were relocated, meaning they rarely make sales.
Ann Mwikali, another trader, pleaded with the governor to look for a lasting solution to stop back-and-forth confrontations between vendors and county officials.
However James Kamau, who spoke on behalf of hawkers who sell their goods along the streets, pleaded with the county government to look into their plight and allocate them space to sell their wares.
"Governor we have been called names and rejected by our colleagues who were able to get space inside this building, but we request you to listen the cry of these hustlers who have nowhere to go. Please governor don't forsake us for we are suffering," said Kamau.
In his remarks, Governor Wamatangi criticized the design of the building, saying it does not allow for free movement of customers.
"I was in Thika last month trying to solve a similar problem. I want to tell you that even here in Ruiru we will get a solution to this problem," said Wamatangi.
"All I plead with you is not to allow division amongst you which will erode the confidence the president has with people from Ruiru."
The governor asked the traders to pick representatives who will meet with him to find a lasting solution to the mess and deliver a report before the end of the week.
The three-storey market constructed by the World Bank is located adjacent to the old open-air market along Ruiru-Kiambu road.
Related Topics