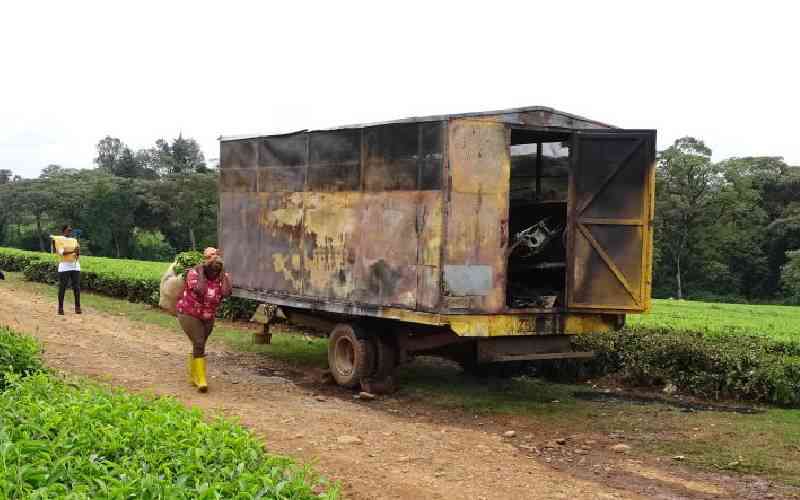 Ekaterra Tea Kenya has suspended its operations after several team plucking machines were destroyed and vandalised by protestors.
The tea producer said following several attacks on its properties in Kericho and Bomet counties, it had suffered a loss of over Sh170 million.
Kenya Tea Growers Association (KTGA) chairman Silas Njibwakale said he had met with large scale tea growers in Kericho County and agreed that Ekaterra suspends its operations.
Over 15,000 employees have been sent home without pay.
The latest attack was on Monday where a group of protestors stormed one of the firm's estates and vandalised three tea plucking machines and several tea shades.
This has seen over 13 tea plucking machines vandalised so far.
As the firm suspended operations, locals staged peaceful demonstrations for a second day as they protest against the firm's use of tea plucking machines.
Their attempts to storm the headquarters of Ketepa and Ekaterra estates were thwarted by police officers resorting to running battles.
Some of the protestors said the introduction of the machines has rendered them jobless and efforts to seek redress have been futile.
The residents mostly drawn from Kapsaos said they would not relent in demanding for employment at the firm.
In response to the protests, Ekaterra it will not pay the workers who did not report to work until normalcy return and have been assured of security.
In the company of Kenya Tea Growers Association leadership, Ekaterra's MD Slyvia Ten Den raised concerns over security situation at Companies tea estates that has worsened and appealed to security agencies and the national government to intervene with urgency.
"We appeal to the President to intervene and restore order, protect local and foreign investments and avoid a situation where Kenya loses its international tea market," said Njibwakale.
He noted a lapse in security at multinational tea companies operating in the South Rift Regions thus disrupting business operations while hampering the growth of the tea industry.
"What started in October 2022 with daylight raids and theft of tea leaves and machinery has now escalated to organised attacks on business premises and deliberate destruction of critical assets," he said.
Related Topics