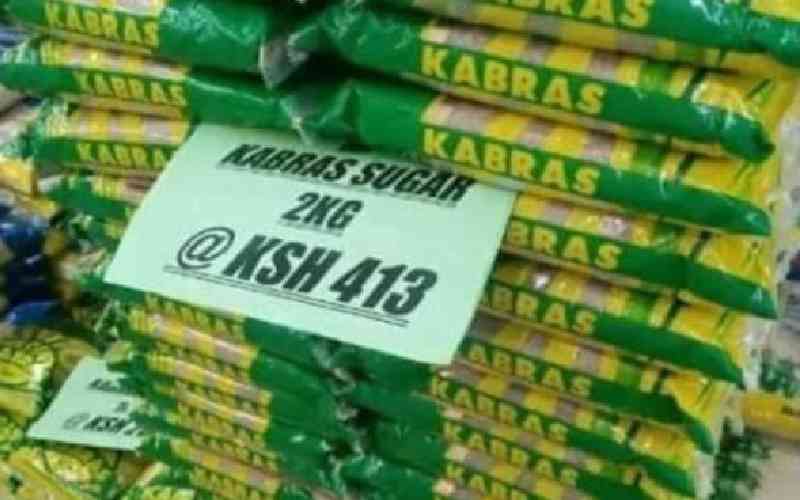 The sorry state of the sugarcane industry appears to be worsening as a dire sugar shortage hit several towns in Western and Nyanza region amid soaring prices and claims of hoarding.
This casts a dark cloud on the recently released Economic Survey 2023, which indicates that the sub-sector has expanded by about 12 per cent.
Key stakeholders say despite claims of growth, the sector is struggling and could be on its deathbed if urgent intervention is not done.
Yesterday, the price of sugar in most towns had hit at least Sh413 for a two-kilogram packet, and supply was limited. In most supermarkets, shoppers were only allowed to pick one packet.
A number of retailers said they had run out of stock. They, however, claimed there is a ploy by some suppliers to hoard the commodity to allow for increased volumes of imports.
In Migori, several shops did not have sugar. Some shop keepers claimed some millers and suppliers were colluding to hoard to force an further price increase.
Most State-millers in the region are operating below 30 per cent of their capacity. Private millers are also struggling due to lack of cane.
So dire is the situation that Mumias Sugar has announced plans to shut down operations for lack of mature cane to crush.
The company, run by Sarbjit Sigh Rai of Sarrai Group, Uganda, remained non-committal on when they would resume operations in yesterday's short notice to farmers.
In Nyanza, Chemelil Sugar does not have enough supply, even as it struggles with ageing equipment that has made production expensive.
According to the Kenya National Federation of Sugarcane Farmers (KNFSF), who have dismissed the Economic Survey, several factors are affecting production.
"It could be that the analysis was based on sugar importation and related activities, due to reduced cane acreages and poor yields," said the Federation Deputy Secretary–General Simon Wesechere.
Despite companies offering farmers an average of Sh5,200 per tonne of cane, Mr Wesechere said all state-owned factories continue to operate below capacity. "Private millers are only 7, out of which four operated above 50 per cent over the period of review as captured in the Economic Survey 2023, the rest operated at 40 per cent and below," noted Wesechere.
KNFSF fears that other factories could follow suit "because the issue of declining raw material affects the entire sugar sub-sector, private mills in Western do not have nucleus estates and may find it had to remain afloat."
Farmers believe sugar importation is the reason the sector is on its deathbed.
In December, for instance, Kenya was granted a nine months extension to limits on sugar imports from the regional trade bloc Common Market for Eastern and Southern Africa (Comesa) to enable the country complete reforms that would make its sugar industry competitive, blocking the flow of cheaper sugar from African countries.
It was the sixth time that the country had enjoyed protection against the influx of cheap sugar.
The county was expected to fully open up its market to imports from the Comesa states in 2014 after more than a decade of being allowed to protect its sugar farmers with high tariffs.
But the federation has ruled out the possibility of the country liberalising its market following a myriad challenges threatening to cripple the sub-sector.
Nothing has been done to win over thousands of farmers who abandoned cane farming and embraced food crops, including beans and maize, when production become unsustainable due to the high costs, poor prices and delayed payments, according to Wesechere.
Butali Sugarcane Farmers Association chairman William Kopi had earlier asked the government to give subsidised fertiliser and other farm inputs.
Nzoia Sugar Company in Bungoma remains the only state-owned miller in Western after Mumias Sugar was privatised, leaving the government with 20 per cent shares.
Private factories are West Kenya Sugar (1981), Butali (2011), West Kenya –Olepito Unit (2017), and Busia Sugar Industry Ltd (2018). According to a report by a technical working committee released late last year, the area under cane has been declining rapidly.
Sugar Act implementation
The acreage has fallen from 220,000 hectares about 10 years ago to below 100,000.
The public millers' capacity has also fallen from an installed capacity of 35,000 tonnes of cane per day to just over 3,000. The situation has also been worsened by the shortage of cane for public millers.
And although public millers blame cane shortage on encroachment by private millers, more than half of the millers' nucleus estates lie fallow. Lack of machinery has left public firms scrambling for the little available cane with private millers who offer better pay.
In Migori, more farmers have threatened to quit cane farming, saying it was not profitable. They are pushing for the adoption of the Sugar Act, which they say would help in regulating the industry and allow them earn better pay for their cane.
According to the farmers, they also do not get bonuses from the byproducts of sugarcane. "We are only paid for the sugar that comes from our canes," said David Odhiambo, a farmer.
KNFSF Secretary General Ezra Okoth agreed that the Sugar Act should be implemented. "They (farmers) also feared as they had been told that sugar companies could be sold. But since the president denounced the move, some farmers got an encouragement to continue with sugarcane farming," he said.
[Stories by Harold Odhiambo, John Shilitsa and Anne Atieno]
Related Topics