Nelson Gichen aka Baba Johnte as he is popularly known within his locality in Westlands, Nairobi is a ventriloquist. According to Merriam Webster dictionary, a ventroloquist is someone who undertakes a performance act of stagecraft. He does this by creating an illusion that their voice is coming from somewhere else, usually a puppet.
Gichen entertains people using dummies or puppets by making them talk like humans. Most of the time, he employs the most humorous stints to entertain his audience.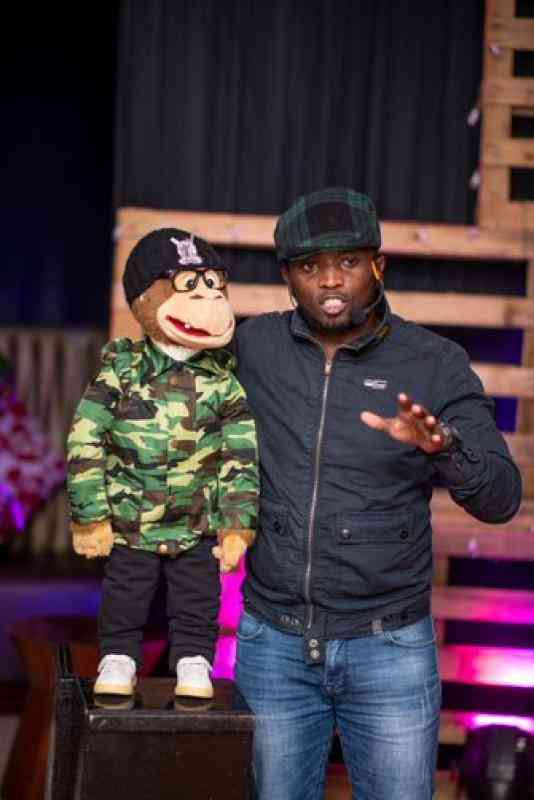 For Gichen, entertaining people with puppets and dummies is his full-time job. He wakes up and looks for a good destination to set up his business. It could be on the street, in a club, kids' show, in organised events and lately, social media platforms like YouTube and TikTok.
Most of his returns are from offline shows and activities rather than online.
The price of his shows range from Sh10,000 to Sh100,000 depending on the show location, time, length of the performance and social media following. He hopes his charges will be higher as his skill, comedy, experience and following grows.
"Yes, some people have seen me on TV and others on social media. But I get most clients offline because I haven't earned enough followers yet to start earning enough."
Nonetheless, he occasionally gets positive comments and even financial appreciation from fans when he goes live on his social media accounts.
"I get financial tokens especially when I go live on my social media accounts. People send me money just to support my talent because they find it new and entertaining."
Witchcraft
While many people believe that making dummies and puppets talk requires magic and witchcraft, Gichen says this is not so. Instead, it's an art and science that requires passion and talent.
"Ventriloquism is not connected to witchcraft. It's just an art and a talent like any other. We make lifeless things talk but it's not connected to evil," Gichen says.
To succeed in such a profession, Gichen says having passion, and enthusiasm for puppeteering is paramount. Besides, there are also specific skills needed to effectively execute the trade.
"You must first love it from your heart. And yes there are skills to learn like detailed concentration, talking without moving your lips, matched hand movements and more."
Gichen who started the venture in 2020 says ventriloquism is what sustains him and his family. Though he only started this business two years ago, he has no regrets.
Widen reach
In a good month, he makes between Sh30,000 and Sh40,000 on average. However, he hopes to expand his reach and earn much more.
"I hope to have even millions when I have a good reach. I appreciate what I get because I just started two years ago," he says.
His main challenge is the lack of appreciation by Kenyans on his career. While there are those who understand how ventriloquists work and love the jokes and humour he makes through the puppets, some don't understand it.
However, the art is gradually getting exposure and appreciation.
"It's been a difficult journey in Kenya because for people to enjoy what they see they must first understand how it works especially the people aged above 50.
Some young people have not seen a ventriloquist in action and may have doubts.
"I am glad that people in Kenya and East Africa are slowly learning about ventriloquism and enjoying and appreciating it," he said.
Related Topics