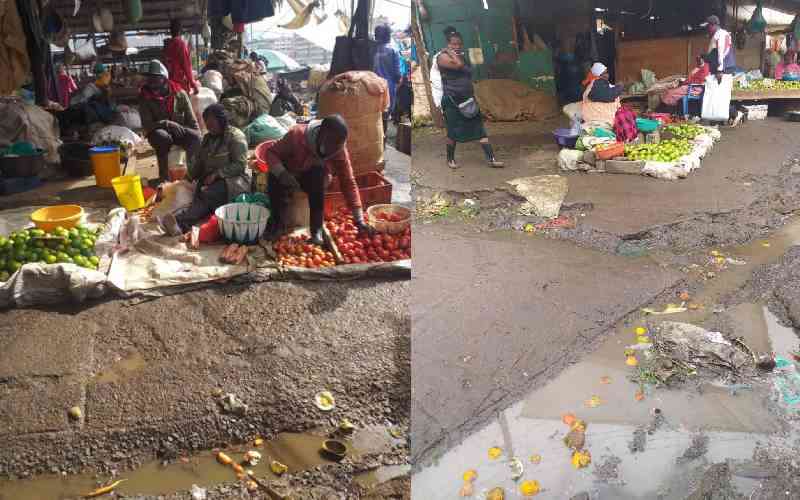 Cases of cholera continue to rise despite the fact that the disease is easy and simple to control and contain.
Cholera, which is spread through water or food contaminated with cholera bacteria, can spread rapidly in areas with inadequate treatment of sewage and drinking water.
According to the Centers for Disease Control and Prevention (CDC), the infection is not likely to spread directly from one person to another; therefore, casual contact with an infected person is not a risk factor for becoming ill. In an epidemic, the source of the contamination is usually the feces of an infected person that contaminates water or food.
"During this period of cholera outbreaks in the county, there is need for strict hygiene like the boiling of water, keeping a clean environment and using pit latrines for those who stay in informal settlements and rural areas where there are no flushing toilets. Cooking foods properly and avoiding eating from roadsides should also be adhered to," says Dr Jude Onunga, a general medical practitioner.
Dr Onunga says the health status of citizens is paramount and the government must ensure that cholera outbreaks are contained and prevented and already infected persons are promptly treated.
A recent survey by inspectors the from Ministry of Health shows that about 40 percent of beds in both private and public hospitals are occupied by patients suffering from air and water-borne diseases.
The most affected people are slum and beach dwellers, people in refugee camps, those in prisons, and people who live in camps or confined setups like boarding schools.
Healthcare workers are also at risk of infection by cholera because they handle patients with the disease.
Among communicable diseases, cholera is the fastest killer of human beings as it kills faster than ebola, Dr Onunga reveals.
"It is therefore important that effective public health interventions such as improved management of the environment and adequate use of vaccines are implemented in order to contain cholera amongst the vulnerable population", says Dr Moses Mwangi, a vaccine specialist.
Dr Mwangi says new evidence has emerged on the proper use of vaccines as a public health tool to prevent the disease, particularly in crisis situations.
Kenya has been in a crisis situation since the disease broke out in parts of the country late last year.
According to the World Health Organisation (WHO), the first demonstration project using oral cholera vaccines in an endemic setting was performed in Port Beira, Mozambique more than a decade ago.
The demonstration was aimed at assessing the feasibility and acceptability of the vaccines as well as vaccine coverage in a population exposed to annual recurrent cholera outbreaks. The results were encouraging in a case-controlled study conducted among vaccinated people.
"Mass immunisation campaigns using vaccines are essential in the country now to protect people against the disease," advises Dr Mwangi. He adds that if the disease is unchecked, it could cause further damage and result in more deaths.
"It is a challenge to health professionals and other stakeholders," he says.
"They should advise the government to make it mandatory for the risk groups such as food handlers, slum, and beach dwellers, health care workers, refugee populations, people in schools, colleges, camps as well as fishermen to get vaccinated," Dr Mwangi says.
"It should be mandatory just like it is for food handlers to be vaccinated against typhoid fever," he notes.
He adds that personnel from the Kenya Expanded Programme for Immunisation (KEPI) should ensure people are immunised in the affected counties and others at risk of the disease.
Experts advise that there is an urgent need to set up campaigns for immunisation and other preventive measures and mechanisms against the disease.
There should also be medical checkups to facilitate early detection and prevent further spread and possible deaths.
Related Topics