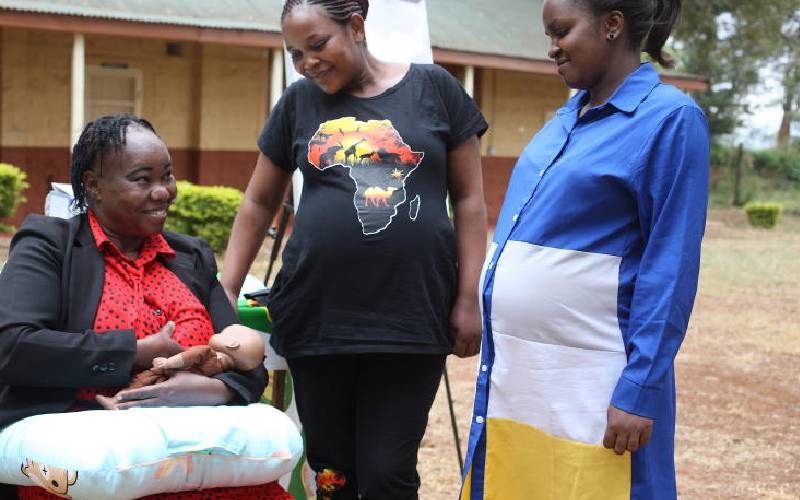 I had my first baby, who made his way to the world at 35 weeks, in 2015. At 35 weeks, the baby is considered preterm and breastfeeding with a fresh C-Section wound is difficult.
Just like any new mother, nothing had prepared me for this. But here I was with a preterm baby and I did not even know how to position the baby. The following morning, Dr Kaguta Munawar, a senior gynaecologist at Aga Khan Hospital, Dar es Salaam and Associate Professor at Aga Khan University came with his team of medics for routine ward rounds and found me struggling to force the baby's mouth to my breast.
He then instructed the nurses to teach me how to breastfeed, which they did for the better part of the day. It was such a learning experience. At the hospital, I was advised that exclusive breastfeeding was the best for the baby to grow healthy and survive.
After leaving the hospital, I started looking for information on exclusive breastfeeding but could not get the right information on how to do it right and to handle frustrating moments, especially when the baby doesn't breastfeed well or when your breasts get engorged.
So it was quite a struggle but thanks to Dr Mariam Noorani, a senior paediatrician and lactation expert at Aga Khan Hospital, Dar es Salaam, who walked me through my breastfeeding journey.
I would ask her questions whenever I experienced challenges. As a first time mother, you get really frustrated whenever the child just cries and you do not know what to do. She is the one who introduced me to pumping breast milk for baby's use when I resumed work. Trying to get all this information online was not easy since internet is flooded with all sorts of info and it is hard to tell what is credible and what is not. The transition to work from maternity leave is a difficult phase for the baby and the mother.
So from my struggles, I approached medics (a lactation expert, pediatrician, gynaecologist, nutritionist) who offered professional assistance. I embarked on doing more research on breastfeeding, documenting the struggles mothers across different countries were facing.
In November 2020, Nyonyesha App, which is free and available on Google Play Store, was born.
Nyonyesha (Kiswahili for breastfeeding) is multilingual and is in English, Kiswahili and Sign language based on user preference. The catchphrase for Nyonyesha App is 'Breastfeed Today for a Healthier Tomorrow'. The app brings free breastfeeding, maternal and child health information at your fingertips as long as you have a smartphone and data.
It also provides updates on standardised health messages from reputable health institutions, respective ministries of health and the World Health Organisation on breastfeeding, maternal wellness and child health besides acting as an interactive support group for breastfeeding mothers.
It also notifies users on their breastfeeding and pumping schedules. Once users have logged in, they can set their own schedules as per their specifications.
According to WHO, mothers should exclusively breastfeed infants for the child's first six months to achieve optimal development and health. Thereafter, babies should be given nutritious complementary foods and continue breastfeeding up to the age of two or beyond.
The writer is the founder of Nyonyesha App and African Ringer Newsletter
Related Topics