Home
/
Health & Science
HIV gel founder named to head key research agency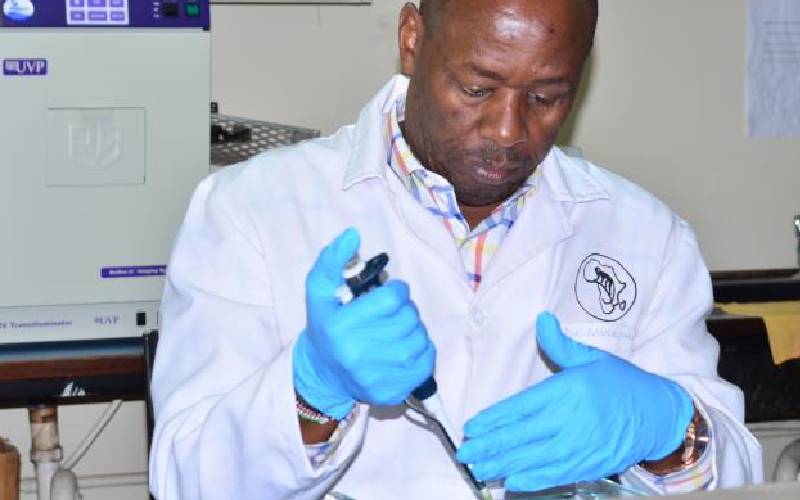 Kenyan scientist who developed an HIV killing gel, winning global recognition and a Head of State Commendation in 2019, will lead a key research institution.
Dr Peter Mwathera has been appointed to head Karen-based Institute of Primate Research (IPR) to speed up development of medical drugs.
The institute, a department within the National Museums of Kenya will also become semi-autonomous to be known as the Kenya Primate Research Institute or KIPRE.
A gazette notice says KIPRE will establish a management board and be the national centre for development of health products with eyes on human vaccines.
"The institute shall be the national centre undertaking biomedical and preclinical research for development of health products that meet local and international standards," says the notice.
KIPRE, the notice says will also establish an incubation centre linking research and industry in the health products value chain.
The institute has already commercialised two medical products with advanced plans to have the world's first anti-HIV microbicide in the market.
"We have presented a Sh25 billion work plan to the government for establishment of a heath products development hub," Dr Mwethera told The Standard.
He said they are seeking about Sh1.7 billion from the government with the rest expected from the private sector and donors.
"The institute has offered 100 of its 450-acre land at Oloolua in Karen for the proposed biomedical hub," said Dr Mwethera who has been heading reproductive research at the institute.
To manufacture vaccines used in Kenya and Africa locally, Dr Mwethera says the country does not need to reinvent the wheel.
"Most patents have expired and we hope the proposed hub will speed up bio-replication. This will be a basis for launching own vaccines."
The elevation of Dr Mwethera and IPR coincides with a new government plan to overhaul the current medical supply system following embarrassing gaps exposed by Covid-19.
The government has developed a Sh464 billion five-year response plan mainly anchored on supporting local innovations and manufacturing.
The Health Products and Technologies Supply Chain Strategy 2020-2025 allocates Sh470 million to local innovations and manufacturing including alternative medicines.
Following the outbreak of Covid-19 last year, President Kenyatta announced government support for local scientific research and product development.
"Our institutions, including Kenya Medical Research Institute (Kemri) and IPR are involved in the search for a vaccine," said President Kenyatta in April last year.
IPR has so far received Sh250 million from the government for development of Covid-19 testing and upgrading research infrastructure.
By last month IPR had carried out more than 50,000 Covid-19 diagnostic tests. "We have established two biosafety laboratories and a repository for both nasal swabs and blood samples from testers," said Dr Mwethera
"This is important because the data will help us understand how long vaccine protection lasts in our local populations."
Dr Mwethara first came to the limelight 16 years ago when he published a study showing his locally developed gel could kill HIV and protect women against infection.
The gel patented in 2007 under the brand name Unipron, is awaiting final human clinical trials which have been paused due to the Covid-19 outbreak.
"We have been held back by the Covid-19 pandemic but preparations for clinical trials are still on course," said Dr Kavoo Linge a consultant gynaecologist at Nairobi Hospital and the project clinical adviser.
However, two by-products from the gel; Smugel and Smuscan a viginal lubricant and an ultra sound scanning balm respectively are already in the market.
Data shows the project is selling about 30,000 units of lubricants annually through Kemsa. It employs about 100 people directly with plans to engage about 3,000 by 2030.
"Covid-19 has taught us never again to solely depend on others for our life-saving health commodities. We must make our own as we did with PPEs," said Prof Isaac Macharia, Chairman Equity Bank and a technical advisor to the Unipron project.
"We must move fast and be part of the next generation of Covid-19 vaccines. It is a shame that of the about 200 Covid-19 vaccines under development globally none is from Africa," said Dr Mwethera.
Related Topics