Home
/
Health & Science
Crafty traders stifling Kenya's war on plastics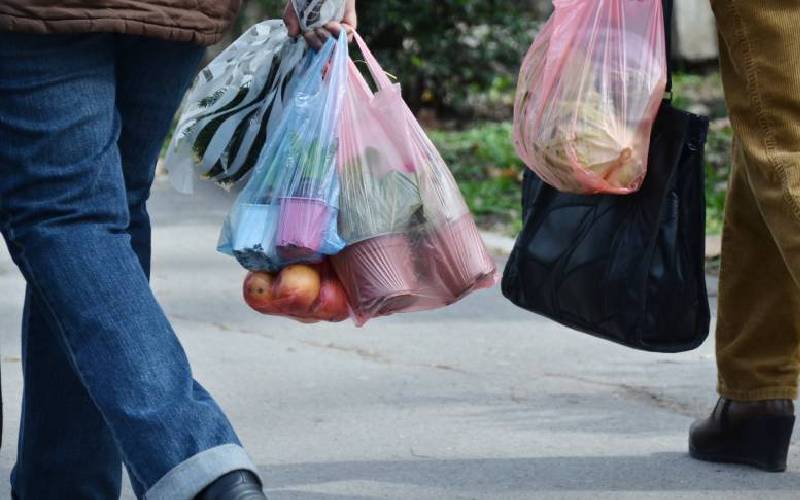 The borders with Uganda and Tanzania are emerging as the weakest link in Kenya's efforts to end the menace of single-use plastic bags.
On August 28, 2017, Kenya banned manufacturing, sale and distribution of plastic carrier bags, and the war is largely won, according to National Environmental Management Authority (Nema). However, some unscrupulous traders are sneaking the plastic into the country, through Namanga, Malaba and Busia border points.
Kenya emerged as a leader in the fight against plastic pollution and was among the first countries in East Africa to limit single-use plastic and sign the UNEP-driven Clean Seas Initiative meant to rid waterways of plastic waste.
In June last year, Kenya also banned on single-use plastic in protected areas. But lack of laws requiring producers of plastics to take responsibility for managing waste their products generate is also stifling efforts to end use of plastic.
Nema has complained some companies it licensed to produce plastic bags for purposes of packaging their products, including sugar millers, bakeries as well as salt and soap manufactures, are messing up the war against plastics.
"We have found plastic bags produced by some of these firms in markets packaging vegetables," said Nema Enforcement Director Salome Machua.
Nema's Kisumu County director Tom Togo said the agency is developing regulations to control production of plastics by companies licensed to produce them.
He said the regulations, expected to be ready by January next year, will provide for quality of plastics to be produced and their distribution to ensure they are only put to the intended use. "We rely on the national ban of 2017 which has many gaps. The new regulations are intended to address these gaps," Togo said.
But in August 2018, it emerged the amount of plastic in rumens of slaughtered livestock in major abattoirs was much lower compared to the time before the ban on the use of the organic materials. This followed a study a study by Nema on prevalence of plastic bags in the rumen of slaughtered cows was carried out at Kenya Meat Commission (KMC), Dagoreti and Kiserian abattoirs.
"This is the first positive evidence of the ban on plastics on livestock industry demonstrating its benefits. Given the positive impact of the ban on the livestock, the study recommends continued investment to sustain it," the study said..
The study involved visits to Dagoreti in Kiambu, Kiserian in Kajiado and KMC in Machokos by Nema scientists who inspected all slaughtered animals' rumens for plastic bags using the same approach used during the base-line survey of August, 2017.
Greatest prevalence
Some 4,061 livestock were sampled, most of them, 2,709, from Dagoreti. KMC had 953 and Kiserian had 508. KMC had the greatest prevalence (24.34 per cent), followed by Kiserian (12.99 per cent) and Dagoreti (2.14 per cent), the report said.
Meanwhile, Kenya Marine & Fisheries Research Institute (KMFRI) says fish stocks in Lake Victoria have dwindled and attributes this to pollution, especially plastic pollution.
"Increasing pollution and preponderance of microplastics are chocking the lake and shutting off this economic engine of three countries. Plastics adds another burden to the lake's ecosystem that is already stressed," said KMFRI deputy director Chrisphine Nyamweya.
Those violating the law shall pay a fine of not less than Sh2 million and not more than Sh4 million, or imprisonment of a term of not less than one year but not more than four years or both fine and imprisonment."
There has been a push for laws that will require firms that profit from single-use plastic bottles to clean up what they produce. A huge amount of plastic waste is still ending up in landfills and drainage systems.
Nema said illegal trade in plastic bags has been going on for some time now. The plastic is secretly sold to particular traders who distribute them to other traders to in markets across the country.
At least 25 people have been arrested in Kisumu this year over the illegal trade. Twenty four of them were charged in court but were released after paying fines of between Sh2,000 and Sh5,000. Nema said most of those arrested said they had sourced the plastics from neighbouring countries.
The agency plans to carry out more crackdowns in border towns to arrest suspects in the ongoing efforts to stop use of plastics in Kenya, Ms Machua told Health & Science.
She also picked an issue with courts which she said are too lenient to suspected sellers and users of plastic bags. "The fines courts charge offenders encourage them to continue with the illegal business. We wish the fines can be more prohibitive," said Machua.
She added: "The ban is 80 per cent successful as evidenced by a decrease in plastic litter in the environment. The ban is a major boost but there are challenges with enforcement."
Machua termed the plain fleecy white plastic bags a major problem. "Our enforcement teams hope to eliminate use of these plastics by at least 20 per cent by mid next year."
Kisumu County Commissioner Josephine Ooko said: "There has been a significance adherence to the ban on plastics save for a few offenders who are sneaking them into the country."
He said through collaboration, they have tracked and arrested offenders. A multi-agency team is working hard to seal all loopholes at the border that have been used to bring in plastics. We are enhancing surveillance, he said.
Plastics have had a major impact on the environment resulting into economic losses. The problem is compounded by the fact plastics take longer, over 100 years, to degrade.
Prior to the 2017 ban, it was estimated that 100 million plastic bags were handed out by Kenyan supermarkets every year. Most plastics ended up clogging drainage systems.
Machua said violation of the ban on plastics is done more in Nairobi than anywhere else. This year alone, over 100 people have been arrested over use of the banned plastics.
"We still have blocked drainage systems within the city with littered plastic papers blown by the wind all over the city," she said.
Drainage systems
Mombasa, Machua said, has witnessed emergence of manufacturers of plastic bags. "Last month, a manufacturer was arrested and charged in court. Most plastics reported in Kenya are from other countries. We are still carrying out investigations and we will ensure anyone engaging in this illegal business faces the law," Machua.
In Murang'a County, at least 30 people were arrested last month for allegedly distributing plastic bags. However, according to Ms Machua, the suspects were not charged and only warned by the court to stop the illegal trade.
"We plan to meet representatives of the Judiciary to discuss how best this matter can be handled. Trading in banned plastics is a serious offence and we do not want to see suspects going scot-free," she said.
Single-use plastics are polluting ecosystems, from rainforests to the world's deepest ocean trench. When consumed by fish and livestock, plastic waste end up in our food.
By 2050, the UN estimates that there will be more plastic than fish in the ocean there is change of behaviour.
Related Topics