Home
/
Health & Science
When cancer runs in the family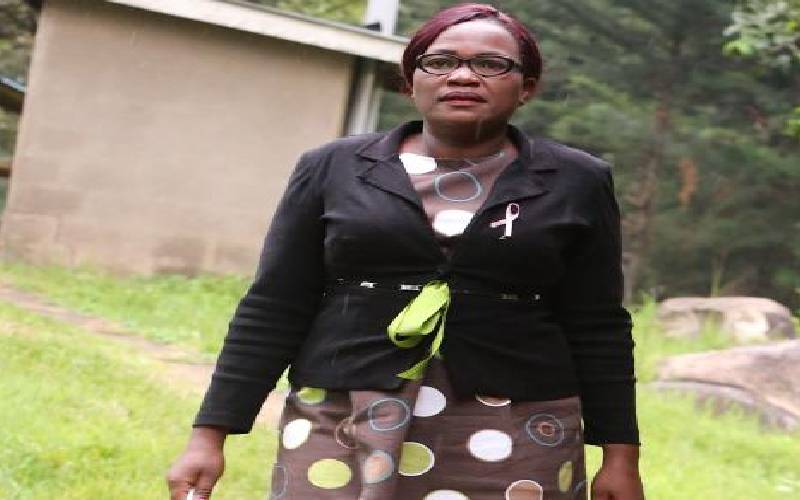 "We didn't understand, until my father died of stomach cancer, that it was all genetic and frequent screening was the only option to save my family," Eunice Mulehane says with a pained look in her eyes.
When her father died in 2017, Eunice had just finished cervical cancer treatment, which had entailed the removal of her womb (hysterectomy). At the time of this interview with My Health last week, her sister was fighting breast cancer, while her niece is battling cancer of the eye.
It was due to these experiences that Eunice went for further training to become an oncology nurse.
Despite being around cancer patients and knowing so much about the disease, in addition to her personal experience, she admits that a frisson of fear runs down her spine any time relative shares that they even have a slight ache.
"It's a fear I may always have," says the 48-year-old woman.
According to Dr Mohammed Ezzi, an oncologist, cancer is caused by mutations or changes to genes that control the way body cells function. This causes them to behave irregularly, making one susceptible to getting any type of cancer. These genes can be passed down families to cause hereditary cancers.
Hereditary cancer is diagnosed when close family members are observed to be developing cancer.
"When we see a very strong family history of cancer, especially in the first degree relatives (parent, siblings and children), we suspect there must be a hereditary problem," he says.
Families with hereditary cancers are however not a common occurrence. "In a population of say 500 cancer patients, there could be only three with a strong family history of the disease." Most cancers are caused by gene mutations that occur in one's lifetime and aren't in an egg or sperm cell like in the case of hereditary cancers and thus aren't passed down to the next generation.
In Eunice's case, Dr Ezzi observes that there is a possibility that something in their genetic make-up is predisposing them to cancers. "Also, they might be living in an environment that is predisposing them to cancer or some toxins in the environment."
Eunice was the first in the family to be diagnosed with cancer.
"The cervical cancer was at stage three. This was in 2015, but the pain started in 2013, with unpredictable bleeding spells, which could last for two days and then stop."
She also lacked balance, especially on the left side of her body, and the pain was persistent.
"One day I had arrived at work and lost balance completely, falling down. Then I suddenly started bleeding," she says.
The medics suspected that she had suffered a physical injury in the cervix and uterus, but she knew this to be untrue. "They listened to my concerns and recommended a biopsy. The results showed that I had cervical cancer and needed urgent surgery."
In her father's case, and as is common in the cases of stomach cancer, he was diagnosed too late.
"He kept complaining about stomachaches and it took a long while before he was diagnosed with cancer. It was already at stage four."
As her sister continues to fight breast cancer, Eunice says another growth has appeared at a place where breast tissue had been removed.
"We are hoping for the best. Meanwhile, my niece's eye has already been removed," she says.
Common hereditary cancers
The most common inherited ones are breast cancer, ovarian cancer, gastric cancer and prostate cancer.
For Eunice and her family, they still wonder if this can be averted. They hope no other family member is affected.
Genetic counselling, Dr Ezzi explains, is important in such cases because genetic mutations, once expressed, cannot be changed or reversed. This usually entails the specialists explaining to the family what genetic mutations mean and their implications and what can be done about it.
To identify the specific gene and its effects, one would need to have oncogenic genes therapy.
"This is where geneticists first carry out tests to identify the gene that predisposes the family to the cancers." Once identified, they can explore possible therapies. One such therapy involves correcting the abnormal genes by introducing tumour suppressor genes.
These processes tend to be expensive.
"Samples have to be taken in private laboratories and sent to Europe and The United Kingdom for testing. However, in the recent past, we have seen a number of labs in Africa crop up that carry out oncogenic genes testing.
"If you suspect that there is a cancer gene going down the family, members of the family, even those not affected, should undergo screenings more regularly, say annually, to catch any occurrence early enough to allow successful treatment," advises Dr Ezzi.
Genetic testing for cancer
Through some genetic tests, you can find out if you are likely to develop some cancers. The tests determine the presence of genes responsible for the development of cancer.
Does it help to know?
Knowing one's cancer risk allows them to lead a lifestyle that will lower their odds of getting the disease. It also allows them to be more vigilant and commence treatment as soon as any sign of growth is detected, which, of course, improves their prognostic outcomes.
You can consider genetic screening for cancer if:
· You have had many first-degree relatives with cancer. These include your parents, your siblings and your children.
· You are a relative on one side of the family with the same type of cancer
· A family member has more than one type of cancer
· In your family, you have had many develop cancer at an earlier age than is typical. For example, breast and prostate cancers are more common among women over age 50
· A genetic test by one or more relatives revealed a mutated gene
· One or more family members have had genetic testing that found a mutation.
Related Topics