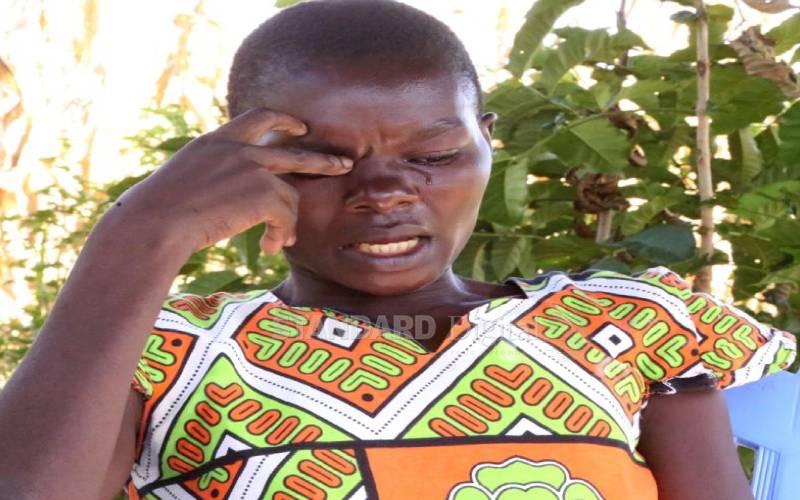 A woman in Homa Bay is crying for justice after what started as a headache led to her losing her uterus in a medical operation gone wrong.
In an unending pain, 24-year-old Quinter Atieno wants to know why medics at the Rachuonyo County Hospital in Homa Bay carried out hysterectomy surgery on her without medical approval nor her consent.
In an interview with Standard Digital on Friday, Quinter says she paid Sh17, 980 for a hysterectomy to remove her uterus in a bid to stop cancer of the uterus from spreading only to later realised the medics performed a wrong surgery.
Her agony started in May 2020 when she fell sick and sought medical care at Matata Hospital in Oyugis town.
Tests done at the hospital showed all her internal organs appeared normal both kidneys were normal.
According to the medical report, she had no abnormal masses effusion or enlarged lymph nodes, her uterus appeared normal and in good shape. Both ovaries appeared normal in shape.
The tests, however, indicated that there was a trace of gaseous content in her stomach with mild fluid seen in an organ within the uterus.
In June, the pain worsened and Atieno returned to the same facility which referred her to another private hospital for colposcopy and biopsy tests for colorectal cancer
However, the test results from Kisii Medical Diagnostic and Imaging Clinic showed that her uterus, ovaries and urinary bladder were normal.
She was given drugs for mild pain before discharge.
A month later, her condition worsened and was referred to Rachuonyo County Hospital where she would lose her uterus for further medical checkup.
Previous medical records
Atieno says, after handing over her medical history reports to medics at the facility, the doctor who observed her told her she had stage three cancer of the uterus and recommended the removal of the uterus to curb the spread of cancer.
"I was shocked with the news, but the doctor insisted that it was the only option I had to save my life," Atieno said.
Atieno claims during a conversation with the surgeon, she told the medics that all previous tests performed on her showed that she had no cancer by he insisted that the operation was necessary.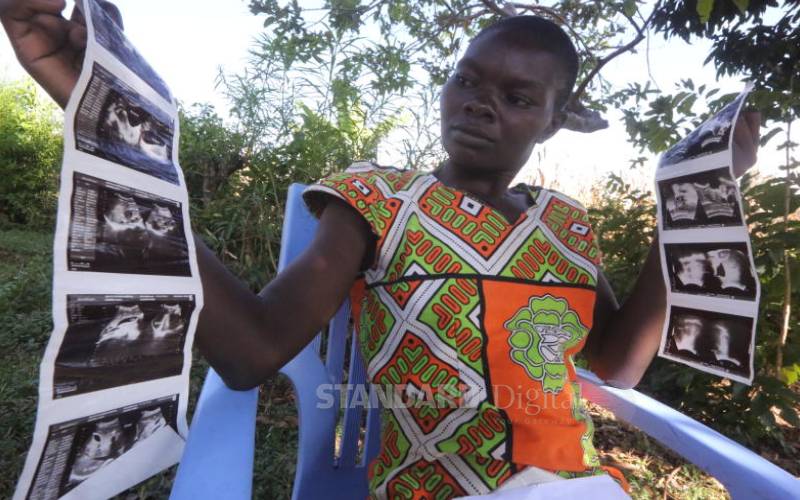 She also claims no tests were done on her at the hospital to prove that she had cancer.
"The surgeon made deductions and conclusions from the medical records from the private hospitals I had previously visited," Atieno said.
She claims without seeking her consent or conducting any tests, she was wheeled to the theatre for the surgery
"I did not agree to the surgery, I kept resisting and said no several times, but the doctors went on and removed my womb," Atieno claimed.
Developed complications
After surgery, Atieno stayed at the facility for four days before being discharged but started developing complications.
According to her father Jacob Ng'iela, her daughter has been in pain since the surgery.
"Talking to the medics never made any sense to them all they insisted was that an urgent surgery was to be carried out," Ng'iela said.
Ng'iela said since the surgery in July 2020, her condition has continued to deteriorate and she sought medical care at a private hospital.
A post-hysterectomy report says all the abdominal organs are normal in structure except for some features like bowel inflammation and around the umbilical region with a lot of gas in the stomach.
However, at the private hospital, an ultrasound showed she had a growth in the stomach- Appendicitis.
A second surgery was carried and her appendix was removed as it had developed bacterial infection the family spend Sh65,000 for the procedure.
Today she says she experiences a lot of pain at the incision point of the first surgery which never ceases.
"I want justice and investigation done and medics who caused me harm, must be made accountable for their actions," she said.
Ng'iela accused medics of refusing to attend to her daughter when she started experiencing post-surgery pain and sending her away without a second thought.
"I took her back to the hospital and the surgeon told us there was nothing he could do before sending us away sent us away," Ng'iela said.
Never complained
Rachuonyo medical superintendent Dr Stephen Okello, however, said Atieno presented herself with a complaint of severe and persistent abdominal pain.
After investigations medics made the decision to conduct the surgery, a decision he says Atieno consented to.
He said the patient has been visiting the hospital for follow-up and has never lodged a complaint with the hospital.
He agreed that the patient underwent a second surgery not related to the procedure she underwent at the hospital.
"There was proper counselling before she consented, if she had second thoughts we are unaware, we did what we had to do for her good," Okello said.
The medic said if she has any problem, she should visit the facility and be evaluated adding that the current pain might not be related to the first surgery.
"She can visit the hospital we will check on her and find ways of solving her problem or refer her within our network of referral," he said.