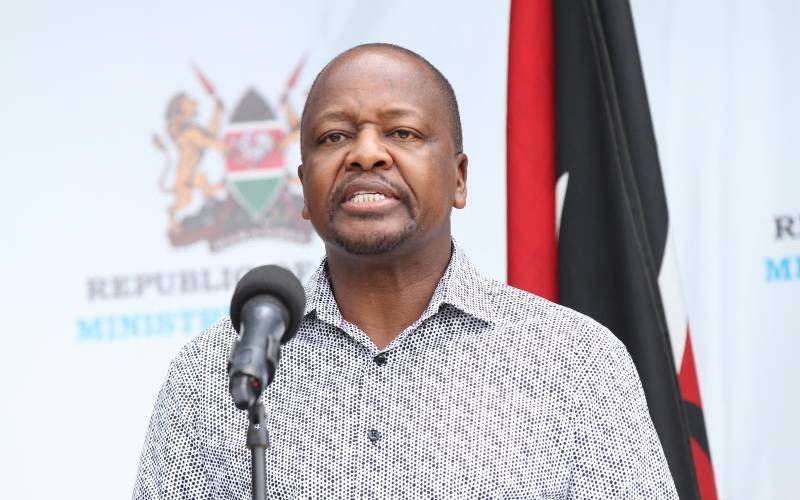 With Kenya's coronavirus cases are growing in the counties, there is an increasing significance of a viable vaccine to contain the virus.
In a statement to newsrooms on Monday, Health Cabinet Secretary Mutahi Kagwe (pictured) said the National Emergency Response Committee met to review implications of the ongoing pandemic.
The meeting attended by President Uhuru Kenyatta resolved to expand the committee's mandate to cover matters related to finding a vaccine.
Kemri is part of an ongoing research with Astra-Zeneca and Oxford University.
Kenya is one of the seven countries participating in the research. They are South Africa, the UK, Brazil, USA, Japan and India.
"It is expected that from across these countries, there will be 60,000 participants in the trials before the end of the year."
But while Kemri continues to collaborate in the trials for the vaccine, the government is still open to other opportunities with South Korea, Singapore and China, Kagwe added.
In the last 24 hours, Kenya has recorded 302 new coronavirus cases, bringing the national infections tally to 83,618.
From the cases 286 are Kenyans and 16 are foreigners, as the youngest who tested positive was a one-year-old baby. The oldest is 83.
Nairobi continued to lead with134 new infections, followed by Kajiado 26, Kisumu 17, Kitui 16, Marsabit 16, Nyeri 16 and Mombasa 13.
Today 369 patients recovered from the disease, with 287 from the home-based care programme while 82 have been discharged from various hospitals. Total recoveries now stand at 55,344.
However, 17 patients succumbed to the disease, bringing the fatality tally to 1,469.
On November 29, AFP reported that US biotech giant Pfizer and German partner BioNTech sought approval Friday to roll out their coronavirus vaccine early, a first step towards relief as surging infections prompt a return to shutdowns that traumatised nations and the global economy earlier this year.
The world is looking to scientists for salvation from the global pandemic. The US Food and Drug Administration (FDA) said its vaccines committee would meet on December 10 to discuss the request for emergency use authorisation.
"The FDA recognises that transparency and dialogue are critical for the public to have confidence in Covid-19 vaccines," the organisation's head Stephen Hahn said in a statement.
"I want to assure the American people that the FDA's process and evaluation of the data for a potential Covid-19 vaccine will be as open and transparent as possible."