Kamau Muthoni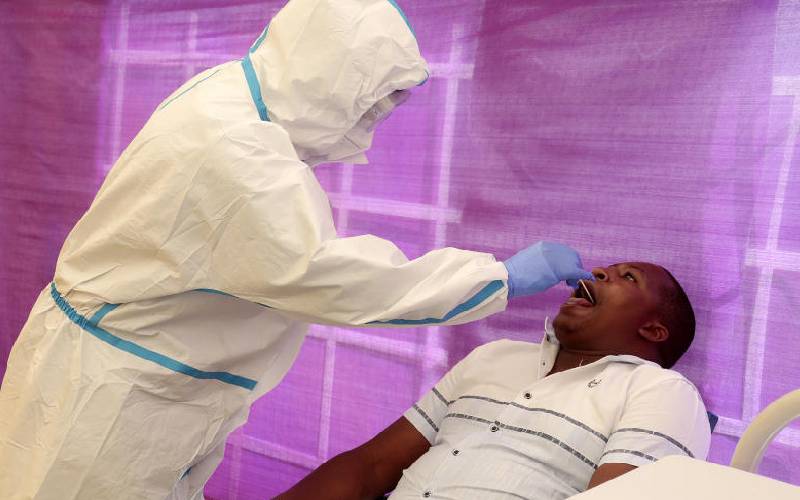 Two men have sued the government for their detention at a public hospital after failing to pay for Covid-19 treatment.
Although the Health ministry denied that public hospitals charged Kenyans who tested positive for the virus, the case filed before High Court judge Weldon Korir yesterday reveals the contrary.
The two claimed they were detained after they failed to meet hefty medical bills in a government hospital.
Andrew (not his real name), the first plaintiff, had travelled from Boston, United States, to Kenya around March 25.
He arrived at the Jomo Kenyatta International Airport at around 7pm and was immediately bundled into a waiting National Youth Service bus by a contingent of police officers before being driven to a government isolation centre.
He ended up at Moi Girls School, Nairobi and upon being tested on April 2, he was found to be Covid-19 positive.
"I told the medical personnel I wanted to go to a public health facility because I could not afford the cost of treatment," he said in court documents, adding he was taken to Kenyatta University Teaching, Referral & Research Hospital (KUTRRH).
At the hospital he was given an M-Pesa pay bill number through which to settle the cost of treatment. "I am unemployed and because I was not able to pay for treatment and management of Covid-19, I was detained by the first respondent (KUTRRH)," he said.
His quest for answers from the Health ministry officials on why he was being detained despite the government promising to foot the bills was futile. He said he wrote to Health Cabinet Secretary Mutahi Kagwe and acting director-general of health Patrick Amoth, but the two never got back to him.
Legal redress
The man, who has sued alongside Katiba Institute and Kenya Legal and Ethical Issues Network on HIV and Aids, said he opted to seek legal redress as he was treated poorly at the isolation centre and subsequently detained at the referral hospital.
He was slapped with a Sh93,000 bill and could not be discharged on May 1, the day he was meant to enjoy his first day outside hospital walls after four tests returned negative.
The second plaintiff says he was mistaken to have Covid-19 while in the real sense he was suffering from asthma, a disease he had endured from childhood. On April 9, he informed his friend that he was unwell and needed some rest. Two days later, at around 1am, he received a call from the government's hotline 719.
The caller asked him about the symptoms and he said he had chest pain because of asthma.
He received a second call and this time around the caller informed him to step out of the house.
Forced into vehicle
"When I stepped out, I saw an ambulance with sirens blaring and medical personnel wearing white protective clothing. They forced me into the vehicle," he said, adding he was taken to KUTRRH, where he tested negative for Covid-19.
He was slapped with a Sh15,000 bill.
The court record said he was discharged on April 28, and when he got home, he found all his belongings had been stolen.