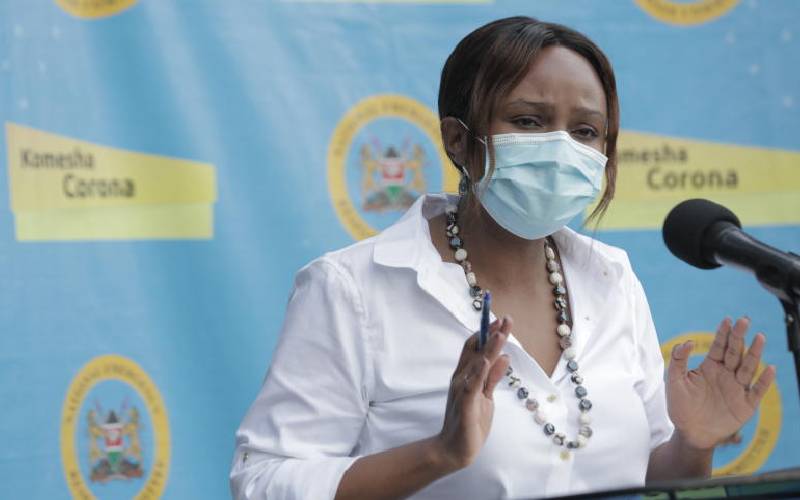 Just how widespread is the Covid-19 positive cases in the country? That was the puzzling question even as total infections surpassed the 6,000 mark. Even as the Ministry of Health announced yesterday that the positive cases had increased to 6,070 after 259 people tested positive, it is clear Kenya is still in the dark on prevalence of the disease and the actual number of persons tested. Evidently, Kenya is not working with an infection curve rather than a testing curve which ideally means we are testing more people than before.
SEE ALSO: Covid-19: Three people dead, 671 test positive
As of yesterday, the Government had carried out 165,196 tests across the now 28 laboratories in the country. Ministry of Health Chief Administrative Secretary Dr Mercy Mwangangi (
pictured
) said from the statistics issued, it is clear that Covid-19 infections are going up. "This rise can very easily be linked to the growing number of samples we are testing," Dr Mwangangi said. She noted that while this may be the reason, it also means that the virus has firmly established itself in the community. It is, however, not clear how these numbers are rising, as the statistics do not show an increase in infection rate but just a rise in the number of samples.
SEE ALSO: Uganda's tough approach curbs COVID, even as Africa nears 1 million cases
In her daily briefing, the CAS noted that in March, tests conducted were 3, 419 with 78 positive cases found. Some 19,108 tests were done in April getting 328 positive cases and when 57, 527 tests were done in May, 1,615 tested positive. As of June, 85, 142 tests have been done to get 4, 049 positive cases. The Ministry noted that the tests conducted to diagnose Covid-19 could not tell of the prevalence of the disease in the country. This can only be determined by doing a surveillance using Rapid Diagnostic Test kits which detects the antibodies one develops as a result of being infected by the virus. "The testing we are doing is more or less targeted testing which we respond to certain vulnerable spots in an area so it might not give a total picture of the disease prevalence in the country," said CAS Dr Rashid Aman at an earlier briefing. Prevalence of the disease can only be achieved if the Ministry also conducted tests on a constant number of samples every day.
SEE ALSO: Reprieve for county officials ordered to self-quarantine
For example, if 100 people were tested and 40 test positive one day but the same population was tested and 90 test positive another day, then it would mean the prevalence of the disease is increasing. Surprisingly, even though Nairobi is leading with 3,026 cases, the Ministry could not clearly explain why one is likely to get infected in Mombasa which has 1,445 cases as their epidemiology tabulations showed 107.9 per cent per 100,000 rate of infection compared to Nairobi's 55.2 per cent. "When it comes to processing of the samples, the machines we have, for you to do a run you need 94 samples. The idea is you get the calls from the county, you collect the sample and make sure you have a batch of 94. Because of this intricacy, the number can never be a constant 3,000 every day. There will be variations depending on the alerts coming in," Dr Mwangangi explained. So far, it is also not clear how many people have been tested in the 41 counties which have reported cases, a figure which can help assess the prevalence of the disease in the areas. Nairobi Mombasa, Kilifi, Kwale, Mandera, Kajiado and Busia have been described as hot spots. The highest ever rate of infection so far is 10.98 per cent on March 24, 2020 where nine people tested positive out of 82 samples. The lowest above 0.0 per cent was 0.41 per cent on April 11, 2020 when 491 samples were tested and two turned positive.