Home
/
Health & Science
Sex after cancer: The elephant in the bedroom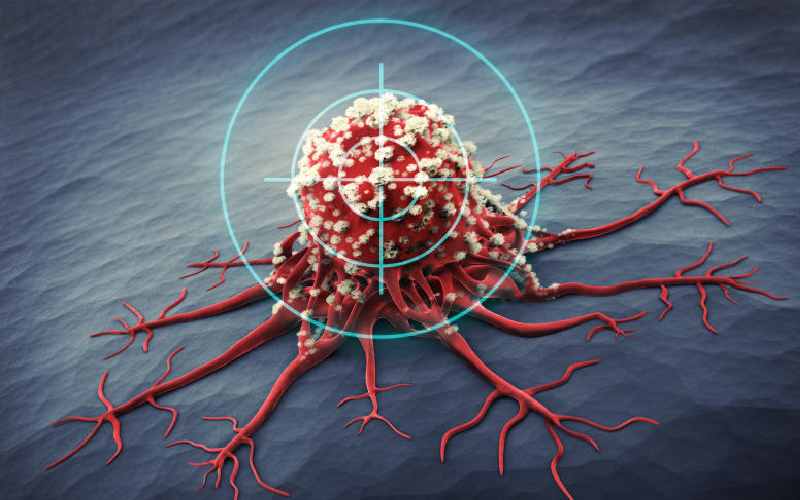 "My doctor told me that I would lose the hair on my head, and possibly a breast, but she didn't inform me that the hair on my vagina would fall out too," says Priscilla Kyaku*, a breast cancer survivor.
Priscilla is one among the 60 per cent of Kenyans under 70 battling cancer. They are in their prime sexual years, and no one prepares a cancer patient on the changes that would occur after cancer treatment.
"I am grateful that I am still alive. I just didn't know how much things would change. My libido is short and getting an orgasm is far much harder than it ever was," she says.
Cancer treatment affects people in varying degrees. A blessed few don't even get any lingering effects on their sexual performance. But for the majority, the effects last for a while and other times, the effects are lasting.
And just as sexuality and intimacy are important to healthy people, so are they to cancer patients and survivors.
Common effects
Available literature on oncology patients has predominantly highlighted issues of sexual dysfunction, activity and satisfaction. Sexual health takes a harder hit when cancer affects the most intimate parts of the body depending on the type of cancer and treatment done.
Additionally, cancer and its treatment options do affect sexuality in both emotional and physical ways. Emotionally, the fear, anxiety and low self-esteem can zap the desires and survivors may have to live with the long-term consequences.
Drugs used in cancer therapy are used to combat cancer cells by killing them off and slowing down their growth. Chemotherapy has been associated with unpleasant side effects such as vomiting, hair loss and fatigue. The drugs may also interfere with sex hormones. However, just like how hair grows back after chemotherapy, normal sexual function may resume after the treatment. In addition, hormone therapy is also used when tackling hormone-sensitive cancers. The most common side effects of hormone therapy include fatigue, loss of sex drive, weight gain and loss of bone density.
Radiotherapy on the other hand, uses radiation to kill cancer cells. Depending on the area of the body affected, the radiation may cause permanent or temporary infertility in both men and women. The skin may also be affected, changing tone and sensitivity as the treatment progresses.
Effects of surgery
Surgery as one of the treatment options for cancer is normally aimed at removing the cancer from the body. Some organs are involved in production of hormones and other chemicals so it goes without saying that the removal of the whole organ of a section of it through surgery will eventually cause a change in hormonal levels and certain sexual functions. It is important to note that such changes may also be unpredictable. The effects maybe temporary or permanent depending on the extent of treatment. For the benefit of sexual health, a couple needs to adjust to changes caused by surgery.
For the men, surgery involving the pelvic or abdominal area such as the bladder or prostate can cause damage to the nerves involved in getting and maintaining an erection. In addition, the effects are notably better for relatively younger men who had no issues with erections before surgery. In the treatment of prostate cancer, effects may be…
· Loss of sexual pleasure
· Dry orgasm—failure to ejaculate semen during orgasm,
· Erectile dysfunction,
· Urine leaking when climaxing
· Retrograde ejaculation; when semen moves backwards towards the bladder instead of flowing forward.
Removal of one of the testicles may not affect a man's ability to engage in sex or sire children. Not unless there were underlying fertility issues before surgery. One testicle can produce sufficient testosterone to maintain sex drive and still produce sperm. Since the removal of the testicle may cause a change in the appearance of the scrotum, an artificial testicle can be inserted to maintain the scrotal appearance. However, removal of both testicles will cause permanent infertility since there will be no source of sperm. Additionally, testosterone production will be impaired greatly and this may result in low sex drive.
Surgical removal of the penis is one of the treatment options for combating penile cancer. However, the part that remains may still get erect but may not be elongated enough for penetration. The experimental studies going on for penile reconstruction give hope to penile cancer survivors who have had to let go the body part that gives them identity.
For the women…
Cancers of the breast and cervix are most common in women in the peri-menopausal ages of between 40 and 55 years of age. This is according to a Kenyan cancer survey published in 2019. This age range is fairly sexually active and the aftermath of cancer treatment can wreak havoc in survivors' sex lives.
Hysterectomy, common in the treatment of the uterus as treatment for cancer of the uterus and endometrium ensures that a woman will no longer have periods or become expectant. Some of the risks associated with this surgery may include urinary incontinence and vaginal prolapse. Women who have had a hysterectomy are normally advised to abstain from sex for at least six weeks after the surgery.
The effects of removal of the ovaries in women for treatment of ovarian cancer are similar to testicular removal in men. Removal of both ovaries means that a woman will no longer release eggs and oestrogen production will drastically reduce. These hormonal changes are responsible for loss of natural vaginal lubrication that may affect the quality of sex. However, if only one of the ovaries is removed, the remaining one will still produce eggs and release hormones. Furthermore, the woman will be able to conceive and carry a pregnancy to term if there were no other underlying fertility issues.
Hormones and cancer
Sometimes cancer treatment will lower or even stop production of sex hormones. Lowered production will lead to effects that vary in from mild to severe. Sometimes they will ease off in weeks or months or last through several years.
These include:
· Hot flushes and sweats
·Lowered libido
· Fatigue
· Vaginal dryness among women
· Impotence in men
· Breast tenderness in men
Do not be embarrassed to talk to your doctor about the sexuality challenges. Your doctor may help you strategies to cope with the sexual changes.
Nancy Nzalambi is a research scientist with NHIF
Related Topics