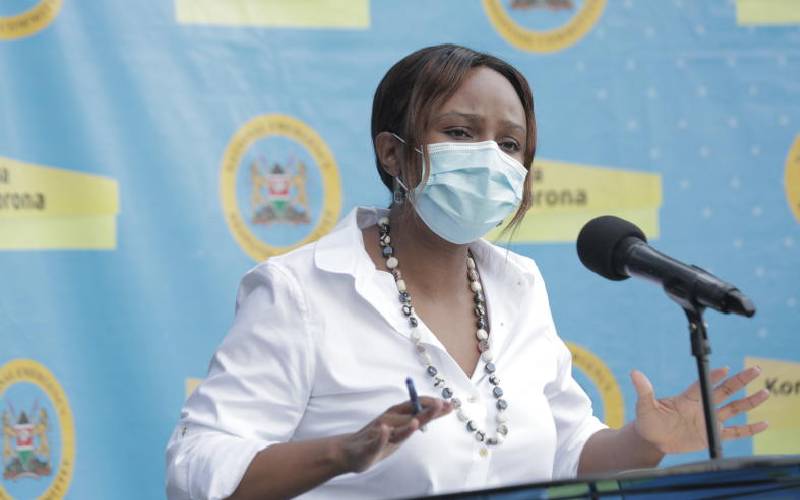 Some 259 people have tested positive for coronavirus in Kenya, pushing the national tally to 6,070.
Speaking at Afya House on Sunday, Health CAS Mercy Mwangangi (pictured) attributed the increased number of Covid-19 infections to community transmissions and urged the public to be on high alert and practise government guidelines on keeping coronavirus at bay.
"Failure to do this will be a huge threat to our healthcare system."
The youngest in the new infections was eight months old. Nairobi still led with 127 cases, followed by Mombasa's 39.
Lamu is the latest county to report a case, bringing the total number of counties with Covid-19 cases to 41.
The ministry has acknowledged that Kenya's healthcare system, as is, will be strained by an influx of patients, both for coronavirus and other ailments, further urging residents to stay healthy and follow ministry guidelines on Covid-19.
To combat this, the Health ministry has turned its focus to community health volunteers, which it says can reach the masses first and fast. So far, 60,000 community health volunteers have been trained to cushion the healthcare workers stationed at the facilities and may not be available to fight Covid-19 at the community level.
The volunteers have been in the system, but were furthe rtrained though an online platform facilitated by the goernment and Amref, Dr Mwangangi said.
In March 3,419 samples were tested, where 78 were positive. Since then, more have been tested and the positive cases have expectedly gone higher. Today, the daily positive infections are in tripple digit figures.
The 19,108 samples tested in April resulted in 328 positive cases, while May's 57,527 samples showed 1,615 positive outcomes.
Between the start of June and today, Dr Mwangangi said 85,142 samples were tested, resulting in 4,049 positive cases.
The Health CAS warned that the increasing numbers show that the situation is getting worse in the country.
"It is important that we ensure we adhere to the containment measures."
More attention has now been turned to the counties, which have been urged to bear responsibility and upscale their levels of preparedness.
Dr Mwangangi admitted that although not all counties have the 300-bed capacity in isolation centres, the majority are ready in other capacities. She cited 27 test labs that are located across the country in different counties.
The Health ministry is working with counties too enhance capacity in testing, tracing, treating and isolating.
Other than keeping the facilities in top shape, the county governments were further urged to put together rapid response teams to cater for upcoming Covid-19 cases.