Home
/
Health & Science
Pay up dues or risk strike from healthcare workers: KMPDU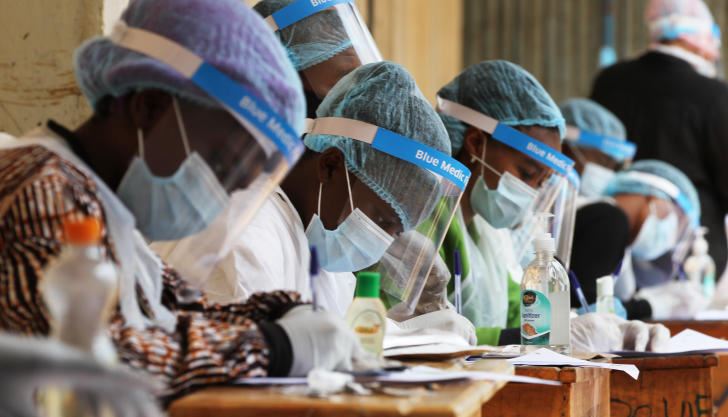 Kenya Medical Practitioners, Pharmacists and Dentists Union (KMPDU) has brought to the spotlight five counties it accused of failing to pay healthcare workers despite their continued services during this Covid-19 pandemic.
The KMPDU on Monday issued a warning that such delays would compel the health workers to take industrial action.
"Counties have failed to pay up yet we are in the midst of a pandemic. Yet these same workers wake up daily to go those hospitals to serve patients. It is very sad," said the National Chairman KMPDU, Dr Oroko Ombegi.
According to KMPDU, counties that are yet to pay the May 2020 salaries include Mombasa, Trans Nzoia, Tharaka Nithi, Meru and Nandi.
The medical sector has been faced with a myriad of challenges forcing the union to lobby for ensuring that the health service commission is included in the constitutional reforms that are likely to shape the country moving forward.
"As you are aware KMPDU and the leadership from all healthcare workers have been on the fore front in advocating for the formation of a health service commission. Devolution of healthcare took health from the ward to ICU," said Dr Oroko.
He further adds; "The challenges faced in management over the years and especially in the devolved system of governance can only be resolved by a centralized, standardized and coordinated manner."
"As KMPDU, we demand and we are aware of people planning to remove the Health Service Commission from the BBI report. We are sending a warning that we have mobilized well all health workers in the country. If Health Service Commission is removed from the report then all health workers will close down hospitals across the country."
According to the union, the establishment of the Health Service Commission will go a long way in entrenching the rights to health of all Kenyans and protecting the nation.
The country is 100 days into the fight against Covid-19 and has so far recorded about 83 cases of health care workers who have been infected in line of duty.
In a previous briefing, Secretary-General of the union Dr Chibanzi Mwachonda had issued a concern that health workers were being infected at hospital quarantine sites after coming in contact with coronavirus patients.
"The infection of healthcare workers with Covid-19 is on the rise with our latest data showing that 81 health workers have been infected. A majority of these infections are from contact with infected patients, which further reinforces our concern over provision of adequate and quality personal protective equipment (PPEs)," Dr Mwachonda said.
In order to solve underlying issues such as terms and conditions of work of the health workers, the union now wants all the 47 counties to fully implement the agreed upon CBA's that will also factor in promotions and health insurance of the health workers.
Related Topics