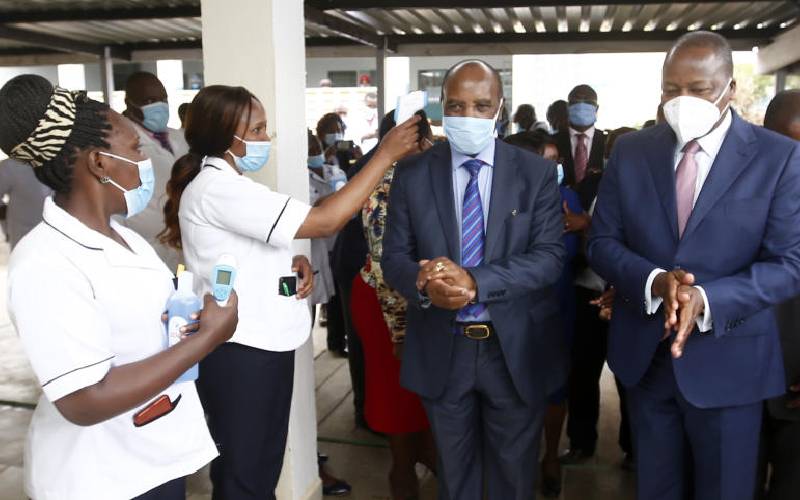 The government is reviewing Covid-19 testing guidelines to align them with new findings on asymptomatic patients, even as it reported 133 new positive cases yesterday.
The revision follows published findings by the World Health Organisation (WHO) that persons with the virus but who exhibit no symptoms are less likely to transmit the virus.
The findings put less emphasis on subsequent tests for isolated patients – especially those who were once symptomatic – meaning that such individuals can be released without any confirmatory tests that they are negative.
Such individuals, WHO said, are less likely to be infectious, or if they are, the amount of virus they shed is reduced, thus lowering the risk of transmission.
Kenya has been guided by these findings, which some health experts have criticised, to launch home-based care guidelines last week.
Speaking in Nyandarua County during his daily update, Health Cabinet Secretary Mutahi Kagwe sought to clarify the process that has seen 208 patients released to recover at home.
"The only patients who will be discharged are those whose viral load is low and they cannot infect others," he said.
Directorate of Public Health Francis Kuria said the current guidelines dictate that all patients have to be tested (usually twice in 48 hours) to find out if they are negative before being released.
"We are in the process of reviewing our testing guidelines," he said.
Dr Kuria said not all asymptomatic patients will be discharged, adding that cases will be reviewed individually and preference given to those who have access to personal protective equipment, a care giver, and enough space for self-isolation.
"WHO advises that if you are asymptomatic on Day 14 of follow-up, that second test may not be necessary. But we are in the process of reviewing that, together with our case managers, so that this can be confirmed in due course," he said.
Kagwe, who was speaking at the JM Kariuki Memorial Hospital, said the country had reported 133 new Covid-19 cases out of the 3,365 samples tested in the previous 24 hours, bringing the total number of positive cases reported to 3,727 people.
"We are glad that today 33 patients who had the virus have been discharged and total recoveries now stand at 1,286. However, we have lost one more patient, bringing the total deaths to 104."
The CS warned that more people were ignoring health guidelines, especially in public places like markets.
"This is a concern which is giving us a headache. People in some public places are deliberately ignoring the social distancing rule and the washing of hands," he said.
Self-discipline
He called for self-discipline in the absence of enforcement agencies if the country is to win the war against the disease.
"It shall reach a point where the government may not be able to protect the people and turn to home-based care, which calls for personal discipline. This shall be done in consultations with the WHO."
Kagwe emphasised the importance of a proper diet in the fight against opportunistic diseases, adding that this would also play a great role in the fight against the Covid-19 pandemic.
"Having a healthy population means our bodies shall have the energy not only to engage in development but also to build immunity against diseases such as coronavirus. It will also enhance the rate of recovery for those already infected," he said.
Nyandarua is one of nine counties that are yet to record a case of Covid-19. Governor Francis Kimemia said they had put measures in place to curb spread of the disease.
He said the county set aside Sh240 million in the fight against the disease and hired more medics who are undergoing training.
[James Munyeki, Kennedy Gachuhi and Graham Kajilwa]