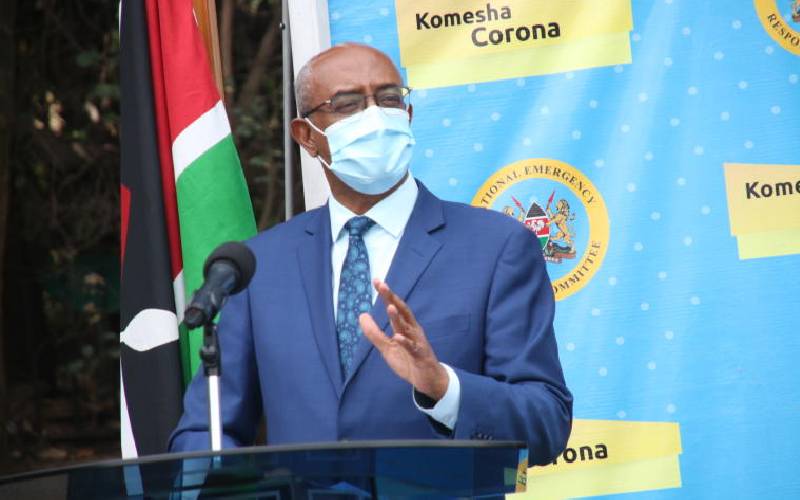 Kenya inched closer to hitting 3,000 mark of Covid-19 cases as the government reported 127 new infections yesterday.
The 127 cases raised the total number of infected to 2,989 with over 100,000 samples having been tested.
A triple digit daily figure has become a new norm for the country's Covid-19 cases and as tabulations show, a third of the total cases have been recorded in just nine days.
Since June 1, 2020 to yesterday, the country has reported 1,027 cases of Covid-19. This is 34 per cent of all the total cases so far.
These grim numbers have been described by Health Chief Administrative Secretary Rashid Aman (pictured) as a reality check of how widely spread this disease is in the country.
"According to our experts, our epidemiological curve is rising sharply in many regions, implying increasing numbers of positives and more people requiring clinical management," Dr Aman said.
On June 7, 2020, Kenya reported the highest number of Covid-19 cases when 167 people tested positive.
On only three days during this period did Kenya record a double digit figure of confirmed cases: 59 on June 1, 72 in June 2, and 95 on June 8.
"This is not simple linear mathematics, rather we are beginning to see a rise in numbers," Aman said.
The effect of the rising numbers has already been seen in hospitals that are almost full, with Nairobi and Mombasa being the most affected counties, according to Director of Public Health Francis Kuria.
Dr Kuria said there are about 3,700 isolation beds in Kenya. This number is 10,400 less what there should be as ordered by President Uhuru Kenyatta, who said each of the 47 counties should have 300 beds.
"For now, the capacity is still there but as the numbers surge, we need to expand it," Kuria said.
Aman said it would have been better if Kenya was discharging more than those being admitted, which would be encouraging.
"We face a challenging but not hopeless situation, as long as our approach to defeating the virus is based on solidarity," Aman said.
So far, 873 persons have recovered from the virus, and 88 people have succumbed to it.
With 100,683 samples tested, Kenya's infection rate stands at 2.9 per cent; a similar percentage to the case fatality rate.
Of the 127 cases reported yesterday, where Nairobi had 62, 21 cases were from Kibra.