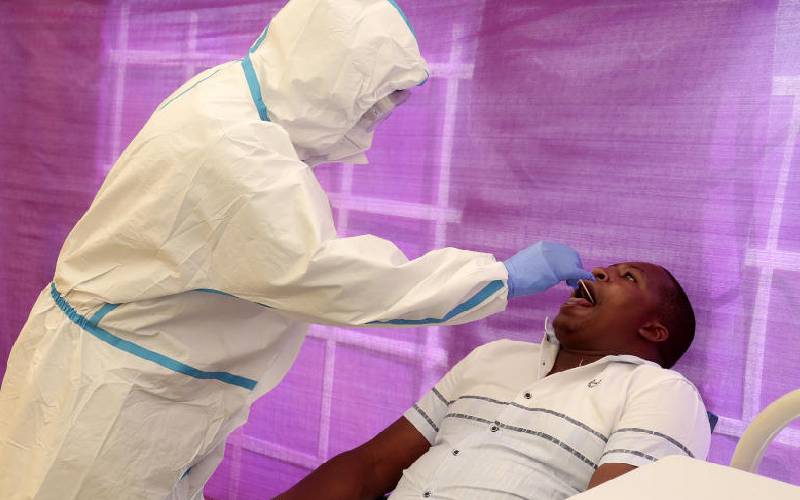 The government is considering mass testing for Covid-19 in the remaining nine counties where the disease has not been recorded.
Health Chief Administrative Secretary Rashid Aman revealed this during the daily update yesterday where he reported 95 new cases.
Marsabit County is the latest to report a Covid-19 incident.
The CAS also reported the highest number of recoveries, after 97 patients tested negative for the virus. "This is proof that contracting the virus is not a death sentence," he said.
Dr Aman said with 2,862 cases so far, the numbers are expected to rise as the country is yet to hit its peak. Kenya's peak is expected around August and September.
"The high number of positive cases points to measures not being adhered to. The challenge is if the cases increase, our hospitals will be overwhelmed," said the CAS.
He said to ensure the government is aware of disease patterns across the country, counties which have not reported a case will carry out tests.
So far the disease is in 38 counties. Some of the counties that have not reported a case include Tana River, Samburu, Tharaka Nithi, Nyandarua, Nandi, West Pokot and Baringo.
No case registered
"The fact that a county has not registered a case, does not mean there might not be infections," he said.
The CAS said logically, it makes sense to concentrate testing in hotspots. "But it also makes sense to go to places where no case has been reported. We are aware of this complexity and in time, we will try and direct testing to these areas," he said.
The challenge however is that the country is in short supply of reagents which limit testing capacity. For example, in the latest update, the government only tested 1,096 samples contrary to the over 3,000 as witnessed before.
"The reduced number of samples is a reflection of the demand in supplies but I want to report some progress," said Aman.
Director Public Health Francis Kuria said short supply of reagents has resulted in backlogs of samples yet to be tested.
The backlogs are primarily in Mombasa and Nairobi, the majority being truck drivers. "Over the weekend we tried to clear those backlogs, majority which were truck drivers and were able to be issued with Covid-19 clearance certificates," said Dr Kuria.