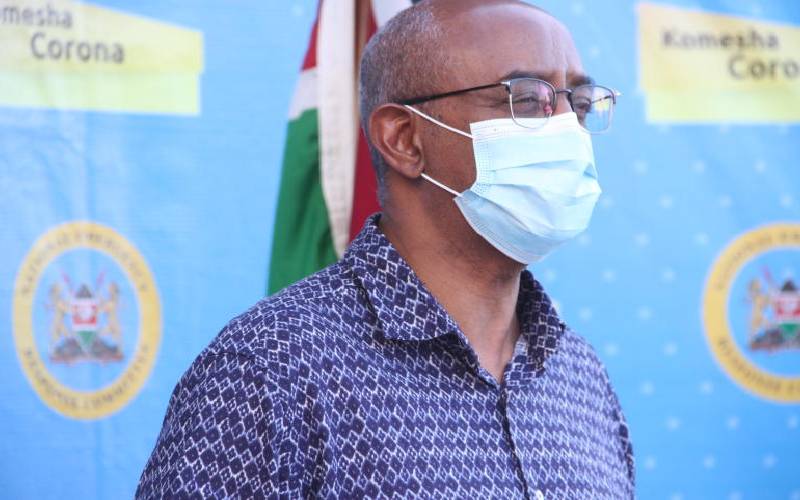 Kenya has recorded over 700 cases of Covid-19 in just a week, painting a grim picture of how widespread the disease is in the country.
In the week ending yesterday, a total of 770 people tested positive for the virus.
While it took two months from March 12, 2020 to May 11, 2020 for Kenya to hit 700 cases, it has taken a week to surpass this number by 70.
It is within this period that Kenya saw a triple digit confirmation of new cases that hit the climax on Thursday, May 28 with 147 cases.
Yesterday, Health Chief Administrative Secretary Dr Rashid Aman (pictured) reported 74 new cases that saw the total tally of cases rise to 1,962.
As a result, the number of counties affected are now 34, with Laikipia being the latest to join the list. When Kenya recorded 700 Covid-19 cases on May 11, 2020, 32,938 samples had been tested by then.
The 770 new cases reported within the week were from 20,384 tested samples, which is 12,554 less compared to what had been tested by May 11, yet more cases.
These rising figures are being reported amid plans to reopen the economy in Nairobi, Mombasa, Kilifi, Kwale and Mandera, areas where there is cessation of movement.
Additionally, there is no movement in to and out of Eastleigh area in Nairobi and Old Town in Mombasa till June 6, 2020.
Dr Aman, while giving the daily update of Covid-19 cases in Kenya, noted that informal settlements are among areas fueling the spike.
He said areas such as Kibra and Kawangware in Nairobi are on the government's radar. So far Kibra and Eastleigh have 151 and 121 cases, respectively. Makadara and Mathare are other areas in Nairobi where double digit cases have been reported within the week.
"We are following up on the areas with our rapid response and surveillance teams to trace the cases and I think we are seeing some success.
"In terms of what will trigger the next action, I think that is an issue that is always under consideration," Aman said.
He said the spread of the virus and how the infection curve behave depend a lot on how Kenyans adhere to the set measures.
"If the curve rises exponentially, it will undermine whatever initiatives the government has put in place to revamp the economy," he said. "Adopting responsible special behaviour to break he transmission chain of the virus is vital."