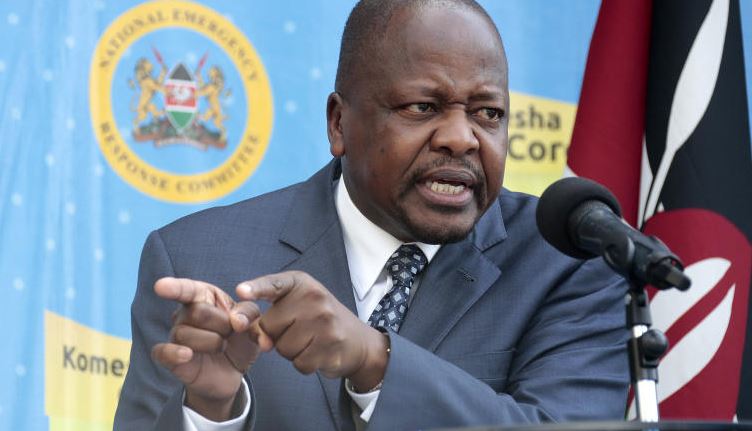 The Health Ministry will continue to support counties in combating the spread of the coronavirus as Kenya records a new high in Covid-19 cases.
In his daily brief, Health CS Mutahi Kagwe (pictured) said: "Coronavirus in one county is coronavirus in all counties. We must continue to cooperate if victory is to be realized nationally."
As stands, 32 out of 47 counties have confirmed cases of the disease, which accounts for more than 60 per cent of counties with cases.
Nairobi County is leading with 835 cases, Mombasa comes second, then Kajiado with 65 cases and Kiambu, where the CS was making his address, has 39 confirmed cases.
In light of this, CS Kagwe said that the ministry continues to facilitate the training of health workers in every county, including providing Personal Protective Equipment (PPEs) for use by health workers.
"Health workers are the most single important ingredient in combating the virus," Kagwe said.
Universal Health Coverage (UHC) will also be expanded in counties, as the Mutahi Kagwe led-ministry recruits 1,000 more health workers in at least 14 counties. "We will be building on our UHC capacity and also building capacity for organizations critical for UHC such as NHIF and KEMSA."
The CS has further appealed to Kenyans to register for the NHIF programme, to ensure that they are well taken care of in the case of illness.
"Do not let somebody die at home out of fear. This disease is not a joke," he reiterated.
New Covid- 19 cases
Today, an additional 147 people have tested positive for the disease. The national tally is now at 1,618 cases.
In the last 24 hours, the ministry said it had tested 2,831 samples. The cumulative number of tests in the country as at May 28 is 70, 172 samples.
All the positive cases are Kenyans, 87 being male while 60 are female.
The ministry has also discharged another 13 people, bringing recoveries to 421.
Three more people have succumbed to the disease. The death toll is now at 58
The youngest confirmed case is a one-year-old, and the oldest, an 87-year old.
The distribution of the new cases per county is as follows:
Nairobi- 90, Mombasa- 41, Kiambu- 3, Nyeri and Uasin Gishu – 2 each while Kajiado, Kilifi, Machakos and Murang'a counties have one each.
The number of Covid-19 patients admitted in various hospitals across the country is 692. Three of these are in ICU, and the rest are in stable condition.