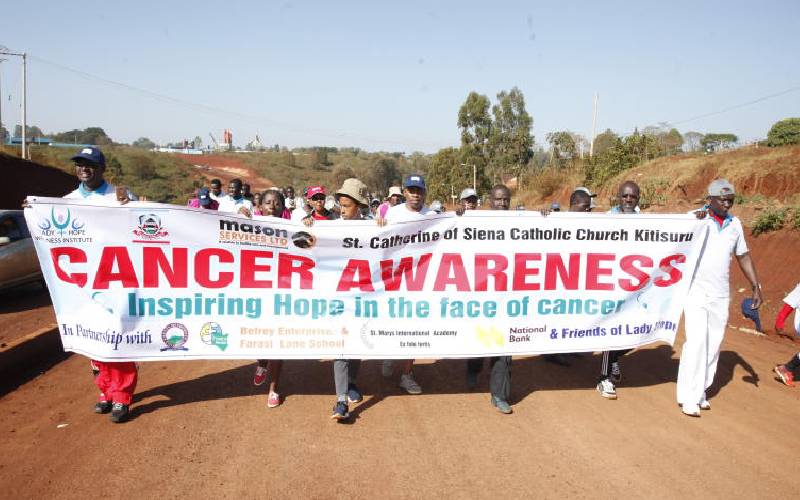 At least 32,987 Kenyans died of cancer in 2018 as revealed by a latest report on the extent the disease has ravaged the country.
The report by the International Agency for Research on Cancer (IARC) that is affiliated to the World Health Organisation also stated there were 47,887 new cancer cases reported in the country.
These numbers are more than double what was reported in the 2018 Economic Survey by the Kenya National Bureau of Statistics (KNBS).
The KNBS report shows that cancer is the third leading killer in the country after pneumonia and malaria. In 2017, the disease claimed 16,953.
KNBS has, however, acknowledged inconsistencies and a decline in registration of deaths which may explain the low numbers.
The Globcan report by IARC has oesophagus as the leading killer cancer with 4,351 deaths reported in 2018.
Cancer of the cervix is second with 3,286 deaths out of 5,250 cases, followed by breast cancer (2,553 deaths against 5,985 new cases) and stomach (2,068 deaths against 2,127 cases).
Other cases include prostate cancer (1,663 against 2,864 cases), liver cancer (1,331 deaths 1,346 cases), leukemia (1,311 deaths against 1,699 cases), non-Hodgkin lymphoma (1,209 against 1,952 cases), colon cancer (937 deaths against 1,354 cases) and Kaposi sarcoma (930 deaths against 1782 cases).
When compared to the annual new cases, cancers of the blood and those of the digestive system show the least chances of survival.
For example, leukemia, which is what Safaricom CEO Bob Collymore has succumbed to, had 1,699 new cases with 1,311 deaths which presents 22 per cent chance of survival.
While 4,380 people were diagnosed with oesophagus cancer, 4,351 died from the disease. This means only 29 people survived, which is a 0.66 per cent chance of survival.
The biggest challenge in the country, as revealed by experts, is the poor referral system. While it has been claimed severally that patients usually present themselves late for diagnosis, Dr Andrew Odhiambo, a lecturer and consultant medical oncologist, thinks otherwise.
He said the country's poor referral system, where a patient is forced to move from doctor to doctor seeking answers, is what is pushing Kenyans to prefer accessing treatment in India.
Among the male population, prostate cancer is leading (14.9 per cent) while for women, breast cancer leads with (20.9 per cent).
Related Topics