Home
/
Health & Science
Smoking cost addicts limbs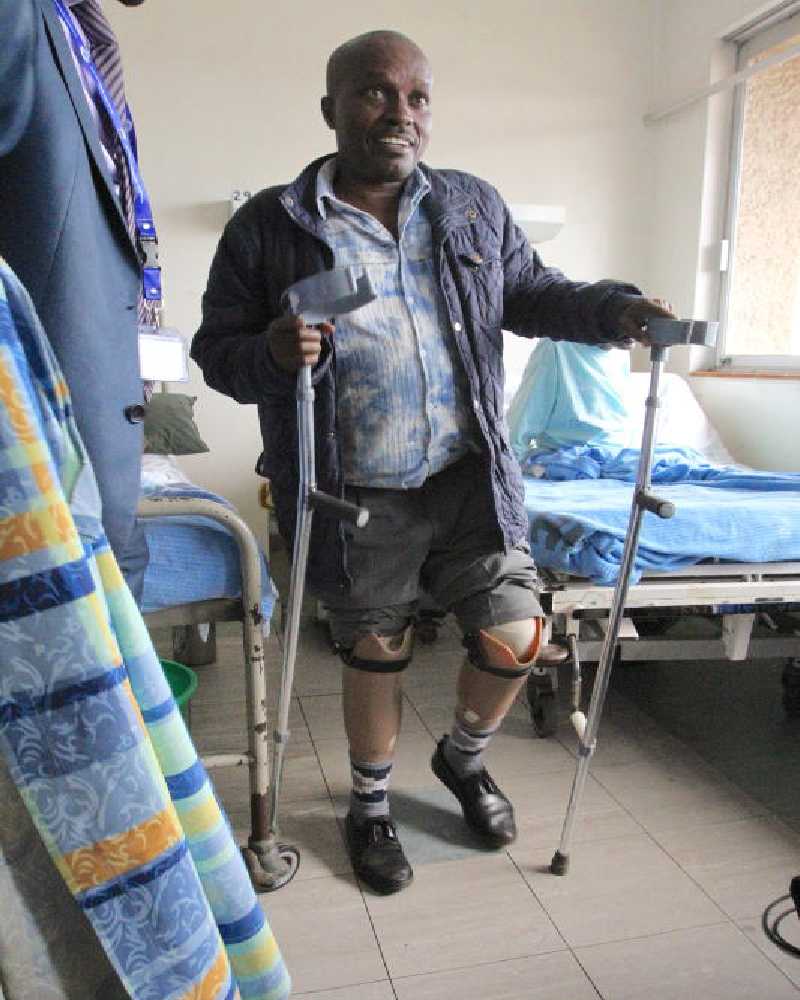 Patrick Musyoki would give anything to turn back the clock - at least to the last five years of his life.
Musyoki smiles at the thought of it, displaying a big gap on his upper jaw as he slurps back a clear drop of liquid running out of the corner of his mouth.
The 63-year-old sits on his bed at Kenyatta National Hospital (KNH) ward where he has been for a month.
His legs have been amputated just above the knee after his veins shrunk, starving his legs of blood.
At his age, it would be easy to load dozens of smoking years to Musyoki's condition, but far from it; the man only counts five years, and a few sticks a day.
"I started smoking five years ago when I was about 57 years, and I smoked between four to six sticks of cigarette a day," he says. "I was influenced by my drinking mates."
It was last year when Musyoki first suffered pain in his legs that later turned into a swelling.
However, soon after it went away, another formed. It itched, he scratched and it swelled, but this time around, another swelling formed before the first one disappeared. Before he realised it, wounds were all over his legs.
He had put down the initial pain to long shifts and being on his feet all day at the construction site where he worked, until he could not hold it any longer.
"I was admitted at Machakos Level 5 Hospital for four months where I was kept under treatment, but my condition only got worse," he explained.
He was transferred to Mbagathi Hospital where he was treated for three months before he was moved to KNH.
By September, with Musyoki in excruciating pain and unable to walk, medics decided to amputate his lower left leg and a week later, the right limb had to be cut off as well.
"I have a wife and five children. I'm only lucky they are old, but my life will never be the same again. I can't go back to work and I have to rely on people due to my morbidity," he said.
Opposite his bed, is 53-year-old John Mwaura, waiting to have his toes amputated in the next hour.
Mwaura has been smoking for 30 years, taking at least one and a half packets a day, but he has not touched any cigarette since Thursday last week.
"It started jokingly as a teenage student; hiding and smoking with my friends. Before I realised it, I was a chain smoker totally dependent on sticks," he said.
Mr Mwaura admits to knowing that smoking caused heart and chest diseases but he says had he known that smoking would cost him any of his limbs, he'd never have touched it.
Constant panic
"After seeing many people here amputated due to diseases caused by smoking, I'm always in constant panic when my legs itch. The lost toes will be lesson enough," he emphasied.
For two months now, Mwaura has been out of his work station at Industrial Area where he works as an electrical maintenance technician.
"But it's too late, the damage is done but my lesson has been learnt. I started smoking voluntarily and I will stop the same way. I will never touch any cigarette ever again," he said.
Cardiothoracic surgeon Naomi Kebba said cigarettes contain toxins - nicotine and carbon monoxide - which destroy veins' inner lining.
"When the inner lining is scarred, the veins narrow and block blood flow thus reducing blood circulation to the limbs," she said.
This initially causes pain but can eventually lead to tissue death. If the tissue dies, amputation can be required.
She advised that the most important step a person can take to avoid such diseases, or to stop it worsening, is to stop smoking.
Kenyatta Hospital carries out at least eight amputations a month that are caused by smoking related diseases.
This, Dr Kebba says, is 75 per cent of the total number of amputations done in the hospital.
Richard Kanyoro, 60, whose legs were amputated due to diabetes, said even though life changes after one has been amputated, acceptance of the condition and support from close people helps in recovery.
"It is not the end of the world; you can learn to use prosthetics to walk and soon adopt back to normalcy with minimal changes like reduced mobility," said Mr Kanyoro.
Related Topics