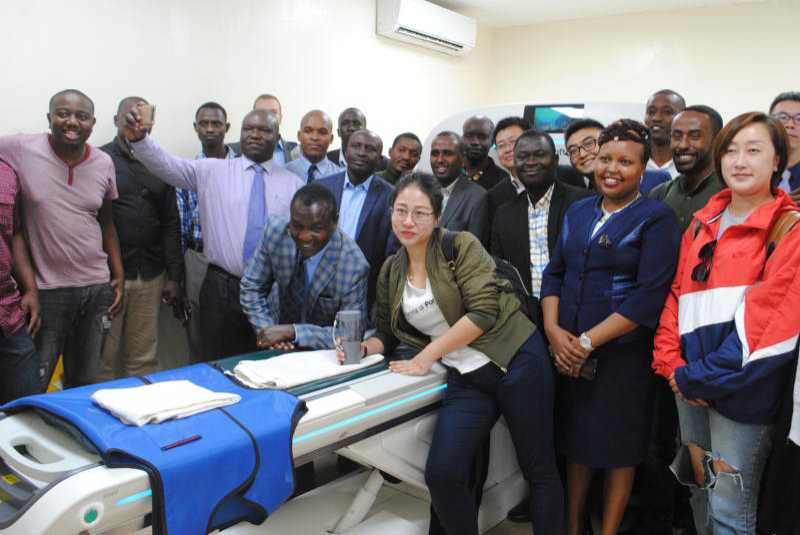 Thika Level 5 Hospital's modern CT Scan facility has received accolades from a delegation of medical experts from 10 African countries.
The delegates drawn from South Africa, Ghana, Ethiopia, Somalia, Zimbabwe, Uganda, Tanzania and three other countries, and who are on a bench-marking visit, termed the CT Scan a transformational success in medical care.
The scan has been operational for the last two months during which time more than 600 patients have been attended to.
10 to 30 patients daily
It is the first of the many such state-of-the-art facilities to be rolled out countrywide under the national Government Managed Equipment Service (MES) project.
Addressing the delegates, the hospital deputy medical superintendent Jackline Njoroge said the CT Scan served 10 to 30 patients daily.
"In this era of rising cases of cancer and road accidents this machine has greatly transformed our operations and helped the local population reduce expenses on medical care because our services are 50 per cent cheaper than in private hospitals," Dr Njoroge said while receiving the 30 delegates.
However, she said the hospital faced a serious challenge of under-staffing as it had only one qualified radiologist and one radiographer.
Members of the delegation comprising medical experts said they were impressed by the operations of the scanner.
George Odongo of Neusoft Ltd, who led the team that has been on a three-day training session in Nairobi, said the machine could operate for up to 20 years without being replaced or repaired.
"The Thika CT Scan so far stands out as the best of its kind in the country in terms of efficiency. It gives very clear images and analyses data in a record time of three to five minutes," said Mr Odongo.
Odongo said installation of 36 other scanners throughout the country was underway, while a training centre for Kenyan engineers had been established in Nairobi's Lavington to enable them handle the medical equipment.
More advanced
Ramadhan Mrisho, a delegate from Tanzania, said Kenya was more advanced in medical care than other East African countries. In July, the National Assembly Health Committee lauded the multi-billion shilling project rolled out in the 47 counties three years ago.
The committee that was on a tour of Thika Level 5 Hospital on a fact-finding mission was impressed by the programme's achievement.
The MES programme, rolled out in 2015, covers radiology infrastructure modernisation in 94 county health facilities and four national referral hospitals.
Related Topics