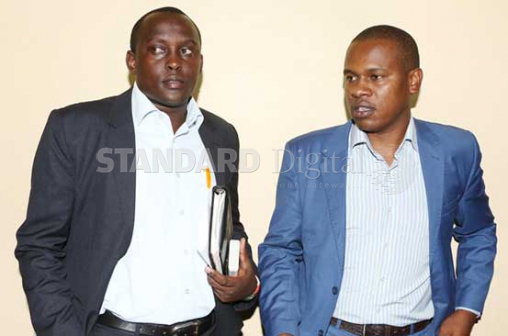 Health officials in Nakuru County are on the spot yet again following another doctors' strike that has paralysed medical services in the region.
At least 10 deaths have been reported since doctors in the county went on strike 10 days ago as thousands of patients left unattended or abandoned in wards continue to suffer.
But as the county heads into another week of uncertainty, County Health Executive Kabii Mungai and his chief officer Samuel Mwaura are yet to speak on the matter. Since the strike began, attempts by The Standard on Sunday to interview the duo has been futile as they neither pick calls nor respond to text massages.
A visit to the Provincial General Hospital found patients waiting unattended at the casualty area. Some lay on stretchers for several hours before they were taken back by those who had brought them to hospital.
At Elburgon Sub-county Hospital, Dr George Biketi, who is in charge of the facility, was the only one attending to patients. He said he has been forced to refer critical cases to private hospitals because of the overwhelming numbers.
"The situation is dire. All doctors have kept off," he said. Doctors have downed their tools to push the county government for promotions and to pay their colleagues employed by inter-governmental committee. A letter written to the doctors through Kenya Medical Practitioners Pharmacists and Dentists Union (KMPDU), indicates that the county has paid the 32 doctors for only one month—April.
Yet this is not the first time the Nakuru County Government is making headlines for the wrong reasons in matters health. Early this year, more than 39 children died following an outbreak of influenza in Nakuru.
Physicians at the Health department seemed to have been caught unawares and did not even have statistics of those affected by the outbreak reported in Nakuru North, Nakuru East, Nakuru West, Njoro Rongai and Molo sub-counties in March.
The national government had to send a team of experts led by Dr Philip Muthoka, the Deputy Director of Medical Services in Ministry of Health, to comb villages and sensitise residents on how to handle patients and curb the spread and infection of the virus.
Last year in August, 12 people died following a prolonged strike by doctors and nurses. Then, as in now, the health workers had downed their tools demanding regular promotions, payment of salaries and income arrears. KMPDU and Kenya National Union of Nurses Union (KNUN) say county health officials continue to frustrate their members and never comply with the return to work agreement. KMPDU South Rift Secretary General Dr Davji Atellah said doctors will continue with the strike because they were tired of the "cat and mouse" games by the executive.
"It is only Nakuru where newly-employed doctors have not been paid. Bomet, Kericho, Laikipia, Kajiado and Narok have paid the salaries of all their doctors," said Atellah.
He said they had been let down by the county executive.
Stand-off
"The CEC and his team keep taking us round in circles hoping that things will sort themselves out, even as people lose their lives. It is unfortunate," he said. James Karanja, a resident, said it is unfortunate that people had to suffer on account of the stand-off.
"All counties have their own health issues, but the Nakuru problem is worrying. In Nairobi, health officials and the governor have come out clearly to speak to health workers. In Nakuru, those in charge of the Health sector disappear during a crisis while the governor is unavailable," said Karanja.
Jane Otieno, who had brought her sick brother to the provincial hospital, said they had left his health in God's hands.
"You can see my brother cannot even speak or stand. He has been lying on the stretcher for the last one hour since we came here and his health is deteriorating," she said.
Martha Kipng'eno said despite the national government rolling out free maternal care, pregnant women are forced to deliver in private hospitals. Kipng'eno said the majority of pregnant women opt to be assisted by untrained midwives because they cannot raise the fees charged in private hospitals.
"Mothers are used to giving birth without charge in public hospitals, but because of the ongoing strike, they seek help from anyone who can assist them," she said.
Related Topics