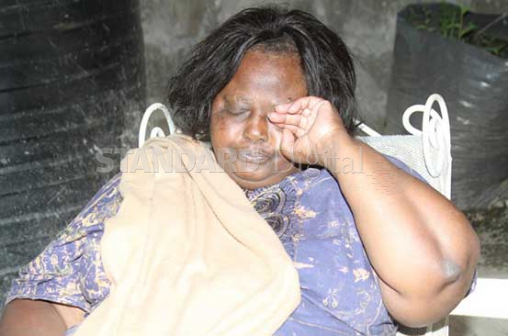 Priscilla Kaniaru's house in Kiamunyi Estate, Nakuru town, resembles a small clinic. An array of medicines neatly packed. An inhaler and a machine to help her breathe not far from where she sits.
With over eight diagnoses, the 55-year-old has gone through hellish life since her problems began 30 years ago.
And her evolving conditions has left local and foreign doctors baffled. "Sometimes she shows signs of hypertension but on testing her it turns out negative. Her symptoms are like a riddle, we keep guessing what could be wrong and at times all we can do is prescribe painkillers to manage the pain," says Dr Permines Onkoba, one of the doctors who have treated her.
Kaniaru's life is full of pain. Walking is difficult. Her back and feet are swollen that at times they become so heavy for her to carry.
When it all started
"Chest pains, weight gain, painful muscle spasms, fever have become part of my life, even doctors don't know what ails me. What I know is that my immunity is too low which explains why I get new infections frequently. Some doctors think I have lupus disease," says Kaniaru.
The family has been forced to sell almost all their property to afford the Sh100, 000 required every month for her medical care. Once a jovial and outgoing person, Kaniaru is now confined in her room and her interaction with even her two children is restricted to avoid new infections. The trained Information Technology expert was also forced to leave work due to her failing health.
Her problems, she says, begun in 1983 after giving birth to her first born.
"I went through difficult labour that lasted four days. After delivering, I remember having severe headaches," she recalls.
Two months after giving birth, she started losing sight and was advised to consider using glasses. In one the follow-ups on her eye condition; a doctor discovered a tumour in her brain.
That is when her endless hospital journeys began. She was admitted at Kenyatta National Hospital where she was to undergo an operation which didn't take place as on the day of the surgery further examination showed that it had disappeared. Doctor's said blood pressure had moved to the brain after delivery no wonder initial results showed that she had a tumour.
From then on, Kaniaru's life took a new turn. She began gaining weight, started showing pneumonia-like symptoms and her legs started swelling.
KNH referred her to a doctor at The Aga Khan Hospital but still he couldn't put a name to what was ailing her.
"The doctor said I had pneumonia but I could not afford what they were charging," narrates the mother of two.
Every doctor she goes to, has a new diagnosis.
"One of the doctors said it was menopause and there was nothing much that could be done," she recalls.
Of all the years, 2012 was her worst. She was in deep pain and thought that was her end.
"Despite the pain, I began having wheezing incidents while walking. My lungs were congested and had to be put on antibiotics. In 2013, we discovered that my body had become resistant to the drugs and I added 30 kilos in a few months," she says.
Her sudden weight gain prompted her to see another doctor at Mater Hospital in Nairobi who said her fatty tissue was attacking itself causing her pain and lumps under the skin.
The doctor put her on steroids and immune-suppressant drugs, normally administered to cancer patients.
Hope alive
Not giving up on her painful medical journey, her family raised Sh1.5million and sent her to India in 2013 with the hope of getting a breakthrough. Doctors at Yogiji Maharajah Hospital in India recommended for a biastric surgery, an operation that helps a patient lose weight by reducing the size of the stomach.
But the doctors realised she was not stable enough for an operation so she was sent back home with a litany of drugs and told her to return after three months.
"This disease has robbed me of happiness. I feel like a burden to everyone around me. But I refuse to give up hope," she says.
Tough as it maybe, medics think all is not lost.
Dr Onkoba feels that a stem cell transplant to replace damaged bone marrow could be the answer to this medical mystery.
However the operation can only be done in developed nations like Israel the US and will cost up to Sh4 million, money has family is struggling to raise. Meanhile her children are keeping hope alive.
Her son Kevin Kang'eru is hopeful that one day his mum will be well.
"I know one day my mum will be free of this pain and misery. Everyday when I go to bed I pray to God to do something extraordinary. I know He will. One day I know I will walk to church hand in hand with her," says Kevin who has stood with Kaniaru through the dark moments.