Home
/
Health & Science
Why it's hard to prevent cancers in children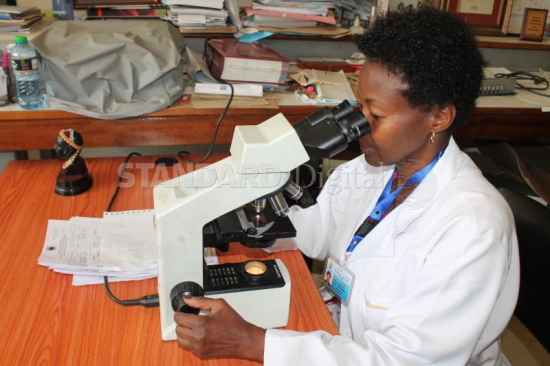 NAIROBI: It is a growing concern; our children are exposed to cancer. The month of September has globally been set aside to take stock of cancers in children and advise parents on how to deal with the disease.
They say one in every four cancers reported in Kenya are in a child. Worse, children in Sub-Saharan Africa face fewer chances that their cancer will be detected early enough and treatment given compared to their peers in the developed world.
Prof Jessie Githanga, a doctor who specialises in diseases of the blood and blood-forming organs, estimates that in Kenya, three in 10 children survive cancer, compared to about eight in the developed world.
Given this grim scenario, Githanga, an associate professor at the University of Nairobi's School of Medicine, is leading a group of health professionals to provoke a deeper discussion into diagnosis, treatment and management of childhood cancer.
EARLY DIAGNOSIS
With colleagues from public and private hospitals, research institutions and social forums, they recently formed the Kenya Childhood Cancer Trust to bring the message of childhood cancer closer to you.
As childhood cancer awareness is marked this month, the American Cancer Society notes that the types of cancer that occur in children are different from adults and are often the result of DNA changes in cells and not linked to lifestyle or environmental risk factors.
"Unlike the case in adult cancers where there are preventive strategies such as healthy lifestyle and screening tests, prevention of most childhood cancers is not possible," says Githanga. "Our goal is to improve awareness, access to care and treatment outcomes of children with cancer in Kenya."
Early diagnosis is key for effective treatment. Githanga says the diagnosis of childhood cancer requires specific specialised diagnostic methods, which are mostly available at big hospitals or laboratories.
"These tests will include removal of some tissue from the cancerous growth known as biopsy and subjecting it to specialised testing referred to as histology," she said, adding that for the blood cancers, specimens will be removed from the bone marrow and tested. There are also other tests to visualise organs, structures and cancers inside the body like X-rays, ultra sound, CT scans and magnetic resonance imaging (MRI).
Once diagnosed, cancer treatment is dependent on the type and how responsive it is to treatment.
"One approach is surgical excision where the surgeon will remove as much of the cancerous growth as done in kidney cancers. Chemotherapy is another form where anti-cancer drugs are used, or radiotherapy which uses high-energy radiation, usually X-rays," she said.
SUPPORTIVE CARE
And because patients undergoing cancer treatment are prone to aneamia, bleeding and infections, Githanga advises that supportive care including transfusion of blood and other blood products, antibiotics and pain medication be provided.
Challenges facing low and middle income countries like Kenya include late diagnosis of cancer leading to lower levels of effective treatment; poorly equipped hospitals; unaffordable treatment, other diseases that children might have and lack of knowledge about cancer among primary health care providers.
"There is need to obtain accurate figures for the childhood cancer incidence countrywide for better planning and resource allocation and thereby improve awareness, diagnosis, treatment and rehabilitation of children with cancer in Kenya."
Githanga says the situation is compounded by insufficient child cancer specialists, palliative care specialists, oncology nurses and specialised treatment centres.
She has been decorated for her role in research and training. Being recognised as one of the Most Influential Women in Africa in 2014 was one of the most satisfying times of her life.
Married to Dr Githanga, a paediatric cardiologist, she is at home in pathology, specialising in investigating blood diseases.
Related Topics