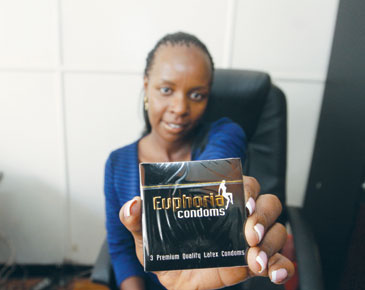 A sample of condoms in the market. A new Bill seeks to provide contraceptives to adolescents. [PHOTO: file/STANDARD]
A proposal in a Bill seeking to provide children as young as 10 years with condoms and birth control pills has sparked outrage.
That parental consent is not mandatory for the children to access the contraceptives has intensified opposition to the Reproductive Health Care Bill 2014, which is before the Senate.
The Bill sponsored by nominated Senator Judith Sijeny suggests that adolescents be given unhindered access to 'comprehensive sexual education and confidential services.'
The relevant provision explicitly lists contraceptives as one of the essential inclusions, alongside information on pregnancy and abortion.
The Bill describes adolescents as persons in Kenya who are aged between 10 and 17, a group essentially between class five and Form Three.
"In the provision of reproductive health services to adolescents, parental consent is not mandatory," it says.
Yesterday, Education Cabinet Secretary Jacob Kaimenyi said the ministry would not allow "introduction of immorality" to young school children by any institution or law.
Good values
"My ministry has an obligation to educate all children and promote good values and we will not be dragged in attempts to propagate bad teachings in schools," Prof Kaimenyi said.
The Kenya National Parents and Teachers Association (KNPTA) also termed as 'unfortunate' the proposals in the Bill.
KNPTA National Chairman Nathan Barasa said parents read mischief in the Bill.
"Is there something hidden in this? Is someone trying to create a market for some foreign companies? We cannot allow this and that is the stand of all parents," said Mr Barasa.
He added: "We condemn this move and we shall never support it. We have a lot of issues affecting children in schools and we do not see why someone would preoccupy Kenyans to discuss immoral things."
The Kenya Primary School Heads Association (Kepsha) also rejected the proposed law arguing children should be kept away from contraceptives until they attain the age of 18.
"How can we even start to discuss this? Are these children capable of even comprehending what they are being introduced to," said Kepsha National Chairman Joseph Karuga.
The Kenya Secondary School Heads Association (Kessha) National Chairman John Awiti added: "This is a mistake because innocent children will become curious and they will start experimenting and that will compromise their morality."
"All parents, teachers and other persons who play a role in bringing up the children must allow the children to grow naturally through proper guidance if we still intend to have a sane society in future," said Awiti.
"Why do we even allow this to be part of national debate?" Awiti asked, telling MPs to focus on pressing issues.
Kenya Union of Post Primary Education Teachers (Kuppet) National Chairman Omboko Milemba warned the Senate against passing the Bill, arguing it would encourage moral decadence.
Mr Milemba advised the Senator to direct her efforts to ensure pubs, restaurants, lodgings and other social places have constant supply of condoms and contraceptives where they are needed most.
"It is unfortunate the Senate is discussing such undesirable Bills instead of debating about strengthening the Ministry of Education to expand the curriculum to include sex education as a subject," said Milemba.
He added: "This is the kind of discourse we should be having when the curriculum is about to be changed but it is discouraging to hear of such obnoxious Bill."
"We shall mobilise our members to boycott classes as a way of expressing our dissatisfaction about this Bill," Milemba added, noting African culture and religious beliefs abhor the introduction of condoms and contraceptives to young children.
Milemba proposed the use of open days, guidance and counselling sessions where children are taught about social issues.
Premature sex
An Iten parent, Betarice Jepkemoi, said allowing free access to contraceptives by children would encourage premature sexual activity.
"As parents, we should not fear but support sex education to our children but we are opposed to condoms and birth control pills," said Ms Jepkemoi.
Kenya National Union of Teachers (Knut) Elgeyo Marakwet executive secretary John Cheberi warned: "A teacher has an obligation to promote moral values, conduct and behaviour. We would be undermining this through condom and birth control pills promotion."
The Bill says the Cabinet Secretary for Health, in consultation with others, should ensure adolescents get friendly reproductive health services.
Further, the Bill advises any health worker who has been approached by a boy or girl, aged 10 years and above, on sexuality issues, to seamlessly refer them to a qualified person for provision of the necessary services.
But yesterday, Senator Sijeny said she was not calling for mass distribution of condoms and birth pills to schools.
She explained the Bill seeks the development of a system that is aware that many children are exposed to situations that could lead to risky sexual behaviour.
"Such vulnerable children need to be able to access qualified healthcare providers who can counsel them and guide them accordingly," Sijeny told The Standard.
The Bill, she said, had already been formally introduced in the Senate and a public hearing will be held on Monday at the Senate. "Everybody is welcome to present views," she added.
The Senator, who seemed surprised by the strong reactions her Bill has elicited, said public views on the issue will be accommodated as much as possible to achieve the many noble benefits offered by the proposed law.
The Senator said the Bill was her own creation and not sponsored or pushed by any third party.
Reporting by Gatonye Gathura, Augustine Oduor and Fred Kibor
Related Topics