- RAWLINGS OTIENO
By RAWLINGS OTIENO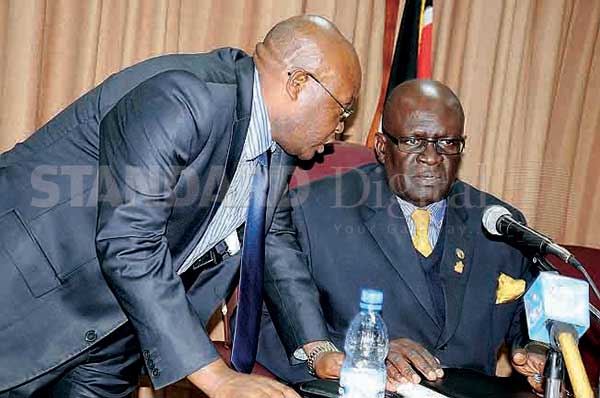 Kenya Medical Practitioners and Dentist Board CEO Daniel Yumbya (left) and Chairman George Magoha when they fined two doctors for negligence on Wednesday evening. [PHOTO: WILBERFORCE OKWIRI/STANDARD]
KENYA: Kenya Medical Practitioners and Dentist Board (KMPDB) tribunal has found two doctors guilty of negligence in a case where a mother lost her baby.
On Wednesday evening KMPDB fined Dr Paul Githinji, who attended to Ms Joan Akinyi, the victim, Sh300,000 and Dr Billy Gitau, who owns Victory Hospital in Umoja, where baby Joy died, Sh600,000.
However, in a rejoinder, Ms Akinyi termed the penalties lenient, adding they do not offer her justice.
Akinyi is now considering filing an appeal against the decision at the High Court.
Dr Gitau was fined for engaging in private practice without a licence and failure to make appropriate pre-operative assessment of the patient leading to improper care, which constituted to the death of the baby.
The tribunal chaired by Prof George Magoha said Dr Gitau operated an institution in violation of the Medical Practitioners and Dentist stipulations (Private Medical Institutional Rules of 2000).
The medic was put on defence and after careful considerations of facts and witness cross-examination, the tribunal ordered him to pay Sh600,000 within 30 days.
He was further directed to initiate mediation with the complainant Akinyi with an aim of reaching an amicable solution on how to compensate her and employ a full time nursing officer at his clinic within 90 days.
Failure to consult
Dr Githinji, who carried the operation, on the other hand, was fined for failing to exercise reasonable care and skill during the procedure leading to the child's death.
The board, after hearing the petition, strongly admonished Dr Githinji for failing to consult if surgery was necessary.
Githinji was also directed that in future, he should restrict himself to general practice and not any specialised medical field and to ensure that he complies with the code of regulation of the board.
On the fateful day (March 1, 2011), Akinyi was doing house chores when she felt some pain in her belly and noted blood flowing down her legs. With the help of a friend, she went to Victory Hospital.
At the hospital, she was advised to undergo an emergency operation failure to which she would lose her baby.
She informed the tribunal that after the operation, the baby was placed next to her in a cot. However, she later realised the baby was cold and grunting. She later died.