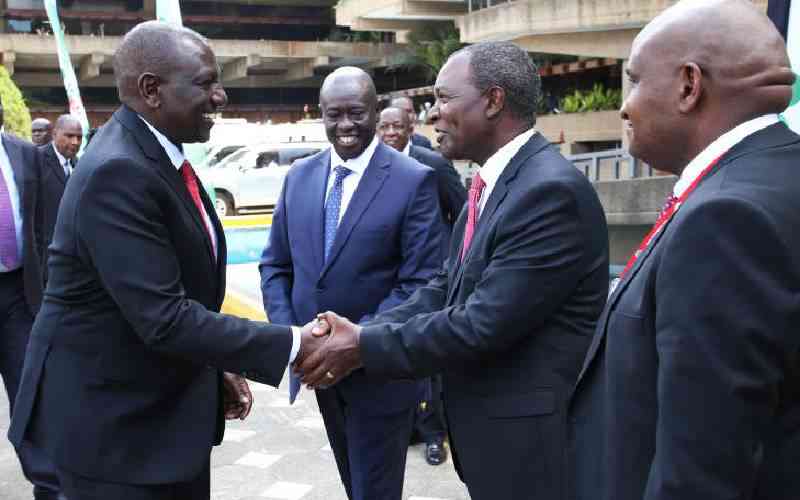 As he sets out to establish his hold on power and drive his agenda - The Plan- President William Ruto will be alive to a few realities about government bureaucracy that I picked recently from The Economist (In praise of the deep state).
One, the government does not work like a business. Two, administrations come and go, the bureaucracy abides. Three, government waits for one, not least a president with a minimum 10 years at the driving seat.
Most importantly, history bites back. The truth is, as Winston Churchill says, "Statesmen are not called upon to settle easy questions… these often settle themselves. It is where the balance quivers and the proportions are veiled in mist, that the opportunity for world-saving decisions presents itself."
President Ruto's sleight of hand will be demonstrated in how he quickly renews the purpose of government. The nearly 2,000 people who will come into government with him as appointees is a drop in the ocean of the 700,000 mostly career civil servants who will determine his success or failure.
At the centre of Kenya's problem is poor public service - education, energy, health, transport, security, housing and food security. These are things dear to President Ruto's Hustler Nation constituency and yet they are the hardest to fix.
And so the opportunity for "world-saving decisions" will most likely be in the actualisation of the bottom-up across all the sectors through a rejuvenated public service. For example, how does bottom-up apply in the energy, tourism, security, culture, transport, education and health sectors?
It is also in how he addresses the question; why doesn't the current social contract inspire allegiance, honesty, hard work and faith in the political architecture? How is it that every electoral contest pushes more Kenyans into the periphery?
We have the who and the what, what remains (and certainly of greater importance) is the "how to" to move the needle; to address poverty, unemployment, corruption, lethargy and distrust in authority.
Only a rhythm and dance that then reverberates around the whole administration will address these challenges.
Former US Secretary of State Henry Kissinger writes extensively about the strategies six world leaders adopted to roll out their agenda that consequently transformed their countries. His thoughts and perspectives in his new book; Leadership - Six studies in world strategy, are thought-provoking as they are illuminating.
France's Charles de Gaulle (Strategy of the will) and Singapore's Lee Kuan Yew (Strategy of excellence). De Gaulle, Kissinger writes, "led and inspired his followed by for example, not by prescription." De Gaulle's other strength was courage. "The courage to act on his intuition, even when the consequences appeared to be political suicide..."
Lee Kuan Yew had three requirements which he thought would propel Singapore forward; economic growth to sustain the population, sufficient domestic cohesion to permit long-range policies and a nimble foreign policy.
He propagated "shared success" for the simple reason that "a sense of shared success could help to knit his society together." Excellence "meant more than individual performance; the quest needed to permeate the entire society."
It had to "permeate the entire society stratum - public service, business, medicine or education… mediocrity and corruption was not accepted. Yew's was "an epic of leadership that transformed Singapore into one of the world's most successful countries."
For guaranteed success, President Ruto will have to inculcate this in the workings of his administration. Besides providing the strategy, he will have to offer the courage and steady leadership and a firm resolve to do things differently.
The national malaise of cynicism, contrived outrage, greed and corruption will be only exorcised by a deliberate work in social re-engineering. And him as "leader-as-strategist" could only champion the regeneration of the Republic.
And there is not much time for that. Kissinger says "strategy explains the conclusion a leader reaches under conditions of scarcity, temporality, competition and fluidity."
"Leaders have to make judgments based on intuitions and hypothesis that cannot be proven at the time of decision. Management of risk is as critical to the leader as analytical skill." In other words, there is no excuse for "I wasn't aware."
Lastly, Yew acknowledged that "to continue to attract investment, Singapore's productivity needed to keep climbing…others will not invest in a losing cause; it must look to be a winning cause." So that story of doom and gloom does little to move Kenya forward.
Mr Kipkemboi is Partnerships and Special Projects Editor, Standard Group
Related Topics