Home
/
Health & Science
Agony as patients die due to lack of ICU beds in Nandi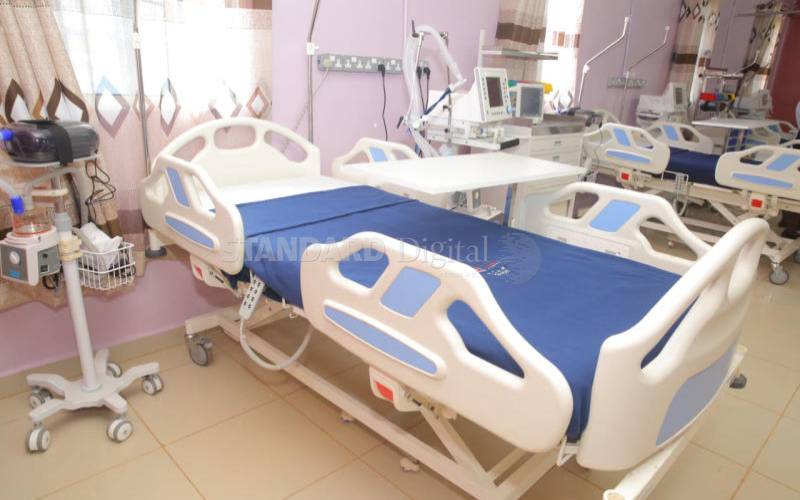 When 25-year-old Karen Towet checked into a public hospital in Kapsabet, Nandi County, she expected to hold her newborn baby and leave the hospital.
However, Towet, who was admitted with normal labour, died hours later after a difficult labour which had earlier forced the doctors to conduct an emergency caesarean surgery in a bid to save the mother and the baby. Sharon Chemutai, Towet's relative, told The Standard that she was admitted for delivery at the maternity unit on Thursday at 7pm.
"When the labour delayed, the doctor advised a Ceasarean Section operation. Though the process was successful, an hour later Towet was bleeding to an extent she fainted," she said.
As nurses tried to resuscitate her, the family was informed that she needed urgent ICU admission. However, they were asked to transfer her to a private clinic in Kapsabet town.
"The doctor in charge of the maternity referred the patient to the nearby private facility. He told us that it won't be possible for her to be taken to MTRH, which is a 40-minute journey to Eldoret," Chemutai said. The baby was confirmed dead shortly after the delivery while the mother passed on a few hours later as the hospital was frantically seeking ICU admission in the private hospital.
According to the health officer at the ICU ward, there was no efficient oxygen system in place to support Towet after the process, claiming that the excess bleeding could have been stopped after the surgical operation.
In yet another incident, former Nandi Sub-county commander Titus Kasavi died on Thursday of Covid-19 related complications after he failed to get emergency oxygen when he was transferred to Nandi Hills Sub-county Hospital.
Kasavi died while being transferred to Eldoret.
"The patient had been referred to Nandi Hills County Hospital for treatment in the Covid-19 Unit, but the ventilators were not working due to insufficient oxygen. We had to rush him for emergency medical attention in MTRH, but he died on the way," said Joseph Akenga, a relative.
The latest deaths have elicited angry reactions among residents who took to social media to express their displeasure with the county government for failing to operationalise the ICU in health facilities in the county.
When The Standard sought a comment from Health executive Ruth Koech, she declined to respond to the allegations of lack of oxygen that led to the deaths of the patients. "Medical information is confidential, and it's not in my place to disclose patient information to avert twisted politicised facts. Our sincere condolences to our staff, family, friends and colleagues," she stated.
The county, which claims to have 11 ICU beds, has been facing a barrage of queries from the County Assembly who, after a visit to the county health facilities, found them idle.
Related Topics