Home
/
Young Women
E-commerce is more than just posting pictures on social media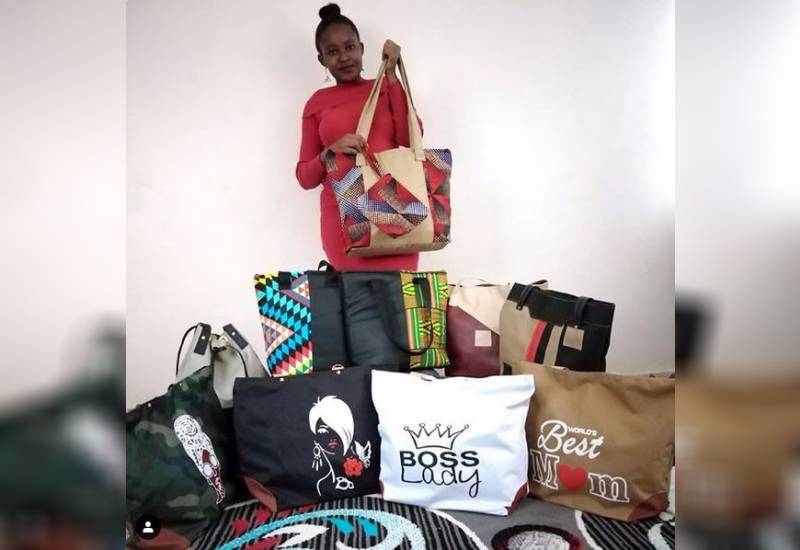 Winfred Mule, 24, is the founder and owner of Trendy Awin Collections, an online shop that deals in handbags, especially locally made Ankara pieces. She shares about her struggles to run the business as a young entrepreneur and how she has kept it afloat in the wake of the Covid-19 pandemic
My background
I was born in Nairobi County and raised in both Nairobi and Machakos counties. I am the first born in a family of five. I have two sisters.
I enrolled at Makutano AIC, a boarding school in Machakos County, Mwala sub-county, for my primary school education and later joined Mbooni Girls in Makueni County before proceeding to Masinde Muliro University of Science and Technology (MMUST), to pursue a degree in Disaster Management and International Diplomacy, and graduated in 2019.
The idea
While still in campus, I thought of starting a business so I could utilise my free time better. I had Sh1,500 that I used to buy watches in Nairobi which I hoped to sell to my friends on campus at MMUST. I thought it was going to be easy -- just taking pictures and sending them to various WhatsApp groups. I assumed I would get quick orders.
However, that was not the case. Things didn't happen as I expected. I thought of another strategy and opted to hawk the watches in order to get my capital back. I found out that running a business is tough and needs a lot of patience and resilience.
I went back to the drawing board and decided I had to find something that I love. I opted for bags since I have a love for unique and trendy bags.
What happened next
I bought some faux leather bags and began to advertise them online. I sold all the pieces to my classmates and friends back in college.
From there, those that loved the bags started referring other clients to me. I would ask my supplier to send parcels and I would sell them and the business progressed.
Because of my love for Ankara fabric and its uniqueness and boldness, I started selling Ankara bags. I found the bags practical since we can make them locally. These bags have been a wholesaler favourite up to date. They are bold and they stand out.
Early 2019, I took a break from the business so I could think about my next step after completing my studies. Later on, I came back to Nairobi and continued with the same business.
Running a startup
The first case of Covid-19 was reported in the country in March and there was panic countrywide. It has not been easy for many businesses, but what has worked for me is selling my products through online platforms. Through Facebook and Instagram, I have managed to get several clients and the one time satisfied clients have always referred other clients to me.
When you treat your clients well, most of them always reciprocate. The use of a mobile money till number has also given the business a boost during this pandemic since we prefer to go cashless. We do our deliveries countrywide and this too has reduced the number of people at the pick-up point, which is helpful in this era of social distancing.
Where I am now
Apart from what I sell online, have rented a shelf in the CBD. It is in a shop (the whole shop is just shelves that people have rented). Here, a client is charged between Sh1,500-3,000 depending on the size and nature of the shelf. Some are lockers and others are for display (if you want to display your items). I have a display shelf.
The owner of the shelves has employed a lady to manage them (she handles the stock coming in, sells on my behalf and customers also go to pick items they had paid for). At the end of the day, my cash is sent via mobile money transfer. In a nutshell, the storage business will keep records as well as sell goods on your behalf.
Trendy Awin Collections has been my main hustle since I graduated from university. I would say that the chance to interact with other entrepreneurs has brought about personal and economic growth. The business has also given me some much-needed financial independence.
My tip
The journey of starting a business is not as smooth as it may seem. You have to fasten your seat belt and learn to bounce back no matter what you go through.
There is pressure out there for young people with college degrees to hold white collar jobs just so that they can maintain a certain image and lifestyle.
However, I would say relax, re-evaluate the options you have, do a SWOT (Strengths, Weaknesses, Opportunities and Threats) analysis on yourself. Go out there, seek an opportunity and solve a problem!
Competition will always be there. It makes us better. Don't be desperate to make a sale. It's better to make a customer and not a sale. The right clients will always come to you if you are persistent and consistent in quality. Be kind to yourself and always ask God for guidance.
What's your favourite type of weather?
Related Topics