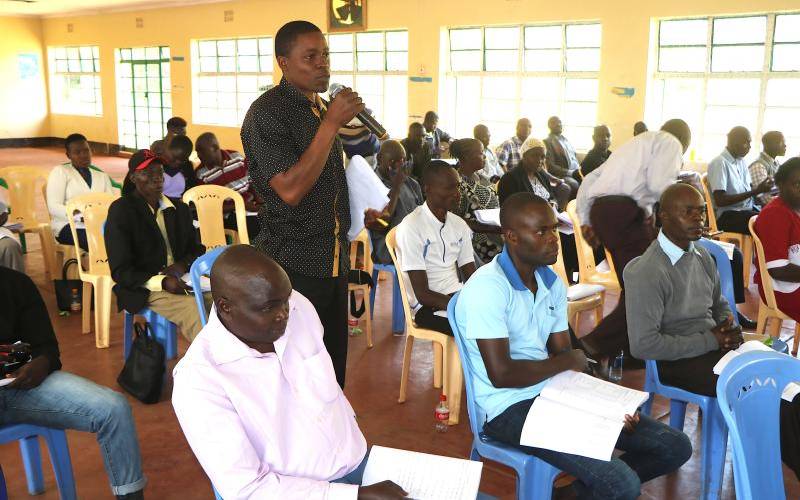 Residents of Kakamega are set to pay more for health services in public hospitals courtesy of a new bill currently being reviewed by the county assembly.
The Kakamega County Finance Bill, 2022, has proposed additional hospital levies and this has not gone down well with residents who opposed the plan during a public participation forum at Kakamega Social Hall on Monday.
If passed into law, the Bill will see residents pay between Sh350 and Sh500 for oxygen per hour as an oxygen administration fee up from Sh200.
Patients will also be required to part with Sh300 for non-pharmaceuticals and another Sh200 for minor wound dressing. Initially, Sh150 was charged for minor wound dressing.
The Bill proposes Sh1,000 for tubal litigation up from Sh500, while a hip replacement will now cost Sh20,000 up from Sh7,000. An orthopedic implant will cost Sh15000 up from Sh7,000.
Pregnant women will pay Sh2,500 up from Sh1,000 for Beta Human Chorionic Gonadotropin blood test. The test is normally done during the early stages of pregnancy.
Patients will also pay Sh350 for catering services should the Bill be passed in the county assembly.
However, those who spoke during the public participation forum opposed the proposals they termed unrealistic and punitive, saying they will further burden residents.
The residents have consequently petitioned the County Assembly's Finance Committee to reject the proposed levies.
One of the residents who attended the Kakamega Social Hall forum Peter Odongo said the extra payments for medical services could lead to deaths as many will not afford them.
"The county government used millions of shillings in taxpayers' money to procure and install an oxygen plant promising it will produce adequate oxygen and surplus that would be sold to other counties. Why are they even charging patients for it? And why are they increasing the charges?" said Odongo.
Residents want the county government and MCAs to find other ways of raising local revenue saying the existing levies are a big burden to them.
Finance and Economic Planning Committee chairman David Ikunza said residents are free to submit written memorandums for review.
"Many are opposed to the changes the Bill introduces especially in the health sector. We want them to submit their views so that the committee can assess and decide on what to drop or include in the Bill for their own good," said Ikunza.
The Bill is set to raise revenue through taxes, fees, charges, and any other receipts on business, commercial activities, and use of services and facilities offered by the county government for the fiscal year of 2022/2023.
Some of the new revenue streams targeted by the county include rates and other charges relating to land, license fees for the general traders, shop, retail services, fees for outdoor advertising, fees for transport business and parking spaces, market fees, fees for betting and gambling, agriculture services and fees for hire and use of county machinery, stadium grounds and halls.
Politicians seeking to hold rallies in urban areas and within municipalities will pay between Sh50,000 and Sh500,000 depending on the seats they are seeking and the locations of venues, according to the proposed changes.
Church meetings and weddings will attract between Sh5,000 and 50,000 depending on where they are held.
Owners of vehicles will part with between Sh200 and Sh500 in parking fees in urban centres and within municipalities.
Related Topics