Home
/
Trendsetters
Jinna Mutune: Telling the Kenyan story through film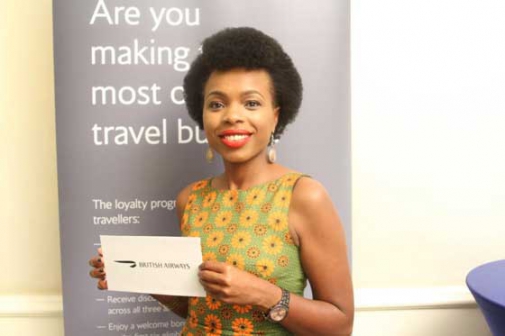 The Kenyan story has been told over and over. However, like a book whose pages have been indiscriminately ripped out, the story has been incomplete. Jinna Mutune found those pages and is determined to tell that story in full.
The world already knows of the stereotypical narrative of war, poverty and hunger, so Jinna is out to show the multi-faceted, multi-cultural Africa where people have lives, hopes and dreams.
When I meet Jinna at the Intercontinental Hotel, she looks artsy and a serious business person at the same time. She is a naturalista, with her natural hair tied with a headband into a fluffy afro-bun. She is dressed in a white blouse and a well-fitting greyish-black skirt with silver zigzag lines on it. A leather jacket is folded over her chair and she and her associate producer, Julianna Wangechi are typing away at laptops.
"We're in pre-production, so our schedule has been insane," she says after pleasantries, apologising for the rush and clearly relieved that I had arrived on time despite the unexpected change of plans. We had set the meeting for later in the day, but things changed last minute and she had to re-schedule it earlier.
She's speaking in a husky voice, which I find myself wondering about, and as if reading my mind, she explains. "My voice has sort of disappeared because I haven't been sleeping much," she says. "It is usually quite crazy around this time."
"How are you able to work like that?" I ask her. "Right now I just have to. I just keep working and ignore my body, and when you do that the feelings catch up with it. Work hard and play hard," she says. Clearly, film-making is serious business, and without wasting any of the precious film-making time, we get right to it.
She describes herself as a multi-cultural film-maker passionate about telling the Kenyan and African story to a global audience. Her first feature film, Leo, did exactly this. It was about a Maasai boy who dreams of being a superhero. As the director of the film made under her production company, Pegg Entertainment, Jinna saw the film come into fruition after five years of production. It was eventually launched in ten global cities, five airlines and a number of cable TV stations around the world.
It was a star-studded event attracting the likes of media personality Jeff Koinange, who had a role as an actor in the movie, and business mogul Chris Kirubi, who was an executive producer of the movie, and also had an acting role in the movie.
She is at it again, and is now in the pre-production stage of a movie called Chep, which is set in the 1970s and tells the story of a fictional athlete named Chebet. By the 1970s, men had started making names for themselves in world athletics, but it was not until the 1990s that women began winning international competitions.
The film follows the life of Chebet as she dreams of becoming a renowned world marathoner at that time when they were virtually unheard of. She is torn between conforming to her culture as is expected, or fighting limitations imposed upon her by society and pursuing her dream to eventually become a world female marathoner.
Once more, the big guns have already begun taking notice of the movie. Jinna was one of the five winners of the Safaricom and British Airways Emerging Enterprise Initiative. She is working with Abe Martinez, a director of photography from Los Angeles who besides having worked on Leo, has also worked on Hollywood blockbusters such as Spider Man 3, and Fast and Furious. Sauti Sol and Fena have already released the soundtrack for the movie, a video named "Hebu Njoo" that has attracted 25,000 views on You Tube.
What inspired her to do the movie? "While doing Leo, people were already asking me which movie I was going to do next. So while wondering what that would be, I was astounded to discover that of the 20 fastest marathons ever run in the world, Kenyans have won 17 of them," Jinna says. She therefore set out to tell a story revolving around Kenya's heritage as a running country, and thus Chep was born. She says the film celebrates the woman as not just a child-bearer and home-maker, but also as a dreamer and an achiever.
Telling stories using art has always been her thing, something she was sure of even as a child as she was drawn to the narrative world and to the arts.
"I was the kid who would always try to direct kalongo," she says. "At 11 years, I had already started my own entertainment company, which was an Archie's Club. I got artists to draw the characters from the Archie comics and then got my friends to buy what we created. Anyone who belonged to my Archie's Club would bring Sh1 every day and then at the end of it we had a party for the club members."
At home, her parents created an atmosphere where the five children were allowed to dream big and explore different cultures. Her elder siblings would come from other countries with different cultural experiences, which led her to know at an early stage that she had access to a global stage and could interact with it, which she says was crucial for her in terms of creating a global perspective in terms of story-telling.
"At the age of 12, I met my first mentor who was called Pastor Macharia at KAG Bahati who was an artist and used to paint murals and things like that. He gave me Chronicles of Narnia and my world opened up," she says animatedly. "He used to do church services with a lot of visuals, with props on stage, painting the stage, so I came alive and started getting into anything to do with art."
Intent on becoming a film director, she later on studied film in South Africa, interned briefly at Hollywood before returning to Kenya for another internship at Kwani? under Binyavanga Wainaina.
Jinna acknowledges that following that path of life was not easy in those days, but that times have changed and it is now possible to make a living out of art like she does. "The art scene in Kenya is incredible today. I'm amazed every time someone calls me and tells me they are an animator, or any other kind of artist and are actually making money from it. This was unusual just seven years ago," she says.
However, Kenya has a long way to go in terms of appreciating homegrown talent in film. Despite having a starring role in Shuga, Lupita was largely unknown until Hollywood acknowledged her and she became a household name.
"We don't have a cinema culture in Kenya. People buy bootleg movies and it's difficult to get them to go see a genuinely Kenyan-made movie," she says. She describes how they had screenings in Kenya for two weeks and cinemas would sometimes be dishearteningly empty, yet cinemas would be full in places like Dallas with only a one day screening, with the movie receiving similar reception in other places around the world.
Things are looking up, though, and Chep has generated some buzz online despite it still in pre-production and production will begin in May. "I think the future for Kenyan film and seeing all these art channels opening up is mind-boggling for me," she says. "This is such a ripe time. When it comes to art in Kenya, I just go with the Mexican proverb: They tried to bury us, but they did not know we were seeds."
Related Topics