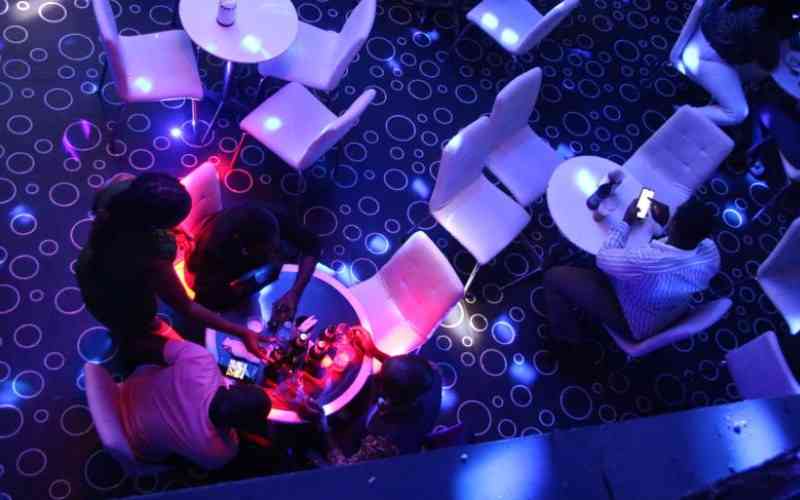 Thursday has been labelled the new Friday in Nairobi, the entertainment hub of East Africa.
Pulsers start to party hard on Thursday night with clubs, almost in every zone in the city, creating lucrative themes and irresistible offers.
Reflected in Dantez 254 big and successful hit Ala, the singer who features other Gengetone artistes Reckless, Trio Mio, and DMK paints the perfect Nairobi nightclub life in the lyrics of the song.
"Ati Monday ni Kazi. Tuesday ni ka tu Monday (Alaah). Wednesday sijali. Thursday nangoja Friday...Oh la la la la la...," the song goes.
The track became a club hit, with deejays and club owners painting a picture that 'it is okay for revellers to party any day'.
Also turning into a mega-hit was Lewa by Parroty Vunulu, Kabagazi, OneBoy, and Mejja, a club song that depicts club life as the ultimate party choice for the young Nairobians.
From themed Reggae nights, deejay shows, Karaoke nights, and gaming nights among others being used to drive the fun-lover into the clubs, proprietors of these premises have added art appeal, lounge-feel ambiance, and state-of-the-art lighting to their joints to woe customers with that fresh modern club touch.
Some are even going to the point of serving free cocktails, a plate of meat, and even soup as a show of gratitude to the young crowd.
The club is home to thousands who are seeking pleasure as well as livelihood. From deejays, musicians, comedians, waitresses, and bouncers, young Kenyans, most of them being campus graduates are finding solace in the nightlife as clubs thrive.
The liquor business is thriving just like the food industry, thanks to these vibrant joints.
A casual waitress gets about Sh5,000 for a night of service, an average deejay about Sh30,000 in a good club while a club bouncer takes home Sh2,000.
Hype masters are paid around Sh10,000 while club hostesses and VIP service models take home Sh10,000 a night. It is a lucrative industry, a money maker.
Indeed, Nairobi is a party city, second to South Africa's Johannesburg and Nigeria's Lagos. The nightlife is an easy export as a tourism venture too, with many foreign artistes giving Nairobi a thumbs up for its vibrant party life after their visits.
But, now there is a fresh trigger that threatens to slow down this culture. And the uproar is loud.
Players in the hospitality industry risk losing their jobs if Robert Alai's move to close entertainment spots within his area takes effect.
In his appeal, Alai alleges that he has received numerous complaints from residents about noise pollution and narcotics infiltration.
The debate sparked a heated debate among social media users, with each giving divergent opinions about the move by Alai and his counterpart from Kilimani Ward Moses Ogeto to have the Nairobi City County Alcoholic Drinks Control, and Licensing Board and the National Environment Management Authority take action against the ballooned number of entertainment spots in the area.
This came after complaints of noise pollution and failure to meet the body's set operational guidelines.
The Board moved with speed and documented a total of 43 nightclubs across Nairobi that were termed as a nuisance to their neighbourhood.
In a memo addressed to all sub-county administrators, the Board said the process of revoking and shutting down the clubs was ongoing.
Some of the clubs documented as defying the rules include Clique Lounge, La Baita, Quiver, Coco Rico, Bar Next Door, Kettle House, Dejavu, Ibury, and Samaki Samaki.
In a statement, Hesbon Agwena, the Board's director said the proprietors had turned a deaf ear and refused to comply and continued to contravene the stipulated licensing conditions as he issued the names of the targeted spots.
Subsequently, this was followed by a raid that saw several employees arrested and arraigned in court.
The decision to raid premises was however condemned by bar owners who accused the enforcement officers of using excessive force, corruption, and favouritism.
"There are parties who are soliciting money in exchange for leniency. There is a lot of dishonesty in this move, which will also render hundreds of workers jobless including a whole lot more of their dependents," said Maxwell, a club owner.
The move caused a divide in the county Assembly as a section of members challenged the directive.
They were led by Kitisuru MCA Alvin Palapala and Woodley/Kenyatta Golf course MCA and media personality Davidson Ngibuini (DNG) challenging the move while urging Nairobi Governor Johnson Sakaja to go slow on the move as it would render many stakeholders, the majority of who are youth, jobless.
"We are at a time when the cost of living is very high so sending all these people home without a job will have a serious toll on their livelihood and those of their dependants," they said.
DNG spearheaded the #unlockourcountry movement that advocated for workers to get back to work at the height of the pandemic.
"These draconian ideas are saddening and those pushing for the closure need to consult entertainment and music industry experts such as myself. We cannot rush to close businesses just because we have refused to think," he said.
Kilimani and Kileleshwa wards, for example, have in recent years seen a rise in high-end entertainment spots that target residents both from the area and a majority flocking daily from different parts of the capital.
However, MCA Ogeto alleges that most developers do not include public participation from residents whenever there is a 'change of use' of a private residence to a commercial one despite high government officials like area police bosses and divisional heads sitting in the licensing committee.
During a recent interview, Alai observed that the area has close to 40 liquor businesses in semi-permanent structures close to the residential areas, making it hard to enforce the 300-metre control of sound emission.
"Our suggestion is to talk to the governor to allow for the setting up of entertainment districts where certain streets within the county are blocked to facilitate the development of multiple clubs instead of having them encroaching on residential areas.
The properties in these areas are now losing value as nobody wants to occupy them because of the toxic invasion that is threatening the livelihood of the residents, the majority of them young ones as we have evidence that even heavy use of narcotics is a norm."
According to Ann Nyokabi, a mother, the lack of jobs during the pandemic, which pushed many out of the city was scary enough to ignore the politician's call for the closure of the clubs.
"They should be considerate. We can use many other ways to solve the issue. Nobody wants to be faced with unemployment during these tough times."
With the majority of the clubs sitting on over 5,000 square feet, entertainment spots in the Kilimani area can hold a couple of hundreds of patrons at a given time and the influx in their numbers brings a dense drinking population, which in turn employs hundreds of workers ranging from permanent to casual labourers.
"This is where my children get their daily meals besides me being able to afford school fees and other necessities. Asking the establishments where we fend for ourselves to close down is selfish in every way," said DJ Charlie, who plays in multiple clubs within the area.
During the pandemic, a few clubs that had been shut down as a result of the complaints went back to business after complying with the regulations.
According to DNG, the liquor committee in his sub-county has barely met to address the issue.
"Some solutions may not have been explored like soundproofing, glass installation, and sound cut-offs that can be applied to oversee noise reduction. However, I have never seen the persons tasked with that responsibility. As such the memo circulating from the liquor chairman is nothing but an arbitrary declaration. He must be restrained."
With the war of words ongoing and the enforcement looming, hundreds are hoping the matter is solved amicably.
However, the Kilimani Bar Owners Association is calling for a truce and instead asking for a platform where they can all agree to disagree and forge the way forward.
"We have made huge investments, and nobody wants to count losses because of non-compliance. I easily make over a million a night from my establishment. Who wants that gone with bills still piling up," said musician KRG.
DNG echoes his sentiments, "I will never support the destruction of people's businesses. These bar owners pay licences and have employed our youth. This is a hustler's government; we won't allow intimidation."
Les Wanyika's band Leader, Sijali Zuwa, also joined in the conversation against the revocation of the licences.
"These entertainment spots have fed our families for three generations, and it is where young musicians also come up. Everything is interconnected, so let us not destroy one thing to build another."
Zuwa argued that they are perhaps one of the biggest music exports from Kenya and would not have reached this far without the support of bar owners. Playing their first-ever gig at Garden Square Bar and Restaurant on November 25, 1978, the band's legacy lives on.
Their biggest hit, Sina Makosa, was a real-life experience that happened in a bar, while their other hit Kasuku was a tribute to Armstrong Kasuku who owned Garden Square, a hot joint back in the day.
"As senior musicians, we speak for all those who are starting, as we did 44 years ago. Let us nurture talent and be sensitive about how we apply the law. Young musicians have been home now for more than two months, let us be sensitive even as we apply the law," said Zuwa.
In a statement dated Monday, the Kenya National Chamber of Commerce and Industry President Richard Ngatia said he had secured a deal with Nairobi City County Alcoholic Drinks Control and Licensing Board to temporarily halt the directive from being enforced.
Calls placed to Governor Sakaja for comment went unanswered by the time Pulse went to press.
Related Topics