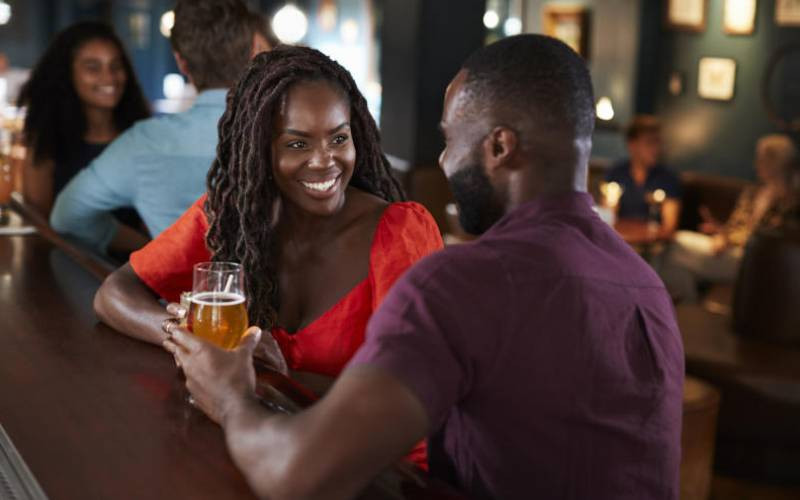 Hi Chris,
There is a Christmas party soon at my office, and normally I hate them because everyone drinks far too much!
But I am crushing on a new man who has recently joined us, and I would like to let him know at the party.
But how can I flirt with him in front of all my colleagues?
Office Party
Chris says,
Hi Office Party!
An office party is a great opportunity to do a little flirting. But you will need to be sure your crush is responding positively. And both of you will have to be careful because everyone is watching everyone else. So it would be embarrassing if things went wrong.
Start as friends would, with warm smiles and a little touching. Maybe laugh a bit more, or move a little closer. And make this super subtle move that says you want a little more.
It goes like this. Friends who are crushing mirror each other's gestures. They tend to pick up their drinks at the same time and move in similar ways.
Breaking that pattern is how you say you are feeling amorous, and check on whether he is too. Like if you have been touching his arm, which could be just friends, try pausing for a moment. If he quickly touches you back, that suggests he is also interested!
Watch if he alters his position, or deliberately makes and breaks eye contact. He is checking to see if you follow suit. It is a subtle courtship dance, and if you both join in, it says you're serious.
Soon he will start 'guarding' you, discretely using his body to block off potential competitors. Or shifting the conversation to more personal subjects, so it is more difficult for a newcomer to join in.
Slipping a thumb into his waistband, feet apart, in the classic male do not mess with my stance. Respond by talking more about yourself and complimenting him.
Laugh at his jokes, ask questions about his life, and make it clear you are enjoying his company. With a twinkle in your eye, which is meant just for him.
And no one else will even notice!
All the best,
Chris
Related Topics