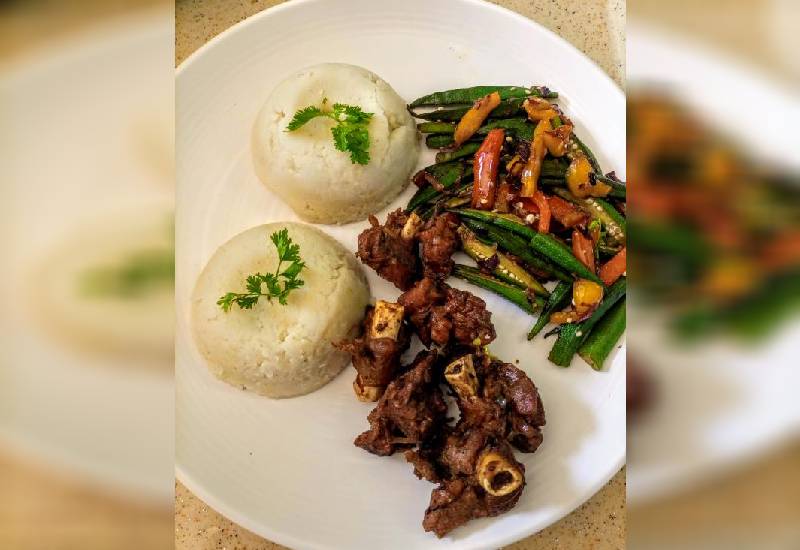 Let's make my delicious mutton fry. This is a delicious wet fry recipe that literally makes the meat fall off the bone. You will serve this with some ugali and a side of any of your favorite vegetables. Let's do this!
What you will need:
1kg mutton/lamb chunks
1/2 cup white vinegar
3 onions sliced
1 green pepper, cut into tiny cubes
1 tablespoon of oil
1 teaspoon garlic paste
Handful of fresh mint, chopped
1/2 cup water
Salt and pepper to taste
What to do:
In a bowl, pour in the mutton. Add the white vinegar and let the mixture rest for about 30 minutes so that the mutton can tenderise.
In a pan over medium heat, add 1 tablespoon of oil. Sauté the onions until golden brown. Remove them and place them aside.
Add the mutton that is soaked in vinegar. Add the garlic paste and cook until golden brown on both sides.
Add in half a cup of water and bring to a boil. Add the salt and pepper. Continue to cook until the liquid is reduced.
READ MORE
Add in the green pepper, mix well. Add in the fried onions and continue to mix well.
Add some mint then let it cook until almost dry.
Serve with ugali and your favourite seasonal veggies.