Home
/
Recipe: Simple vegetable curry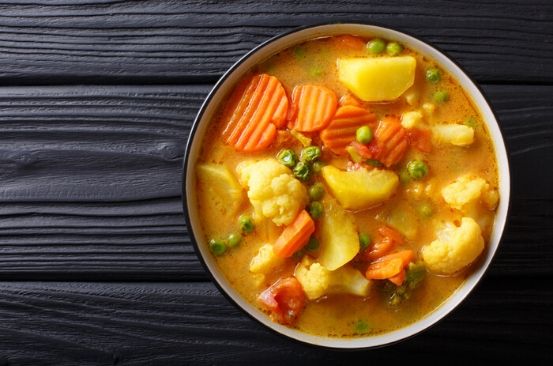 If you want a delicious alternative to eating meat, this vegetable curry could be the answer. It contains affordable, readily available veggies which, when paired with the right spices, leaves a delectable taste in your mouth.
Ingredients:
Potatoes, chopped and parboiled
Peas, pre-boiled
Carrots, chopped
Courgettes, chopped
Onions, chopped
Tomatoes, chopped
Garlic, crushed
Tomato paste
Coconut milk
Royco
Garam masala
Curry powder
Peppercorns, crushed (or ground black pepper)
Salt to taste
Method:
1. In a pan over medium heat, fry onions until translucent.
2. Add tomatoes and garlic and leave to cook until tomatoes are soft.
3. For the masala, add the garam masala, curry powder, royco, tomato paste and salt and leave to cook.
4. Add courgettes and carrots and leave to soften. Then add the potatoes and peas. Stir well.
5. Once done, add the coconut milk and a bit of water to ensure the curry doesn't burn. Leave to simmer.
6. Serve with freshly ground peppercorns sprinkled on top and accompanied with rice or chapati.
What is worse: a fake smile or a grumpy face?
Related Topics