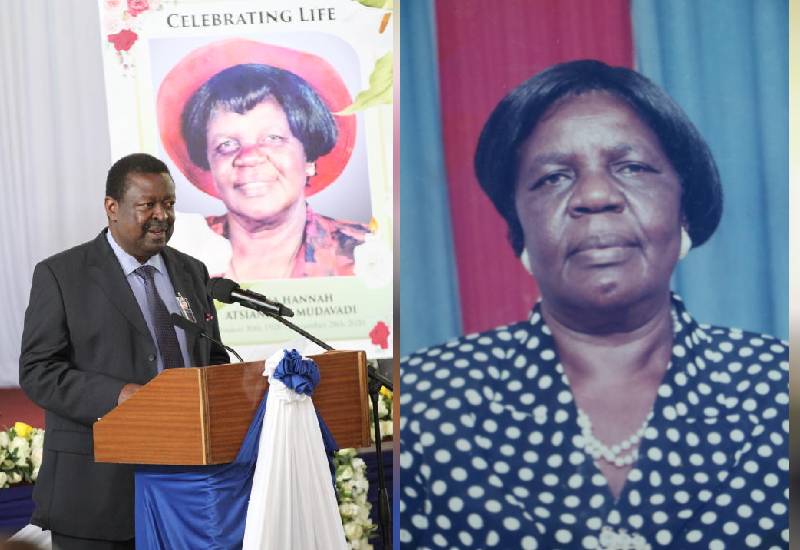 Politicians, friends and family members paid tribute to Hannah Atsianzale Mudavadi, mother of Amani National Congress party leader Musalia Mudavadi, as she was laid to rest at her home in Mululu, Vihiga County.
Atsianzale was eulogised as the force behind her husband, the late powerful minister Moses Mudavadi, as well as the person who propelled her son Musalia into a successful politician.
Few Kenyans knew about the late Atsianzale prior to her death on December 28, aged 92, at the Nairobi Hospital.
However, during her memorial service, family members and friends testified of a strong and prayerful woman who overcame numerous adversities to grow into a successful entrepreneur and impactful member of the community.
As a young girl, Atsianzale dropped out of school in Standard Four at Bunyore Girls High School to care for her younger siblings following the death of their mother.
Family members recounted that Atsianzale remained hopeful that she would someday give birth to a son despite being mocked for only birthing girls.
"She was mocked, abused and ostracised because she only had girls. She later gave birth to Wycliffe in 1960 and was overjoyed," said her grandson Moses Mudavadi, further eulogizing her as a symbol of strength and honour, just like the biblical Hannah, who faced stigma due to her barrenness.
READ MORE
The Mudavadi family recollected how she beat cancer with the successful removal of the cancerous tumour, but later succumbed after surgery on December 27 last year to correct an entanglement in her digestive system.
Rose Mudavadi, a family member, recalled that Atsianzale remained prayerful to the end, even requesting for Psalm 23 to be recited before her surgery.
Atsianzale is survived by six children: Musalia and his five sisters.
She was laid to rest at the family's home in Mululu in Sabatia Constituency, Vihiga County, today Saturday 9th December.