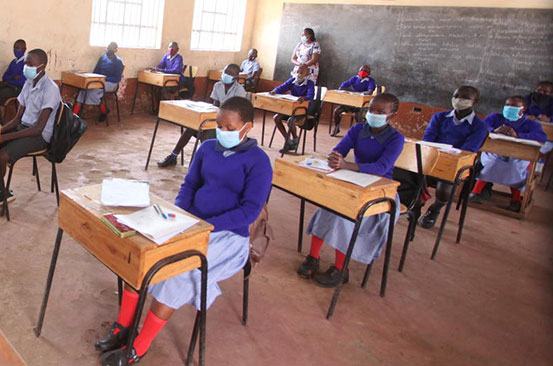 The resumption of school by learners last week after a six-month break has presented fresh challenges for parents who now have to dig deeper into their pockets to acquire personal protective equipment for their children.
Some schools are demanding parents to pay for thermo guns for taking temperatures.
A public school in Kisumu sent away pupils whose parents did not pay Sh300 for the gadget.
"The fees that has been introduced for thermo guns is illegal and as it seems the institution is attempting to take advantage of the situation," said a parent.
When contacted, County Director of Education Isaac Atebe said he could not speak as he was in church.
Buy lockers
Early this year, before Covid-19 struck, the same institution directed pupils to buy their own lockers.
READ MORE
The move saw the school send away several Class Eight learners and despite pleas by some parents, it did not rescind the decision.
The school defended the move then, with the deputy head teacher saying the decision was made because of a shortage of desks at the institution.
In Baringo, parents complained that school heads were demanding that learners buy specific brands of sanitisers.
A parent from primary school who spoke on condition of anonymity for fear of victimisation said that her daughter who is in Class Eight informed her that she needed a sanitiser, which was required by the school.
The parent said she is disappointed, knowing that the school is supposed to provide pupils with water and soap or any other detergent which will help curb the spread of Covid-19.
At the John Paul 2 Dimesse Primary School in Nyahururu, parents were required to purchase five masks that are washable and should be labeled.
"We thought that there would be many requirements but we were glad that they needed only five masks.
"The amount of school fees for Third Term was not increased," said Mary Wanjiru, a parent.
The head teacher, Catherine Gathuma, said they have put up many washing points.
"We also have an isolation centre just in case.
"We have advised all our teachers to make sure that all the set guidelines by the Health ministry are followed to the letter," she said.
At the Nyahururu High Way School, the situation was the same.
"We knew parents were having a difficult time.
"There is no need to increase school fees. No student or pupil will be sent home for lack of school fees," said the principal Wahome Muthima.
At Nyahururu DEB Primary School, all day scholars are supposed to have washable masks.
Water points have been set up in many places. In Kakamega, most public schools are struggling to buy sanitisers and masks for learners.
According to head teachers, the allocation from the government that schools received last week was not enough and most schools are unable to comply with health protocols.
According to Lawi Amugah who heads Nabongo Primary School, the allocation from the government cannot even pay half the salary schools owed support staff.
No funds
"The burden of buying masks cannot be shifted to parents.
"Though we are not properly funded, we have purchased 400 masks for teachers and learners but they are not enough."
The situation is not any different in Kakamega Primary School whose allocation from the national government is 20 percent of what it gets per year.
According to Dickson Anyangu, the head teacher, the school has been left forced to write to donors to assist.
"We have written to various partners to help us. Since parents are also feeling the wrath of the virus, we cannot force them to buy masks. We hope that corporate organisations will help us," Anyangu said.