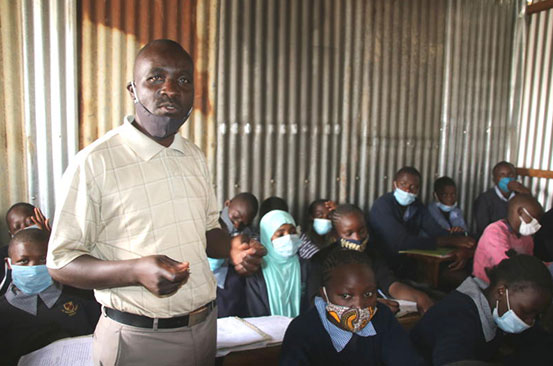 At a private school in Nairobi's Kibra slums, pupils are crammed into tiny desks in a room made of iron sheets.
It is a two-storied building. The ground floor is made of mud and wood. The floors are cracked with staircase made of planks of wood. Most pupils are wearing faded reusable face masks. Some are barefoot. Others are wearing masks too big for them and have to keep readjusting them as lessons continue.
"The situation is tough. We would wish to ask pupils to go home since there is no classroom big enough to accommodate them. However, we can't do that because we know they are competing with other candidates and must therefore be in school and prepare for exams," says Jared Kataka, director of St Juliet Educational Centre.
A few weeks before the phased reopening of schools, the structure that hosted their school was demolished by the authorities to pave the way for the railway. Some 570 students were left without a school.
"We had to look for an alternative. This tiny room was donated by a church," says Kataka. "Our biggest fear is what will happen when all students resume."
Jack Maloba, a parent who has a candidate at the school, says they are worried about the learning environment but there is not much they can do.
"Where can one get a school now that can take in a candidate? It is already the end of year and schools are focusing on preparing candidates for exams," says Maloba.
READ MORE
He says schools in Kibra are already crowded and it is almost impossible to get space in the available public schools.
"There are very few private schools around here meant to cater for pupils who are unable to get space in public schools," says Dora Achieng' a resident of Kibra. She says most private schools in slums do not have enough space to enable social distancing in the wake of coronavirus.
Some candidates are forced to seek alternative schools to sit final exams from after their schools were shut down. Owners of the schools were unable to sustain them due to financial challenges brought about by Covid-19.
In Kisumu, at least 54 KCSE candidates, whose school was turned into a hospital, will sit the exams elsewhere, the Ministry of Education said.
Form Four candidates at Highway Secondary were staring into an uncertain future after it was leased to a hospital.
Yesterday, County Director of Education Isaac Atebe said the candidates will sit their tests from other schools.
He said the school's management met parents last Saturday and the matter was discussed. It was agreed that the students be placed in other schools.
"We are waiting for parents to raise any grievances they may have before the children resume learning," said Atebe.
Highway High School manager Ali Nasoor said they had to shut the school due to lack of money. "We owe teachers about Sh1.5 million and suppliers another Sh3 million. The Sh30,000 each student was paying per year was never enough to pay these bills. Since we did not want to run down the school, we decided to lease its premises," he said.
Mr Frank Sanyo, the administrator of Kisumu Heart Hospital, which leased the school's premises, said they will move in after ongoing renovations.
He had told The Standard earlier: "What I can confirm is that it is Kisumu Heart Hospital is moving in. We took over after it ceased to be a school."
However, this angered some parents who claimed they were not involved in the decision.
Atebe also noted that the management did not follow the right procedure in shutting the school down.
A parent, who did not wish to be named, said she was informed by the institution the children will be admitted to neighbouring Muslim Secondary School. "As long as we will be paying the same school fees as we used to pay at Highway Secondary School, we are comfortable," she said.?