Home
/
Men are twice as likely to lie about what they did on holiday than women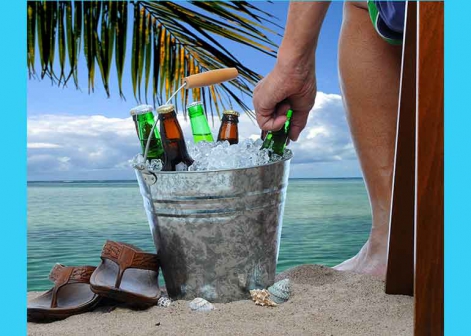 Men are more likely than women to lie to their friends about what they got up to during their break
In a world where everything is documented on social media, 'travel bragging' has been on the rise.
People are sharing everything from wanderlust-inducing snaps when relaxing on pristine white beaches, or checking in at world-famous sights while exploring a new city, all aimed at making their followers envious of their getaway.
However, new research from Lastminute.com has revealed that the pressure to impress others during your travels has led to 53% of Brits feeling that they need to cram in as much as possible when they're away, fearing that otherwise they will be judged by family and friends for not making the most of their trip.
In fact, many Brits are lying about what they did during their getaway. The worst culprits? It's actually men who are twice as likely as women to outright lie or stretch the truth about what they got up to during a holiday, in order to impress their friends.
The research also showed that men tend to worry more about others judging them for not making the most of their time off. In fact, 15% of those asked even admitted they would begrudgingly prioritise activities they think they have to do over those they actually want to do, all to avoid feeling guilty.
This is a pressure felt by the majority of Brits, with over half revealing they sometimes compromise on what they really want to do in order to check out the sights.
It's also that feeling of wanting to make the most of your time in an exotic new place: 33% said they were wary of having major FOMO if they didn't cram everything in, while another 32% added that when they research activities in a foreign destination they start to feel obliged to do them all.
However, the whole point of a holiday is to give yourself a much-deserved break from the hustle and bustle of daily life, so if you're rushing around throughout the trip it could be counter-productive, not to mention you could end up missing out on some of the best hidden gems.
If you are planning to do as much as possible on your next trip, make sure to allow yourself an extra day or two to really discover the best of what your chosen destination has to offer - and with Easter coming up, it's the perfect opportunity for a long weekend away.
"City breaks are a great way to see another part of the world and soak up some culture – but only having the 48 hours in a typical weekend to experience all a city has to offer means we often have to rush around, take shortcuts and make compromises in order to fit everything in," says Lastminute.com Chief Marketing Officer Yannick Pluymackers.
"The Easter weekend presents the perfect opportunity to explore somewhere new – and, if you are savvy about where you go and how you plan your trip, it is absolutely possible to do everything you want to do and show off to your friends and family legitimately, without the clock ticking."
Related Topics