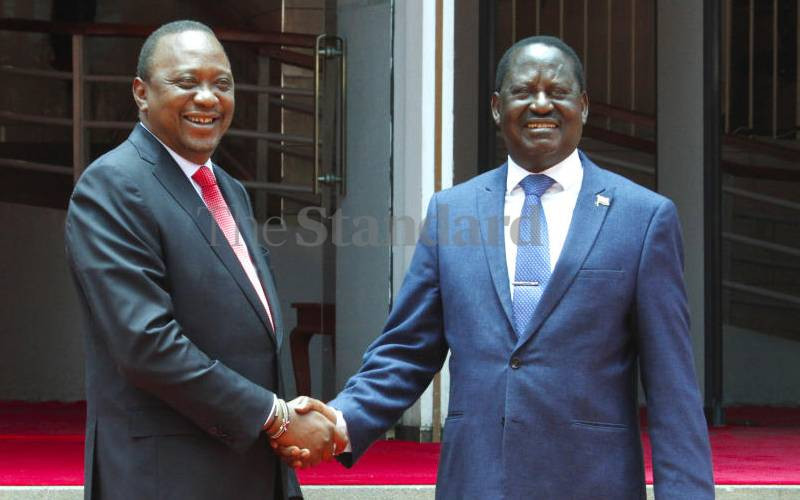 Once a son of a Kenyan founding father was disgruntled by the direction his country was taking, and, targeted by the atrocious state, twisted a knot in the tail of Kanu's predatory regime – his name is Raila Odinga.
By daring to challenge Kanu, Raila had, as Aristotle would put it, leaped into a despot's throne. He would go on to serve nine years in detention, largely without trial. The rest, as they say, is history.
Following the election of William Ruto as president, there is no price for guessing that Raila may after all not become president. As Jesus said on the cross, it is finished.
For Raila supporters, the announcement by Independent Electoral and Boundaries Commission. (IEBC) chairperson Wafula Chebukati a few minutes before six o'clock was met with disappointment and pain. The heavy, dancing clouds, pregnant with inky rain, held their sombre breath. It was emotional, more so among Luos who, because of their historical political position, have borne the brunt of state violence, incarceration, persecution and systemic marginalisation for six decades.
This was the election that most Luos believed was going to appease the spirit of Tom Mboya, Argwings Kodhek, Robert Ouko, Odhiambo Mbai, Chris Msando, Samantha Pendo and hundreds others who have lost their lives in election-related violence.
But that wasn't to be. Dr Ruto was declared president-elect. Six decades later, the falcon is yet to hear the falconer. The centre that has been threatening to break has finally broken. Things have fallen apart.
There are men who have been tried by many tests, like gold in the refiner's fire, and have been passed first through danger, then pleasure, and at every age have come out of such trials victorious and without stain. Raila is an example of such men.
In those moments when unyielding darkness engulfed Kenya, when the country experienced extreme moral scarcity, Raila made the difficult decision of choosing the interest of the nation over those of this supporters.
Raila's credentials speak for themselves. For instance, devolution, which he strongly championed, has successfully decentralised power and resources from extractive political institutions. Kenyans have experienced more development, thanks to Raila's efforts and those of his comrades.
While, some Kenyans, especially my peers, may feel they know what Raila has not achieved, they clearly know little about what Raila, alongside his comrades, has achieved. Such is the misfortune of living in a country that lacks a strong desire to reconcile itself with its past anyway.
It is the misfortune of the genius to be misunderstood. Jesus was misunderstood. Plato and Socrates were misunderstood. Steve Biko was misunderstood. There is a shared feeling that Kenyan electorates have greatly misunderstood Raila.
Elections in Kenya have been not more than solemn mockery of and insult to the conscious of Kenyans and the laws under which they live. And Raila has been a perennial victim.
That said, Raila's loss has exposed the "Luo-Kikuyu" problem. In his book The Trouble with Nigeria, Chinua Achebe presents what he calls the "Igbo problem". Achebe portrays the West African community as a proud people who are difficult to work with but from whom Nigeria draws her bragging rights.
If the stubbornness of the Igbo is the source of Nigeria's success, the egotism of the Luo and Kikuyu communities is the brazen indictment of the Kenyan story.
If the Kikuyus have endeavoured to position themselves as the big cheese in Kenya's body politic, Luos have struggled to pinball themselves as the main victims of political excesses of the past regimes.
That Luos have been actively involved in opposition politics more than other communities is not enough reason to claim full credit for democratisation of Kenya's political space.
If the Kikuyus have held Kenya's democracy at ransom, Luos have been misguided into thinking that they should be rewarded for their contribution to the democratisation of the Kenyan nation state.
If Kikuyu hegemony, the upper-class political bourgeoisie, is corrupt and entitled, Luo traditional authority is opportunistic and somewhat dictatorial. Equally, if Kikuyu ethnicity has been weaponised to "Kikuyunise" Kenya's democracy, Luo traditional authority has enjoyed illegitimate domination with little opposition.
Whereas the Kikuyu character predicates his sense of entitlement on post-independence entitlement, his Luo friend ab initio feels Kenya owes them a debt of political nature that she must pay, one way or other.
That Kikuyus voted for a Luo for the first time and that an outgoing Kikuyu president endorsed a Luo opposition leader for president means that Raila presidency could have fixed the vicious ethnic consciousness among the two communities for good.
Related Topics