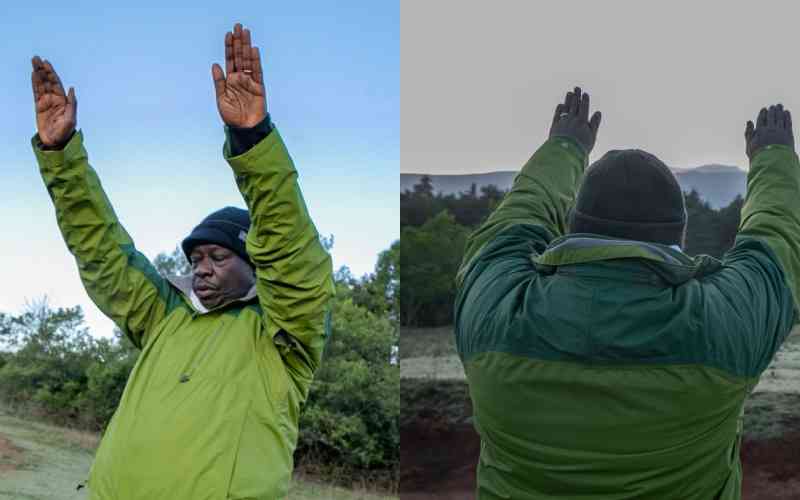 Growing up in Mathira, Nyeri County, Deputy President Rigathi Gachagua must have gazed at the imposing Mount Kenya with respect.
Perhaps he has meditated on the 1938 anthropology, Facing Mount Kenya, in which the country's founding president Jomo Kenyatta described in detail the legends that made Mount Kenya a revered landmark.
According to Kenyatta's book, Gikuyu, the mythical father of the local community was instructed that "whenever he was in need, he should make a sacrifice and raise his hands towards [Mount Kenya]...and the Lord of Nature will come to his assistance".
If you visited the DP's Twitter handle on Saturday, you must have noticed several images of Gachagua, or 'Riggy G', with outstretched arms facing the mountain.
While top government officials were still holed up in Fairmont Mount Kenya Safari Club, the self-proclaimed son of Mau Mau trudged on, eager to get closer to the spot his forefathers and freedom fighters gathered in times of crisis. He spotted a woven hat, a heavy jacket, a staff and walking shoes.
Flanked by aids, Gachagua is seen taking some water with his palms at one of the streams that flow from the mountain. But Gachagua was a man on a mission: to pray for the country, its leaders and the young people.
"When I got to the end of the trail, I once again said a prayer for our President, H.E. @WilliamsRuto, country, and our people. I prayed that God gives us rain so that our hard-working people can once again see and enjoy the fruits of their labour from their farms," he wrote on Twitter.
Gachagua, could not forget the youth who he said need to be delivered from drug lords. He especially has a soft spot for this group who are also behind his acceptance of his new moniker, 'Riggy G'.
"I prayed that God delivers our young ones from drugs and touch the hearts of those who sell drugs to our young people; to change their ways and let our youth become great," his prayer went.
But watching the mountain at close range also left him in awe, "the same awe our forefathers had over it and many other natural features still hold a grip over us. Our mountains, lakes, rivers, ocean, and forests are a strong link to our roots. This is a reminder of the greatness of our past and the possibilities in our collective future".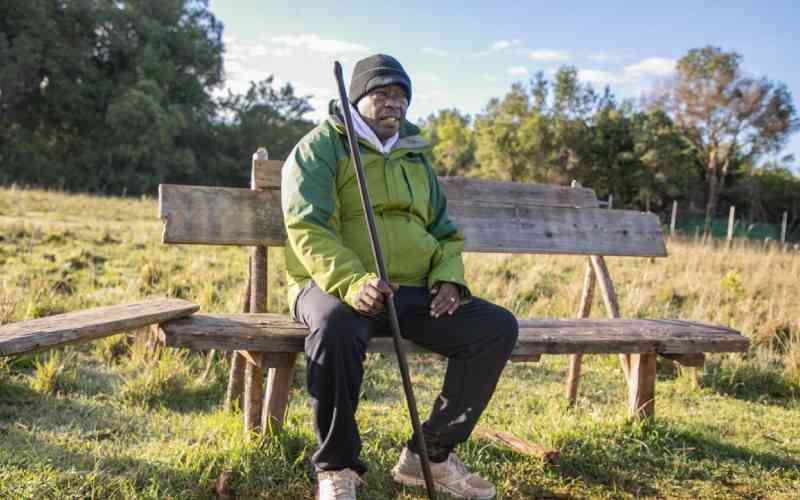 As expected on Twitter, there are those who hailed him for the prayers with one Dr M M Alexander said Gachagua is a "very simple truthful 'men', playing on the DP's perceived enunciation of the word 'man'.
Others asked him and the country's leadership to take practical steps to get the country out of the economic and social quagmire.
Then there are those who wanted him to expend his expeditions to include other areas such as the lake region.
@Brian_Roberts wants the deputy president to visit Nyanza region and connect with local spirits too, stating: "Son of Mau Mau, I want to take you to the lake for a prayer then we eat mbuta and kuon bell. Tenengeza timetable, the son of Lwanda Magere and cousin to Gor wuod Ogalo want to connect you with spirits of the lake."
And as he enjoyed the "certain calmness about nature that reminds us of who we are as human beings", Gachagua will need more prayers as he prepares to face the members of the Meru County Assembly who have been giving the area Governor, Kawira Mwangaza sleepless nights.
He is sure of one thing though: "I believe God has heard my prayers."
Related Topics