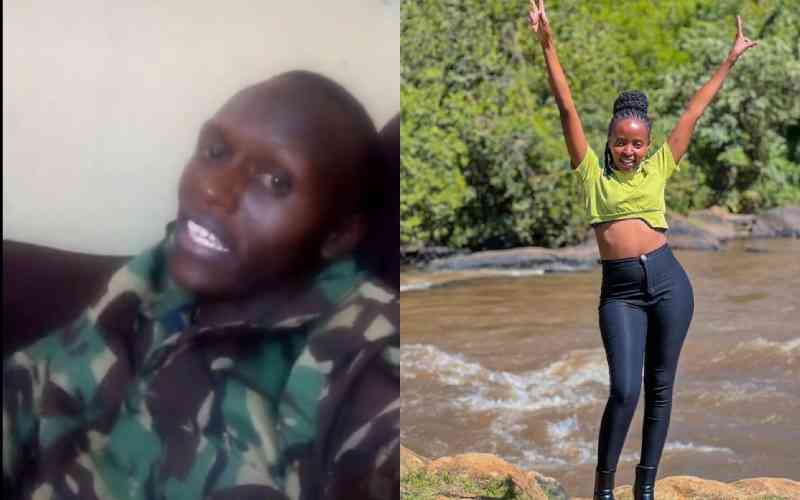 Police have arrested the man who went on social media to claim he was behind YouTuber Eve Mungai's rise to fame.
Through a video that went viral last week, the man, who had donned police uniform, said he used to pay Mungai's rent and even bought lunch for her interviewees as she was starting out.
He wanted the content creator to pay him back, claiming she no longer picks up his calls.
"Guys, I have a sad story I want to share with you I know most of you will end up insulting me, but the truth must be told the story is about Mungai Eve before she became famous sijui niseme ama nisiseme.
"I remember buying lunch for those guys you used to interview walikataa shuguli yako kabisaa juu hukua na anything so nowadays you are outside huko hiyo unatembea social media nakumbuka nyumba nilikua nakulipia na caretaker niko na number take hapa and now that I am calling you unanizimia simu," he said.
According to a police report seen by Standard Entertainment, Mailu Mwendwa, 25, was arrested at his house in Pipeline on Friday and several items were recovered from him including; a jungle trouser, jungle jacket, a pair of boots and two communication gadgets.
He is currently in custody as he awaits to be arraigned in court.
While responding to the accusations levelled against her, Mungai lamented the use of social media to spread propaganda and chase clout at the expense of people's reputations.
She vowed to take legal action against Mwendwa to serve as an example to those with similar traits.
"The latest author has attempted to damage my reputation among my peers, business partners and media colleagues in general hence threatening my whole entity as a brand.
"I hope this shall not only be a learning experience but a warning at the same time that using others via unscrupulous ways to climb up the social-economic ladder is not ideal but illegal too," she wrote.
Related Topics