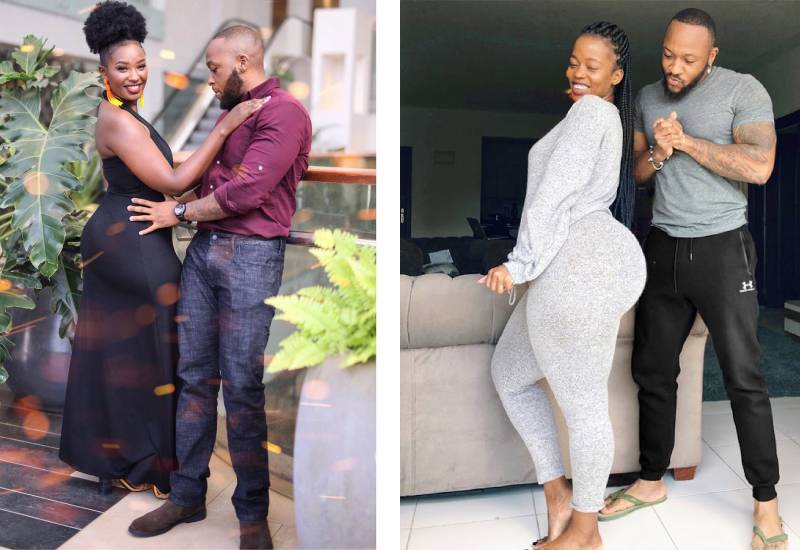 The love triangle between Maureen Waititu, Frankie 'Just Gym It' Kiarie and former law student and socialite, Corazon Kwamboka, is the gift that keeps on giving.
Background: Maureen and Frankie used to be 'married,' got two cute tois together, and used to give their 'followers' (idlers) on social media couple goals.
That is until early last year when Frankie not only got Corazon Kwamboka pregnant (clearly, he'd been doing his 'work outs' away from home), but ran away from his 'wife' and children to be with Kwamboka with whom they now live, and have a baby together.
Present: So last weekend, Lexxie, a son of Frankie and Maureen, turns five and the father goes to IG to whine that he's being denied access to his children.
Maureen hits back, also on social media, and says, again, how Frankie is a deadbeat dad, who just wants to look good on social media. 'Ask him when he last bought them clothes, or even a toy,' Maureen said.
'He threw us out of our home on August 10,' (that's some 80+ days ago), 'and doesn't know where we live.'
Maureen went on to say that Frankie will not talk to his kids through her phone, or the nanny's phone.
READ MORE
'He won't even buy Lexxie a small phone so they can talk,' she added. 'Even if he hates me, respect the children.' She then vowed to go to court to get both child support and full custody of her children.
Once the trolls got on his case, Frankie 'Just Gym It' went on the defence, complete with evidence.
Mr Kiarie said he didn't throw her out of the house, but that it belongs to his mother and since her son was no longer living there, she needed it back.
He said Maureen has not only refused to share details of where her new abode is, so he can see his kids and determine his half of rent to pay, but that she has systematically blocked his access to their children.
'We had agreed he'd be with them Friday to Sunday,' he said. 'On August 26, she said now only on Sundays, 9am to 5pm. And now she will not let me see them at all,' he complained in a 33 min video.
Corazon Kwamboka came out of her maternity hibernation to add this helpful line to the conversation:
'Maureen is just bitter because I sired a child with her ex,' she said, 'and she doesn't approve of our union.' Because, why, really, Maureen Waititu should have thrown Kwamboka and Mr Just Gym It a baby shower for their new toi?
Allow me to now address Frank and Maw (and you, if you are in the same situation).
Maureen, you first need to LET GO, emo-wise, of your Ex, completely.
You are still an attractive woman, and that's the only way you'll heal, maybe even attract another man.
Court should only be the last option. And do not seek full custody of your children out of bitterness.
Let Lexxie and sibling have a relationship with their father, if he's open to that. If he isn't, screw him!
Mr Kiarie, let's speak man to man. Man up, not just your body, but the muscles in your brain. Pay that half rent! Buy those clothes and toys. Pay all school fees (she can buy food).
Have FULL weekends, Friday evening to Monday morning, with the kids, then drop them off. Sit Corazon's fat ass down on the sofa and tell her she's gotta/gonna be a mother of three tois.
Corazon, Maureen was the woman he was living with, with those children, when you 'stole' him from her.
So you at least owe that in Penance (I used to be a great Catholic).
Back to Maureen, if you stay embittered with an ex-'hubby' who has moved on, you'll be unhappy.
If you deny him access to wakina Lexxie, he may get another two by 2022, and that will be it.
That Kwamboka will now lock wakina Lexxie out with those giant Yale padlocks – and the next time he sees his dad may be in 2033 A.D., when he's turned 18 and is adult. If ye can live with that, cool beans.
Just plan the next decade, minus Mr 'Just Gym It' in mind. That should be your 'Single Mom' goal.
Feel free to write me in below address, and let me know what ye think.