Home
/
My Man
Sheer determination: From dropout to watchman and now Std 8 candidate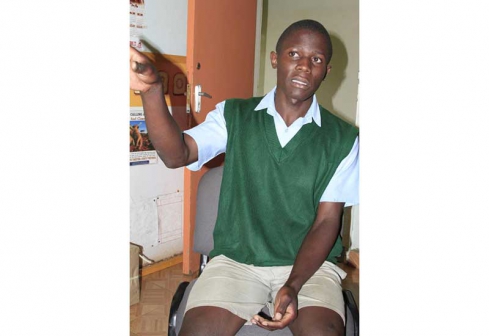 Neither age nor distance were an obstacle. If he was assured of going back to school, he would go after the opportunity.
Gabriel Ochieng', 19, dropped out of school in 2014, when he was in Standard Seven, for lack of miscellaneous fees demanded by the school administration. Since his parents could not afford to pay the money for the seven siblings in school, the first two dropped out, and it wasn't long before he followed suit.
He took up odd jobs to support his family and save for his education, which he was determined to complete even as years passed.
"I started buying water from a supplier for Sh3 and selling it at Sh10. I was underage and no one would employ me. A good Samaritan took me in but I still had to support myself and the family," he says.
Mr Ochieng' got his first breakthrough while he was vending water to residents in Ugunja, Siaya County. One of his customers told him of a company that was recruiting security guards.
In what looked like fate making sure he didn't stray from his dream, he was posted as a guard in a school, where his desire for education was rekindled.
He was hard at work at the school when a parent who was visiting his son noticed him.
"She asked me why I was employed at such a young age and when I explained to her how much I wanted to go back to school, she told me about a school in Nairobi that was taking in pupils for free" he recalled.
If you have travelled by bus overnight from Western Kenya to Nairobi, you know how the biting cold cuts right through your woollen Maasai blanket or the warmest of your hoodies.
Risky journey
The 19-year-old, who had never travelled to the city, never imagined there could be weather more extreme than what he experienced at the school gate where he worked every night.
In one old bag, he packed all his cloths and in a cardboard box, he put his rusty green paraffin stove.
"It was a risk leaving a job that earned me Sh5,200 a month, for a school I had no idea existed. Apart from what the stranger told me, I knew nothing about Ofafa Jericho Primary School. But I was willing to use every coin I had left to find out," he says.
Gabriel arrived in the city at around six in the morning. He sat still in the bus, not sure where to go if he alighted.
"A tout at the Country Bus Station showed me where to find matatus going to Ofafa Jericho. From there, I would walk some distance, asking around until I got there," he says.
Elizabeth Kokwach, the head teacher of Ofafa Jericho Primary School, picks up the story at this point.
"At 9am on a Saturday, I heard a knock on my door. Outside stood a shabby-looking boy dressed in baggy trousers that looked like pyjamas and a yellow T-shirt. In one hand was a small tattered bag and in the other, a carton," recalls Ms Kokwach.
She said she was caught between fear and shock, unsure of how to react to such a strange encounter on a chilly morning.
"I asked what he wanted while carefully observing all his moves. He responded that he wanted to be enrolled in the school, emphasising 'without paying.'"
After further probing, she saw his desire to be in school, but he had no place to live.
"His only relative in Nairobi was a house maid in Doonholm and she could not accommodate him. I took him in, despite all the risks anticipated," she says.
What has stunned the teacher since then is the determination Ochieng' has demonstrated in acquiring a formal education.
"He was always reading any material he could lay his hands on. When I gave him indexing exams, he came fourth despite being out of school for three years," says Kokwach.
"He has been improving steadily since then and has always been top of his class."
Related Topics